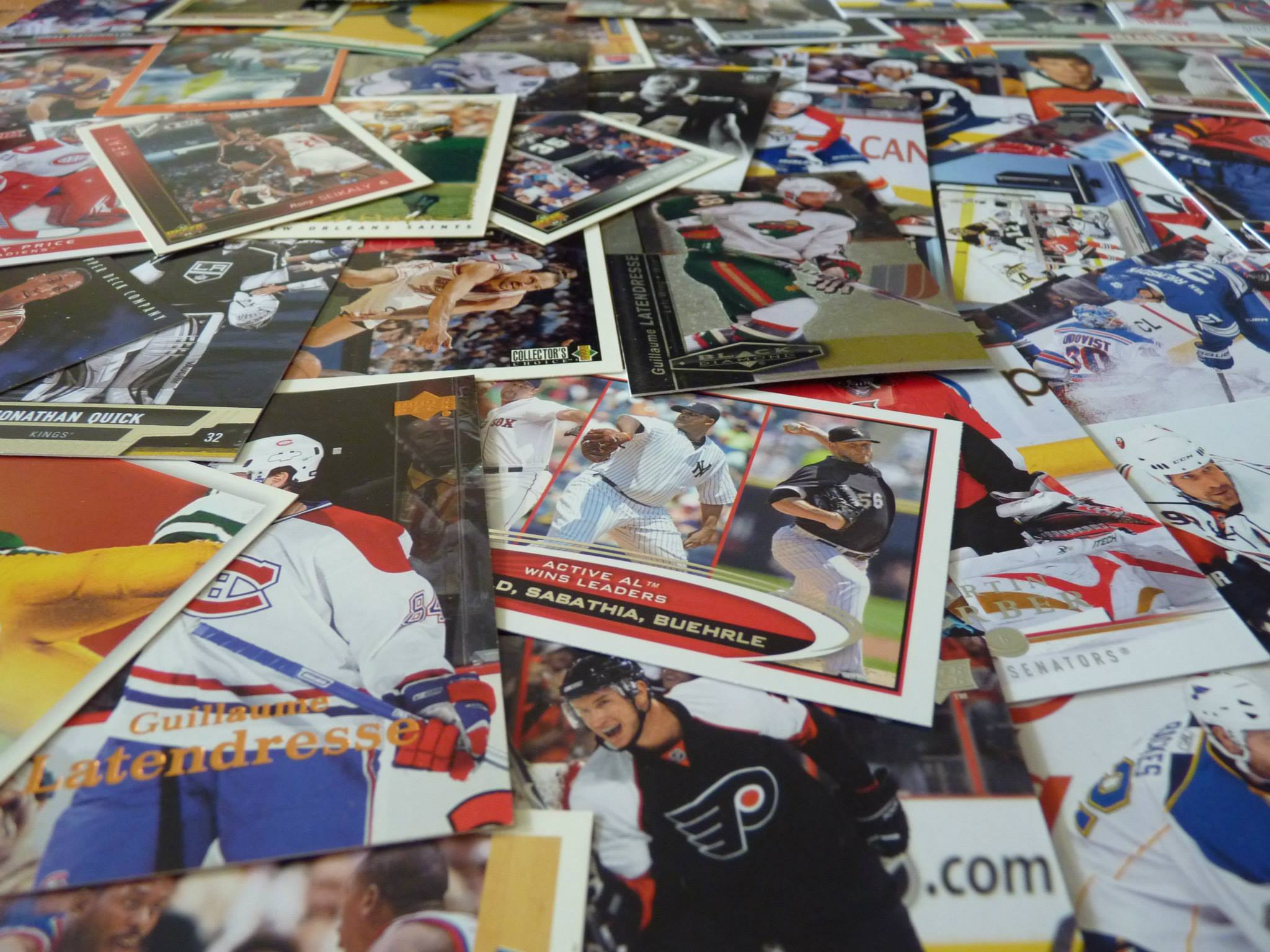 Bonjour chers lecteurs,
Nous allons vous présenter régulièrement l'un d'entre vous. Celui-ci aura la parole dans cette interview.
Aujourd'hui, nous vous présentons Stéphane.
Hello dear followers,
Frequently we'll present you a collector like you. He will speak about hobby in this interview.
Today, we speak with Stéphane.
-Bonjour, peux-tu te présenter aux lecteurs? Hello, could you introduce yourself?
Hello. Steph, 41 ans, de Belgique. Grand fan de sports, je suis principalement la NBA, mais aussi d'un peu plus loin la NHL et la NFL, le temps me manque en effet pour suivre tout cela assidûment. Le foot, le tennis font aussi partie de mes sports favoris, ainsi que le cyclisme, dont certaines parties de saisons sont pour moi l'équivalent des NBA Finals : les classiques flamandes sont en effet en haut de l'affiche niveau spectacle !
Hello, Steph, 41 years old, from Belgium. Big sports fan, i'm following mainly the NBA, but also a little further because of time, NHL and NFL. Soccer, tennis are also part of my favorite sports too, as cycling is, wich some part of the seasons are equale to the NBA Finals for me: Flemish's classics are really amazing shows!
-Depuis quand collectionnes-tu et comment est-tu tombé dans le hobby? How long are you collecting? How do you start collecting?
Avant de savoir comment je suis tombé dans le hobby, il faut passer par la case NBA. J'étais devenu fan de NBA après avoir vu un match des 1991 NBA Finals, le Game 2 entre les Bulls et les Lakers. C'était le match où Jordan avait sorti son « Switching Hand Move. » Il avait marqué 13 paniers d'affilée, le treizième étant son « Spectacular Move. » Depuis, je suis un immense fan de Jordan et des Bulls, franchise que je ne lâcherai jamais, même si c'est compliqué pour eux depuis quelques temps… #Bulls4Life
Le Spectacular Move en question :
Before to know how i started hobby, you must start with the NBA. I became a NBA fan after watching the game 2 of the 1991 NBA Finals between the Bulls and the Lakers. It was the game when Jordan made his "Switching Hand Move". He'd scored 13 consecutive buckets, the thirteenth was his "Spectacular Move". Since this game, i'm a huge Jordan and Bulls fan, franchise i will never give up, even if it's complicated since few seasons… #Bulls4Life
Here is The Spectacular Move :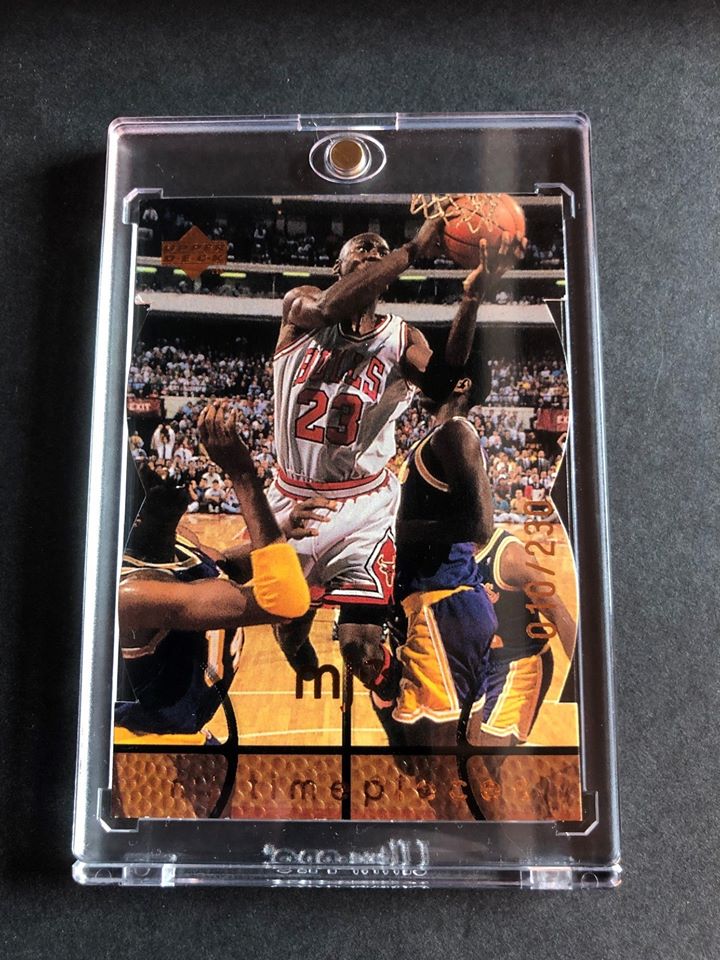 Ceci nous amène donc vite au hobby : je collectionne depuis 1993-94, quand les 1993-94 Upper Deck sont arrivées dans nos librairies en Belgique. Ayant découvert la NBA un peu avant, étant jeune un fan des Panini Stickers, voir des packs de cartes de joueurs NBA dans les rayons m'aura vite fait craquer pour en prendre quelques packs, puis quelques boxes et… vous connaissez la suite !
Let's speak about the hobby : I'm collecting cards since 1993-94, when 1993-94 Upper Deck cards sold out in our Belgian bookstores. Discovering the NBA a little before, as a Panini stickers fans, to see NBA players cards packs makes me crazy to buy some packs, and after some boxes and…you know the continuation !
-Te souviens-tu de ta toute première carte? Laquelle était-ce? Do you remember your first card? Wich one was it?
Je ne me souviens pas de ma première carte, elle venait tout simplement de la collection 1993-94 Upper Deck. Par contre, je peux bien entendu confirmer que ma première carte de Jordan fut la 1993-94 Upper Deck #23A, et mon premier insert la 1993-94 Upper Deck Triple Double #TD2.
I do not remember my first card, it simply came from 1993-94 Upper Deck collection. But i can tell you that my first Jordan's card was the #23A of the 1993-94 Upper Deck collection, and that my first insert was de Triple Double #TD2 of the same collection.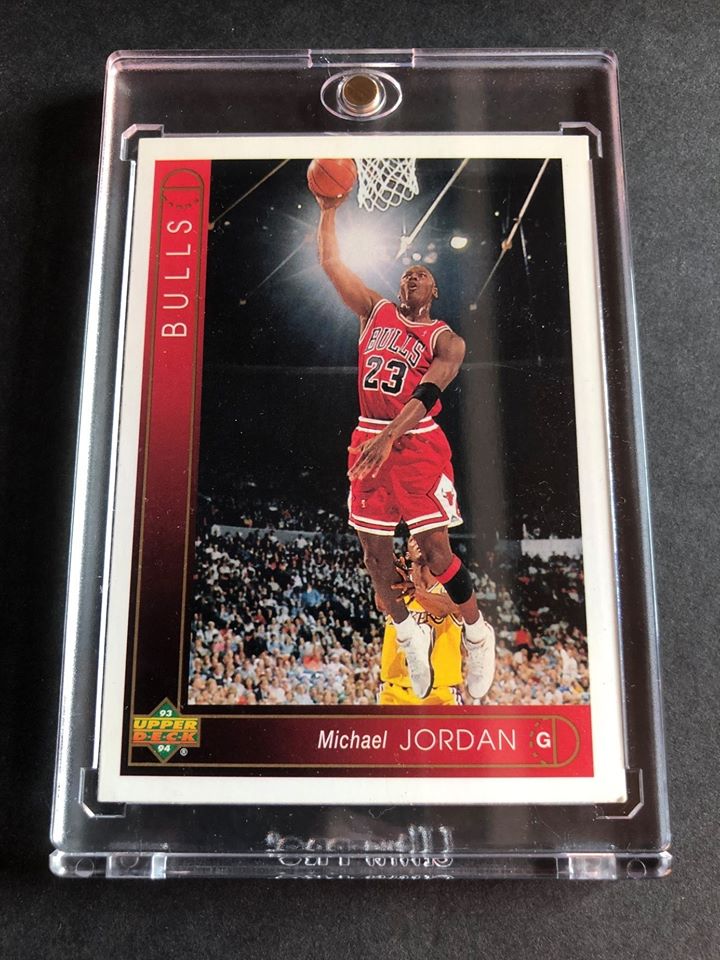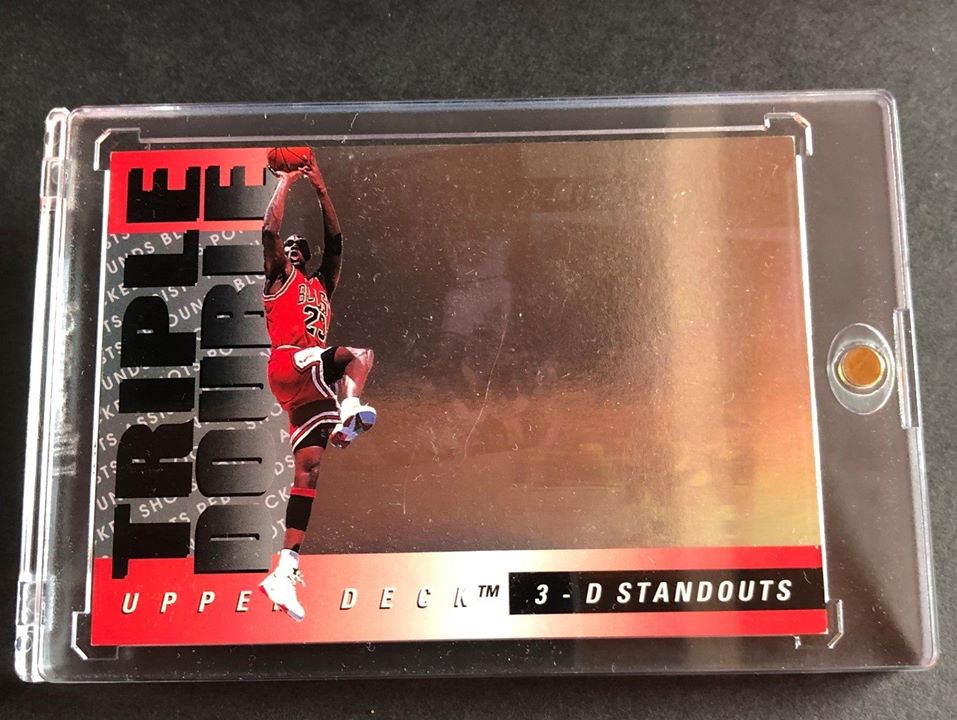 -Quels sports, quelles cartes et/ou collections recherches-tu? What kind of sports, what kind of cards or collections are you looking for?
J'espère que tu as du temps, parce que la liste est longue. Je collectionne des cartes NBA, NFL, NHL, Tennis et Soccer.
En NBA, ma recherche principale s'oriente sur les Bulls Champs Auto's, j'en ai actuellement 268. Aussi, je prends les cartes de tous les Bulls Champs, à savoir les Pippen, Rodman, Kerr, BJ Armstrong, Bill Cartwright, Ron Harper, Toni Kukoc… Bref, les rosters des saisons où les Bulls ont été champions.
Je collectionne aussi le set de 2016-17 Studio Rock Solid ainsi que les cartes de Ed O'Bannon, Vince Carter, Marcus Camby, Kevin Garnett, Klay Thompson, Derrick Rose, Sam Cassell, Terry Rozier, Jaylen Brown, Tyus Edney et Ed Cota, ouf ! Je ne pense avoir oublié personne. Comme tu le vois, je suis assez touche-à-tout, et mes collections varient avec le temps, car je peux arrêter un joueur pour en commencer un autre, pour après trader ce nouveau contre des cartes me permettant de recommencer l'ancien ! Bref, je fais au feeling.
Je recherche aussi, en NFL, les cartes d'Emmitt Smith, Deion Sanders, Michael Irvin, Dak Prescott, Ezekiel Elliott et Dez Bryant, toutes seulement sous maillot des Dallas Cowboys, qui sont à la NFL pour moi ce que les Bulls sont à la NBA.
Je prends aussi des cartes NHL, sous maillot d'une seule franchise : les Penguins. Je recherche donc des cartes de Mario Lemieux, Jaromir Jagr et Sidney Crosby.
Si vous avez des cartes des Red Devils en Soccer, je prends pour moi les Vincent Kompany, Eden Hazard et Romelu Lukaku, et mes enfants aiment recevoir les cartes des autres Diables Rouges que sont les Kevin De Bruyne, Nacer Chadli et consorts…
Finalement, si vous avez en Tennis des cartes d'Andre Agassi, Anna Kournikova et Martina Hingis, vous savez où me trouver !
I hope you've got time because the list is really big. I'm collecting NBA, NFL, Tennis and soccer cards.
In NBA, i'm seaching in priotity the Chicago Bulls Champs auto cards. I've got 268 right now. I'm also collecting all the Bulls champions cards, Pippen, Rodman, Kerr, B.J Armstrong, Bill Cartwright, Ron Harper, Toni Kukoc…So all the rosters of the Bulls World Champions. I'm collecting the Rock Solid's set of 2016-17 Studio and cards of players like Ed O'Bannon, Vince Carter, Marcus Camby, Kevin Garnett, Klay Thompson, Derrick Rose, Sam Cassell, Terry Rozier, Jaylen Brown, Tyus Edney et Ed Cota. Hopefully, i think i haven't miss somebody! As you see, many collections, changing over time, because i can stop collecting a player to collect another, for after making some trades with cards of the last collecting player to receive some of the oldest one! So, i do with my feelings.
I'm also looking in NFL for Emmitt Smith, Deion Sanders, michael Irvin, Dak Prescott, Ezekiel Elliott and Dez Bryant, all with the Dallas Cowboys jersey. Cowboys are for me, for the NFL, what the the Bulls are for the NBA.
I take NHL cards too, cards with only one jersey: Penguins. So i'm looking for Mario Lemieux, Jaromir Jagr and Sidney Crosby cards.
If you have cards of the Red Devils in soccer, i'm interested in Vincent Kompagny, Eden Hazard and Romu Lukaku, and my kids love receiving other Red Devils players cards as Kevin De Bruyne, Nacer Chaldi and many more…
Finally, if you have tennis cards of André Agassi, Anna Kourtnikova, Martina Hingis, i'm your man!
-Quelle est la plus belle carte de ta collection? What's your most beautiful card in your collection?
Très difficile de n'en sortir qu'UNE seule, je vais donc plutôt montrer mes 6 préférées pour commencer, qui sont simplement mes 6 autos Jordan.
So hard to choose only ONE, i will prefer to show my six favorite, simply six Jordan's autos.
1996 UDA SPx Record Breaker Michael Jordan #R1 Michael Jordan AU/250
2004-05 SP Game Used Wood Impressions #MJ Michael Jordan
2005-06 SP Game Used SIGnificance #MJ Michael Jordan
2006-07 SP Signature Edition Signature Style #MJ Michael Jordan
2006-07 Ultimate Collection Signatures #USMJ Michael Jordan
2007-08 Upper Deck Premier Penmanship Autographs Gold #MJ Michael Jordan/23
Et si je puis me permettre un petit hors sujet, puisque tu n'en demandais qu'une, voici quelques-unes des plus belles cartes de mes autres PC.
And if i can be off-topic, as you asked me only one card, here are some of my most beautiful cards of my others collections.
2016-17 Studio Rock Solid Die Cut #6 LeBron James
2009-10 Exquisite Collection #7 Kevin Garnett
2000-01 Finest Moments #FMR11 Vince Carter/1000
1993-94 Upper Deck SE #21 Latrell Sprewell
1993-94 Upper Deck SE Electric Court #21 Latrell Sprewell
1993-94 Upper Deck SE Electric Court Gold #21 Latrell Sprewell
1985-86 O-Pee-Chee #9 Mario Lemieux RC
2002 Fleer Throwbacks Greats of the Game Autographs #31 Emmitt Smith SP
2013 Ace Authentic Grand Slam Heroes Autographs #GSHAK3 Anna Kournikova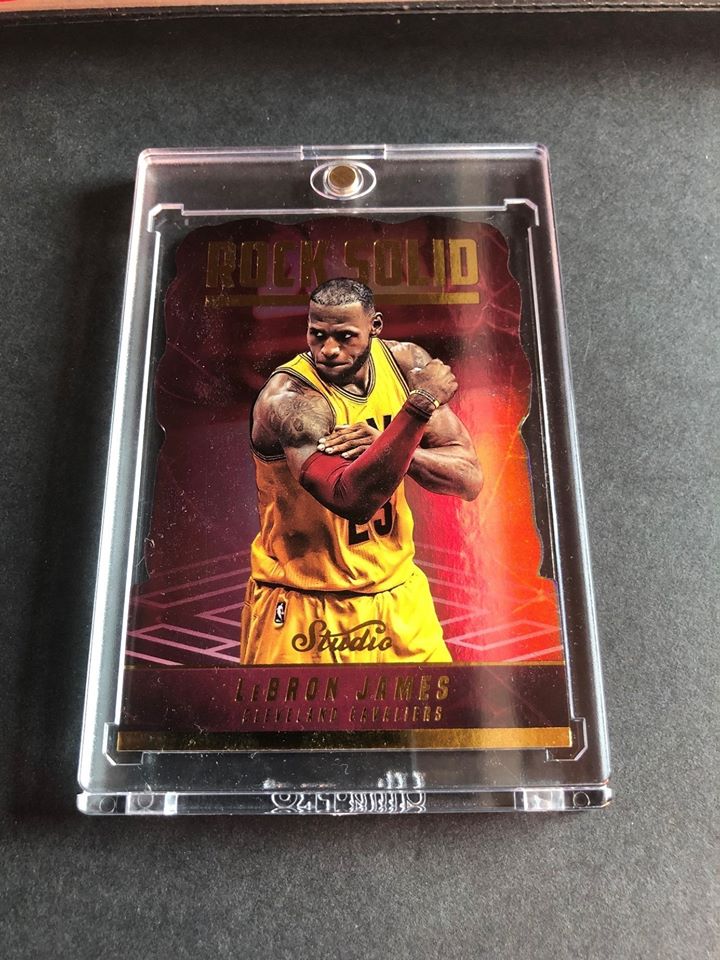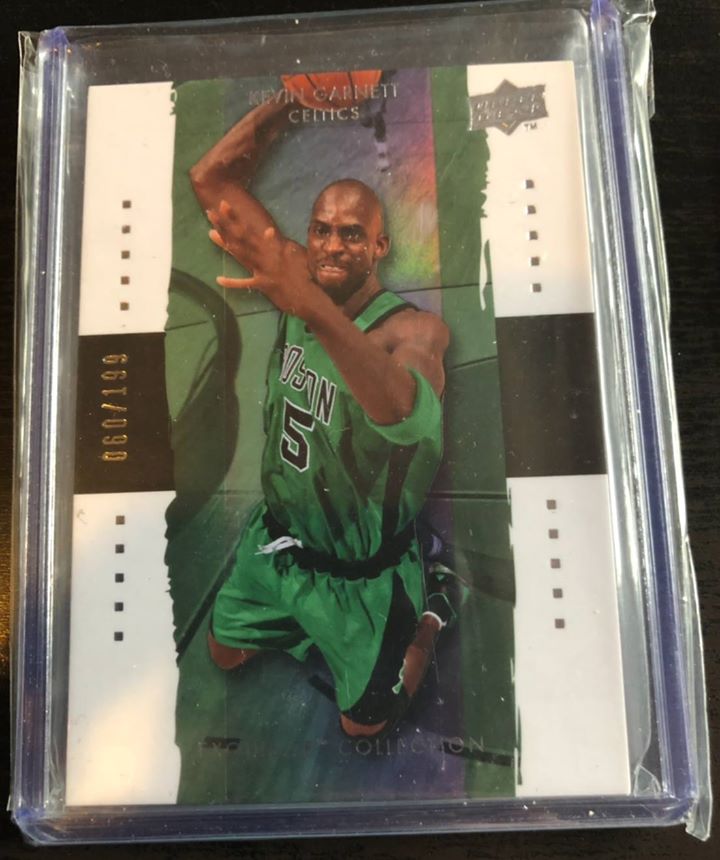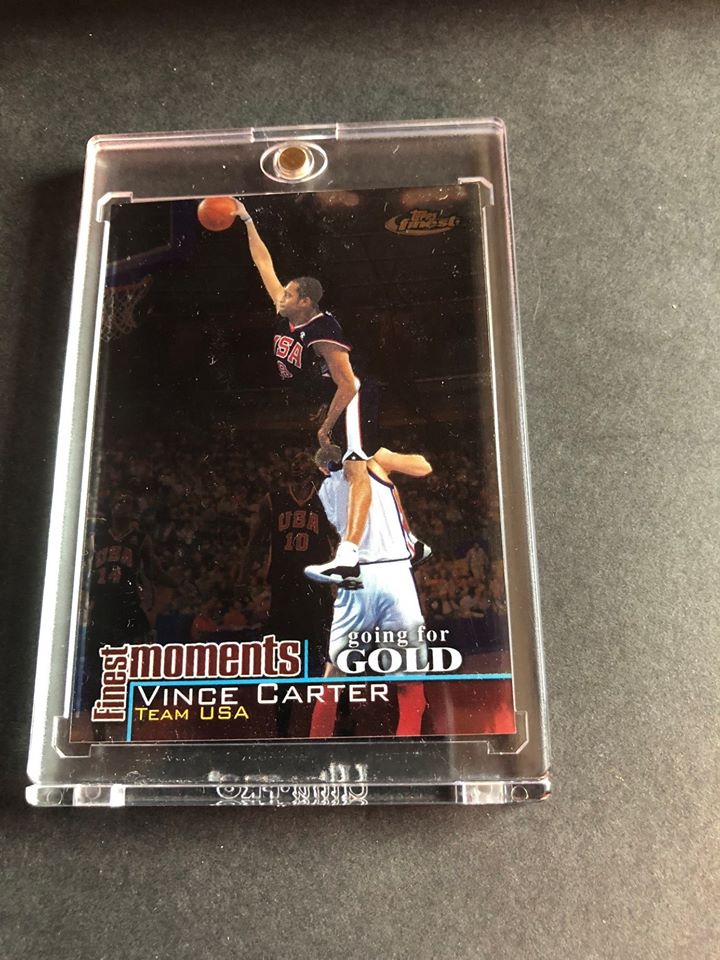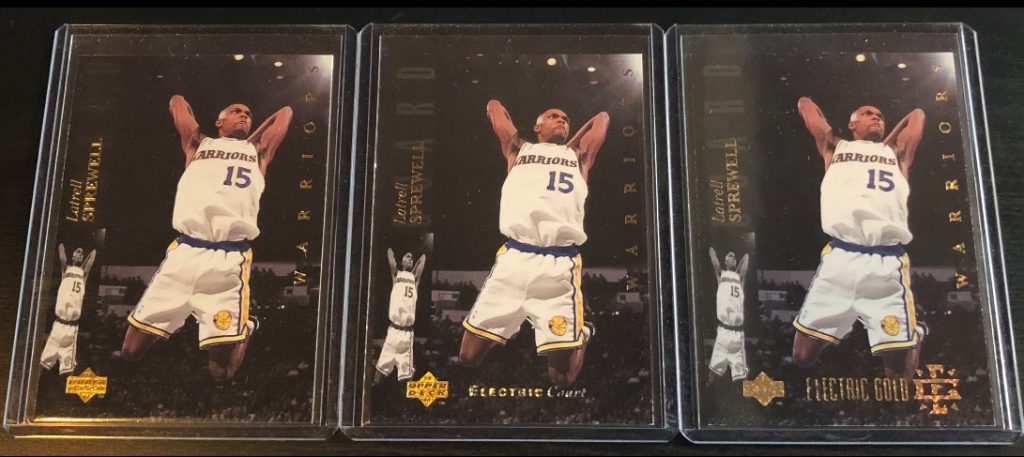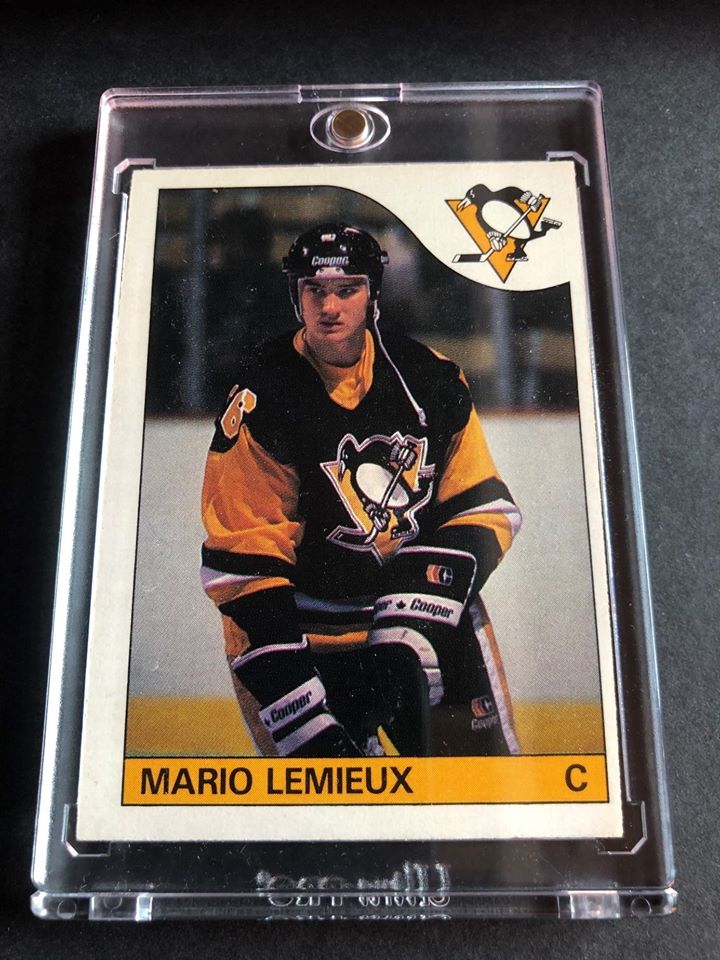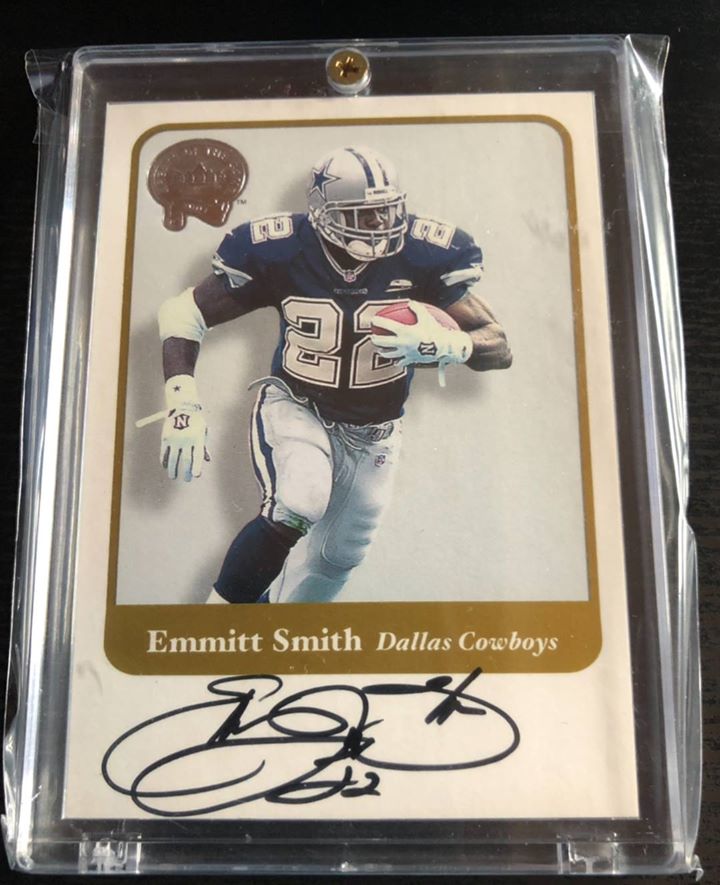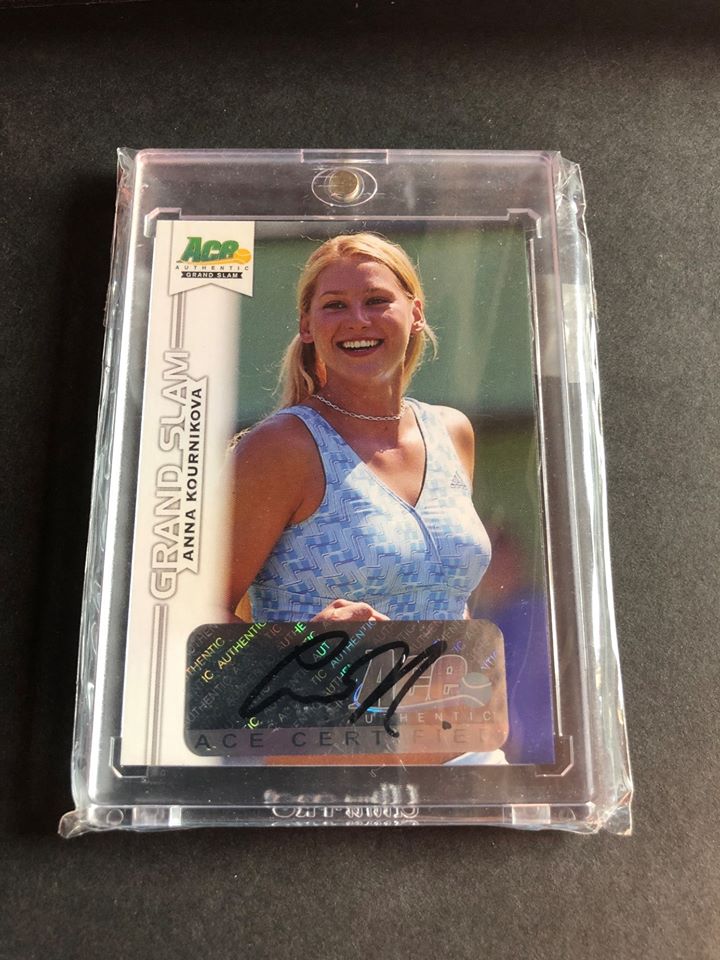 -Quel est ton prochain achat? What's your next purchase?
Je n'en ai aucune idée, car je ne prévois rien niveau cartes, je fais au feeling. Il y a de fortes chances, cependant, que la prochaine dépense soit effectuée en achetant l'un ou l'autre SMP (Self Made Pack) vendu par certains membres.
I have no idea because i do not anticipate in the Hobby, i do it naturally. It seems the next purchase will be some SMP solt by some members.
-Quel est ton budget mensuel? What's your monthly budget?
En cartes, je n'ai pas de budget fixe mensuel, je prends quelque chose quand cela me plait, même si je n'achète plus trop directement. Je dirais cependant que je suis à minimum 30/50 EUR puisque je prends régulièrement des SMP à gauche et à droite, et que la poste belge est horriblement chère, tenant compte du fait que 95% de mes deals se font à l'étranger, et qu'un envoi d'une seule carte me coûte minimum 4,20 EUR, n'en déplaise à certains.
In the Hobby, i have no special monthly budget, i buy something when i like it, even if i buy less directly. I can say that i'm using at least 30/50 € because i'm buying SMP frequently and because Belgian's post is terribly expensive as i do 95% of my deals in the foreign countries. Sending a card cost me at least 4.20€ with due respect to some guies.
-Quelle est la carte de tes rêves? What's your dream's card?
La réponse est simple : 1986-87 Fleer #57 Michael Jordan RC. Mais je suis patient.
Answer is simple: 1986-87 Fleer #57 Michael Jordan RC. But i'm patient.
-Quel conseil donnerais-tu à un débutant? Aurais-tu un bon plan à lui donner? Have you an advice to a beginner? Have you a good hobby plan?
Il y a différents types de collectionneurs, certains cherchent à tout avoir sur un joueur, d'autres font des collections basées sur le profit éventuel d'ici quelques années pendant que d'autres ne collectionnent que les cartes de base, des cartes d'une team, des inserts etc…
Il y a autant de manières de collectionner que de collectionneurs, mais le plus important pour un débutant est de prendre du plaisir, tout en ne se dispersant pas trop ! Au début, avec la poussée d'adrénaline, on a tôt fait de dépenser pas mal d'argent, pour au final se rendre compte qu'il n'y a pas trop de cartes qui nous plaisent.
Aussi, chaque collection a la valeur que son propriétaire lui donne : s'il en est content, c'est le principal, on collectionne pour soi, pas pour les autres, évitons donc les comparaisons des différentes collections, puisque tant de facteurs (argent, temps, envie…) peuvent expliquer pourquoi une collection semble être meilleure ou plus belle qu'une autre. De plus, même à l'ère d'internet, tout le monde ne montre pas sa collection, pour diverses raisons, il est donc compliqué de faire des classements. Et lire à tout bout de champ « X a la plus belle collection au monde » ou « Je pense avoir la plus belle collection en Europe » n'est qu'un avis personnel puisque personne ne verra jamais toutes les collections de tout le monde, mieux vaut donc se la jouer tranquille et ne pas se faire mousser pour rien. Je finirai en disant ceci : la patience est la vertu du collectionneur. Que chacun se fixe une direction dans sa collection pour commencer, il y verra plus clair et évitera de se disperser.
There are different collectors, some are looking to have everything about a player, some are collecting for making money in the futur, some are only collecting base cards, team's cards, inserts, …
There is not one only way to collect cards, but one important think for a new collector is to have fun without wasting his collection. At the beggining, with the adrenalyn, it's possible to spend lots of money for finally see there are not many cards we're intersted in.
So each collection has his owner's value: if he's happy, that's the most important stuff, you're collecting for you, not for the others, so please do not compare all the collections because of a lots of factors (money, time, wish,…) can explain why a collection looks better than an other. Then, even with Internet era, everybody doesn't show there collections for different reasons, so it's hard to do a standing. And to read or to see a lot of "X" has the most beautifull collection in the world" or "i think i've got the best collection in Europe" is only a personal view because we'll never see all the collections in the world. So it's better to take it easy and to be humble. I'll finished answering to this question in saying this: Patience is collecto's virtue! Everybody have to determinate the way he wants to collect at the beggining, he'll see more clearly and will not branch out.
-Quelle est ta vision du hobby actuellement ? As-tu des anecdotes sympas ou non depuis que tu collectionnes ? Que souhaites-tu développer dans ce monde "fermé" en France et en Europe ?  What's your actual hobby's vision? Have you got fun facts since you're collecting? What would you want to see growing up in this "closed" world in France ans Europe?
J'ai surtout l'impression que ce hobby est devenu un business. Il y a une belle base de collectionneurs à l'ancienne, pour qui l'échange est important, mais le côté business prend tout doucement le dessus, avec à mon sens beaucoup de gens qui ne voient plus le hobby qu'en mode « ventes. » Quand on voit la valeur que prennent certaines cartes, on ne peut pas le leur reprocher, mais il est un fait que ce n'est pas ce que je préfère, même si on fait avec. Mais passons outre, et souvenons-nous du seul mot important : plaisir.
A titre personnel, j'ai créé il y a quelques semaines le site www.docstephshop.com afin d'avoir un endroit où commander des supplies et des boxes en Belgique et alentours. Ce n'est que le début, mais espérons que cela pourra décoller et devenir, pourquoi pas l'endroit de référence !
I really feel that hobby became a business. There is a great base of old school collectors, for whom trading is important, but business side take slowly over, with my point of view, lots of people, looking for sales only on the hobby. When you saw some cards value, you can not reproached that, but it's a fact i don't really like it even you have to do with it.
But give it up, and remember one important word: "Pleasure".
Personnaly, i've crated few weeks ago a website www.docstephshop.com for having a place to order supplies and boxes in Belgium and around my country. I's only the begining, but i hope it will growing up and why not becoming the reference!
Un grand merci Steph Lefèvre pour avoir répondu à nos questions le 17/02/2019.
A big thank you to Steph Lefèvre for the interview on 2019/02/17.
N'hésitez pas à partager cet article et à le commenter pour donner votre avis. Vous pouvez également vous abonner à nos pages Facebook et Twitter, à la chaîne Youtube de US Sports Fans Cards, mais aussi contribuer en partageant les articles et/ou en filmant vos ouvertures de boxes ou vos collections personnelles (contactez-nous pour plus d'information). US Sports Fans Cards n'existe que grâce à ses contributeurs, on compte sur vous pour faire vivre notre passion!
Don't hesitate to share and to comment this article to know your feelings. You can follow us on Facebook, Twitter and Youtube. You can also contribute in sharing articles, filming cards and open boxes (contact us for more informations). US Sports Fans Cards only exist with your contributions, we're relying on you to make our passion living!