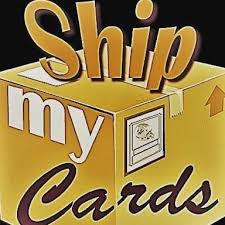 Les « mailboxs » sont les meilleurs moyens de se faire livrer puis rapatrier ses achats sur eBay ou autres plateformes d'achat américaines. En effet, les prix des frais de port de nos amis américains vers l'Europe sont exorbitants (volontaire ou non) et il est préférable de se faire livrer aux US directement. Mais qu'est-ce qu'une « mailbox » ?
"Mailboxs" are the best way to get delivery and then repatriate purchases on eBay or other US buying platforms. Indeed, the prices of the shipping costs of our American friends towards Europe are exorbitant (voluntary or not) and it is better to be delivered to the US directly. But what is a "mailbox" ?
Pour la faire simple, une « mailbox » est une plateforme qui réceptionne vos livraisons à votre place (US vers US) et qui vous permet de tout vous renvoyer en un colis global et donc d'optimiser les coûts de livraison.
To make it simple, a "mailbox" is a platform that receives your deliveries on your behalf (US to US) and that allows you to send everything back to you in a global package and optimize delivery costs.
Nous avons testé l'un
d'entre eux, Shipmycards. Cette plateforme est gérée par Brian et Xochitl et basé en Arizona (pas de taxe et donc coût de livraison réduit). Au départ, ils géraient tout sur facebook en créant pour chaque client un album photo avec les réceptions. A vous ensuite de valider si tout est bien arrivé ainsi que leur demander pour tout vous renvoyer. Ils vous annonçaient les tarifs (frais de port + Fees) puis après un paiement paypal tout était expédié.
We tested one of them, Shipmycards. This platform is managed by Brian and Xochitl and based in Arizona (no tax and reduced delivery cost). Initially, they managed everything on facebook by creating for each client a photo album with receptions. Then you have to validate if everything has arrived and ask them to send you back. They told you the rates (shipping + Fees) and after a paypal payment everything was shipped.
Ils ont souhaité développer leur plateforme en créant un site internet pour mieux gérer leur activité. Ce site est
www.shipmycards.com
. Le facebook est donc abandonné pour leur activité et tout est sur ce site. Pour utiliser leur service, vous devez créer votre compte simplement en rentrant vos informations et penser évidemment à changer votre adresse de livraison sur eBay (avec l'adresse qu'ils vont vous communiquer).
They wanted to develop their platform by creating a website to better manage their activity. This site is
www.shipmycards.com
. Facebook is abandoned for their activity and everything is on this site. To use their service, you must create your account simply by entering your information and obviously think about changing your delivery address on eBay (with the address they will communicate to you).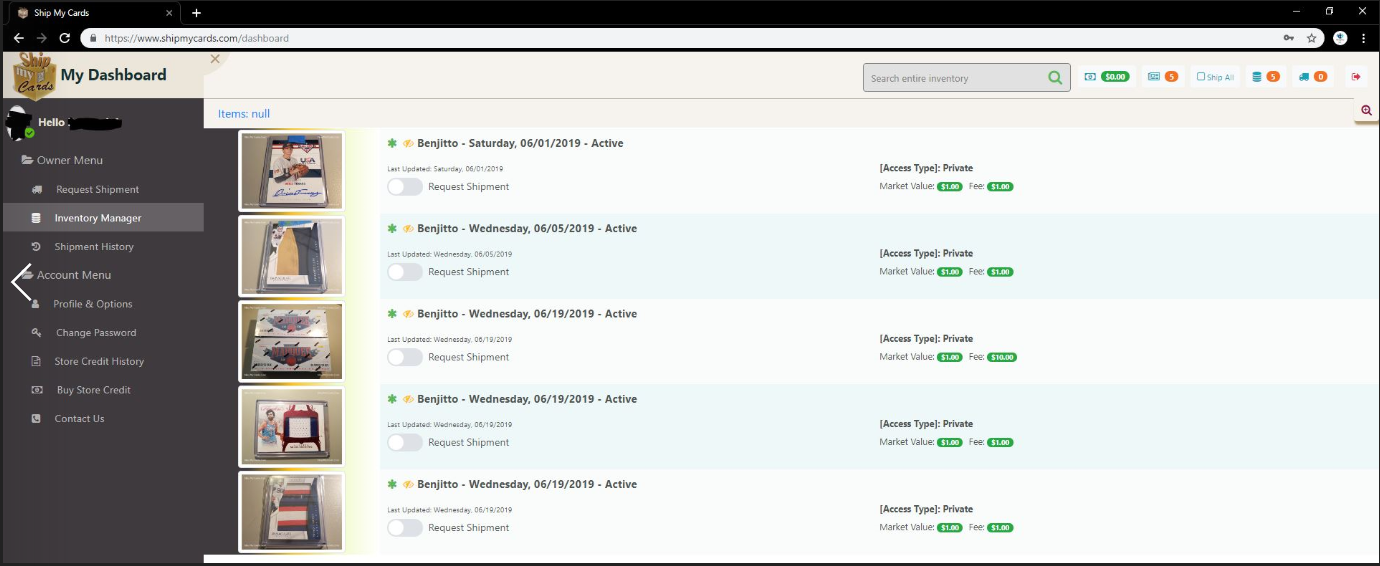 Le site est très bien fait et très clair. On retrouve les menus sur la gauche les demandes de livraison, le suivi de ses anciennes livraisons, les cartes actuellement dans sa mailbox et évidemment toute la partie de gestion de son compte. Une fois des cartes reçues, elles s'affichent sur votre inventaire avec la date de réception et les fees associés. Ensuite il suffit juste de cocher la demande de livraison et de remplir le formulaire avec ses informations et les administrateurs vous contacte dans les jours à venir pour le paiement total et leur proposition de livraison. Plusieurs livraisons possibles chez eux en terme de suivi et de délais. Les coûts seront très différents. Pas de livraison low cost proposé.
The site is very well done and very clear. We find the menus on the left the requests Shipment, the shipment history, the inventory manager and obviously all the management part of his account. Once received cards, they are displayed on your inventory with the date of receipt and fees associated. Then just check the delivery request and fill out the form with its information and the administrators will contact you in the coming days for the total payment and their shipment proposal. Several possible shipments at home in terms of monitoring and deadlines. The costs will be very different. No low cost shipment proposed.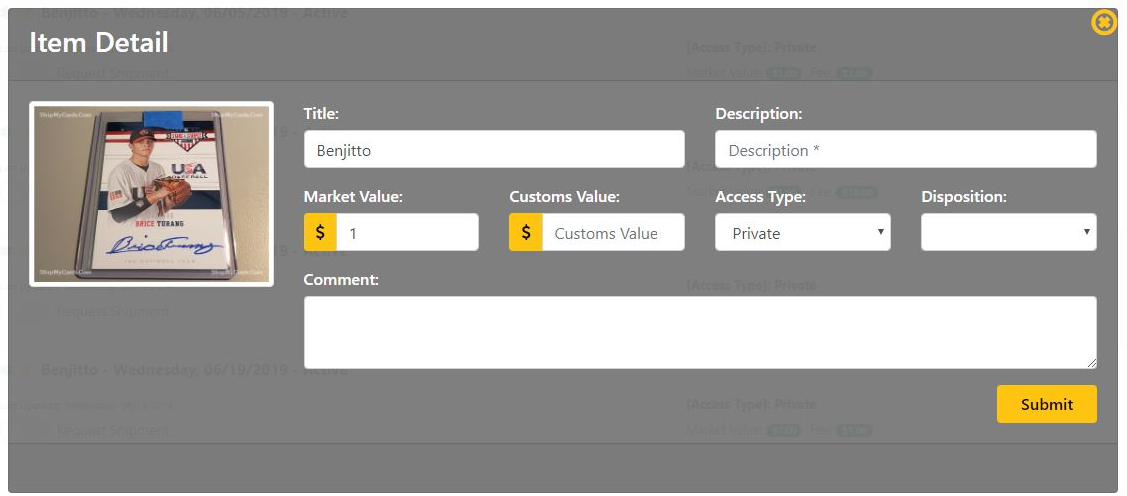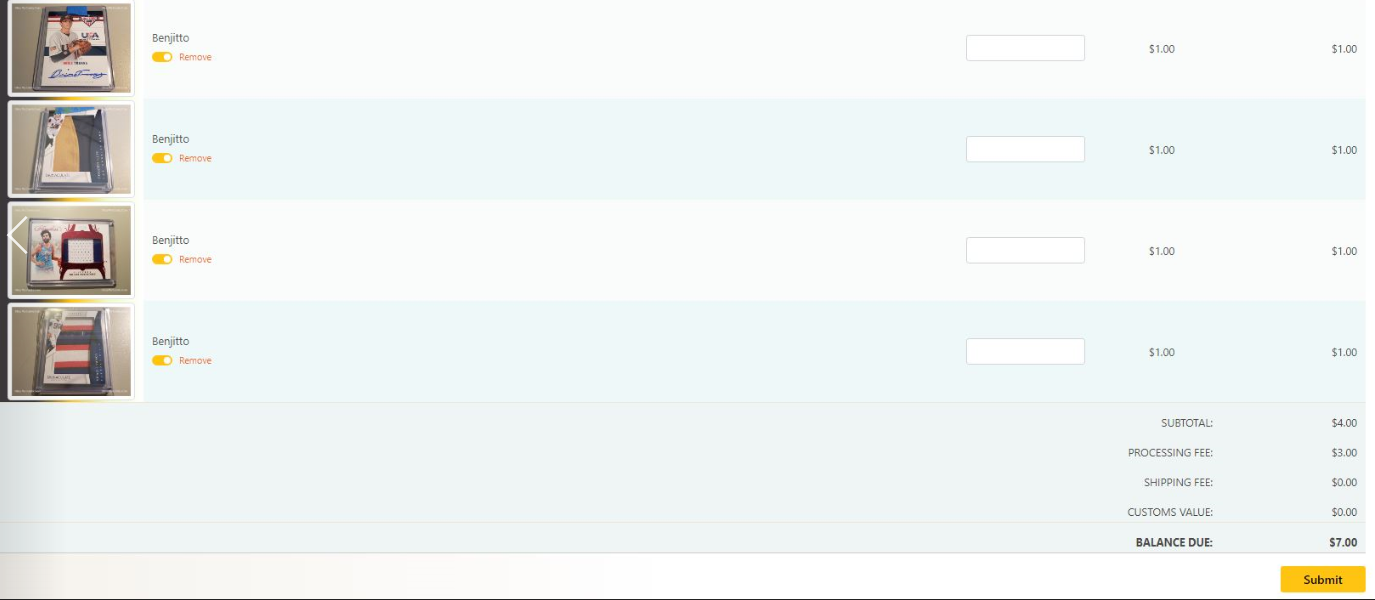 Pour les frais de douane, il faut rajouter la valeur de la carte pendant votre requête de livraison. Tout ce processus se fait sans aucun souci et le site est vraiment intuitif et bien pensé. Si vraiment vous avez du mal à comprendre, une chaine YouTube existe également pour vous expliquer le fonctionnement du site. Que faire de plus ?
For customs fees, you must add the value of the card during your request for delivery. All this process is done without any worries and the site is really intuitive and well thought out. If you really have trouble understanding, a YouTube channel also exists to explain the operation of the site. What more ?
En ce qui concerne les coûts, voilà ce qu'ils proposent :
In terms of costs, that's what they propose:
$3 – Small Misc Items (photos, magazines, etc)
$5 – Larger Misc Items (Shoes, Jerseys, Etc)
$5 – Box of Cards (Personal use ONLY!!!)
Et oui ! Vous avez bien lu, vous allez pouvoir vous faire livrer vos boxs et vos jersey ou autres memorabilias. Bref une offre assez complète.
And yes! You read well, you will be able to get your boxes and your jersey or other memorabilia delivered. In short, a fairly complete offer.
Les colis sont parfaitement arrivés et parfaitement bien protégés, les coûts de livraison sont un peu élevés mais l'économie effectuée est énorme au final par rapport à une livraison systématique à chaque achat sur eBay vers l'Europe. Les administrateurs sont très sympathiques et à l'écoute et Shipmycards est à conseiller sans aucun souci. Vous pouvez également transférer des cartes reçues vers un autre compte si jamais vous effectuez un échange avec un client de chez eux. Alors bon achat à tous
The packages are perfectly arrived and perfectly well protected, delivery costs are a little high but the saving is huge in the end compared to a systematic delivery to every purchase on eBay to Europe. The administrators are very friendly and attentive and Shipmycards is advisable without any worries. You can also transfer received cards to another account if you ever exchange with a customer from home. So good buy to all
N'hésitez pas à partager cet article et commenter pour donner votre avis. Abonnez-vous à la chaîne YouTube de US Sports Fans Cards et contribuez en partageant et en filmant vos ouvertures de box ou vos collections personnelles (contactez-nous pour plus d'information).
Feel free to share this article and comment to give your opinion. Subscribe to the US Sports Fans Cards YouTube Channel and contribute by sharing and filming your box openings or personal collections (contact us for more information).