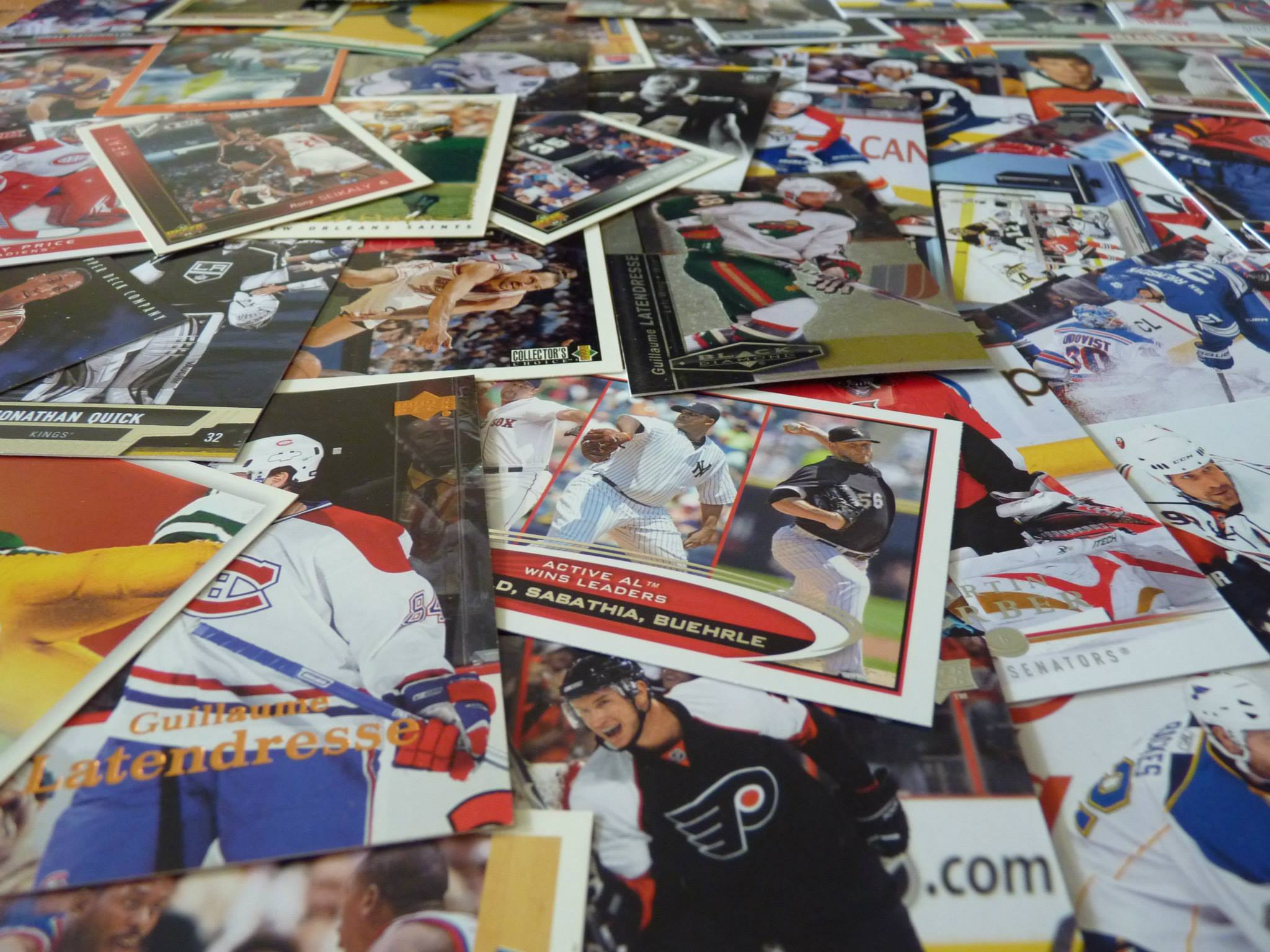 Bonjour chers lecteurs,
Nous allons vous présenter régulièrement l'un d'entre vous. Celui-ci aura la parole dans cette interview. Aujourd'hui, Frederic qui nous parle des cartes!
Dear readers,
Frequently we'll present you a collector like you. He will speak about hobby in this interview. Today, it's Frederic speaking about cards!
-Bonjour, peux-tu te présenter aux lecteurs ? Hello, could you introduce yourself ?
Bonjour à tous. Je m'appelle Frédéric, j'ai 26 ans et j'habite dans le Nord de la France. Je suis journaliste et je suis un grand passionné de sport et de cinéma.
Hello. My name is Frédéric, I am 26 years old and I live in the North of France. I am a journalist and I am a big fan of sport and cinema.
-Depuis quand collectionnes-tu et comment es-tu tombé dans le hobby ? How long are you collecting ? How do you start collecting ?
Quand j'étais enfant, je suis tombé dans la marmite Panini avec les collections annuelles du championnat de France de football puis j'ai arrêté. Grand fan de catch à l'adolescence, j'ai eu ma première vraie entrée dans ce milieu avec les Slam Attax où je cherchais à terminer les albums. En 2019, je suis retombé sur mes anciens albums et je me suis mis en tête de les terminer, après une très très longue pause, replongeant dans un univers que j'avais oublié et découvrant un monde beaucoup plus large, bien plus grand que celui qu'on entraperçoit en France.
When I was a child, I fell into the Panini pot with the annual collections of the French football championship and then I quit. Big fan of wrestling as a teenager, I had my first real entry in this field with the Slam Attax where I was looking to finish the albums. In 2019, I came back to my old albums and I got it into my head to finish them, after a very, very long break, plunging back into a universe that I had forgotten and discovering a much larger world, much bigger than that. that we can see in France.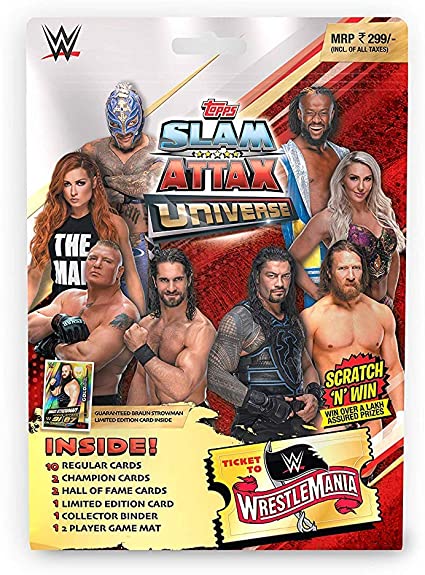 -Te souviens-tu de ta toute première carte ? Laquelle était-ce ? Do you remember your first card ? Which one was it ?
Malheureusement non. Je pense que c'était la toute première collection Pokémon, vendue notamment avec un paquet de chewing-gum. Je donnais la boule collante à mes parents et je prenais les cartes (haha) et je pense l'avoir presque complète cette collection. Il faut juste que je la retrouve.
Unfortunately no. I think it was the very first Pokémon collection, including a packet of gum. I would give the sticky ball to my parents and pick up the cards (haha) and think I have almost completed this collection. I just need to find her.
-Quels sports, quelles cartes et/ou collections recherches-tu ? What kind of sports, what kind of cards or collections are you looking for ?
Je collectionne les cartes Adrenalyn du championnat de France de football depuis deux saisons mais sinon je suis très curieux, notamment sur les collections de Topps en ce qui concerne la WWE, le foot US ou même certaines séries ou productions. Récemment, j'ai trouvé des cartes du film Barb Wire ou encore sur la série X-Files.
I have been collecting Adrenalyn cards from the French football championship for two seasons, but otherwise I'm very curious, especially about Topps collections regarding WWE, US football or even certain series or productions. Recently, I found cards from the movie Barb Wire or the X-Files series.
-Quelle est la plus belle carte de ta collection ? What's your most beautiful card in your collection ?
J'avoue que je suis fier de posséder le premier set "Topps Now" concernant la XFL. Cette ligue de foot US visait à s'implanter durement aux USA et après la première semaine, j'ai acheté le pack de 5 ou 6 cartes éditées par Topps. J'aurais adoré le faire toutes les semaines mais ce n'était pas possible pour moi donc je n'en possède qu'un seul.
I have to admit that I am proud to own the first "Topps Now" set for the XFL. This US football league was aiming to gain a firm foothold in the USA and after the first week I bought the Topps 5 or 6 card pack. I would have loved to do it every week but it wasn't possible for me so I only have one.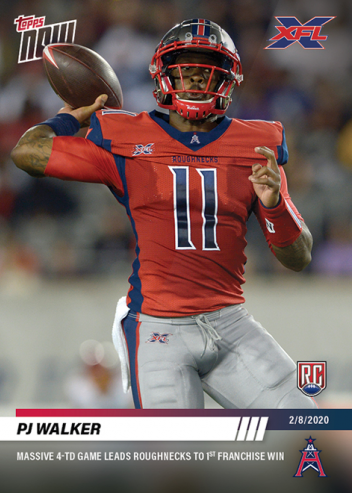 -Quel est ton prochain achat ? What's your next purchase ?
Je n'ai pas d'achat prioritaire car j'ai une liste assez fournie de cartes ou de box qui m'intéressent sur un site bien connu.
I don't have a priority purchase because I have a fairly extensive list of cards or boxes that interest me on a well-known site.
-Quel est ton budget mensuel ? What's your monthly budget ?
Je dépasse rarement les 50 euros par mois.
I rarely exceed 50 euros per month.
-Quelle est la carte de tes rêves ? What's your dream's card ?
J'adorerai qu'un jour que l'on fasse une collection sur le cinéma à suspense. C'est un genre que j'adore et je rêve de retrouver des sets sur Phone Game, 8 mm, les films d'Hitchcock ou encore Panic Room. J'avoue, je pars loin mais why not ?
I will love that one day we do a collection on thrillers. It's a genre that I love and I dream of finding sets on Phone Game, 8mm, Hitchcock's films or Panic Room. I admit, I'm going far but why not?
-Quel(s) conseil(s) donnerais-tu à un débutant ? Aurais-tu un bon plan à lui donner ? Have you an advice to a beginner ? Have you a good hobby plan ?
Je donnerai le conseil à un débutant de ne pas chercher à posséder juste pour posséder. Il faut commencer par des collections ou des cartes sur ses réelles passions ou envies et surtout ne pas hésiter à acheter un paquet ou une petite boîte car le plaisir de découvrir des cartes neuves est unique.
I will advise a beginner not to seek to own just for the sake of owning. You have to start with collections or cards on your real passions or desires and especially not to hesitate to buy a pack or a small box because the pleasure of discovering new cards is fantastic.
-Quelle est ta vision du hobby actuellement ? What's your actual hobby's vision ?
Je regrette que le hobby ne soit pas aussi développé qu'aux USA. Sans aller jusqu'à des collections complètement farfelues (POTUS où tu peux trouver des cheveux d'anciens présidents des USA), je trouve dommage que Panini ou même Topps ne cherchent pas à importer un peu plus leurs styles en France avec des insert, des autographes ou encore des cartes vraiment spéciales.
On pourrait imaginer, un jour, la création d'un magasin en France qui ne serait tourné que vers le hobby. Il faudra avoir les reins solides pour faire un commerce comme celui-ci, surtout lorsqu'on parle à une niche de fans.
I regret that the hobby is not as developed as in the USA. Without going as far as completely eccentric collections (POTUS where you can find the hair of former presidents of the USA), I find it unfortunate that Panini or even Topps do not seek to import their styles a little more in France with inserts, autographs or even really special cards.
One could imagine, one day, the creation of a store in France that would only be geared towards the hobby. It will take a tough kidney to trade like this, especially when talking to little fan.
Un grand Merci à Frederic pour avoir répondu à nos questions en janvier 2021.
A great thank you to Frederic for answering in 2021 january.
N'hésitez pas à partager cet article et à le commenter pour donner votre avis. Vous pouvez également vous abonner à nos pages Facebook et Twitter, à la chaîne Youtube de US Sports Fans Cards, mais aussi contribuer en partageant les articles et/ou en filmant vos ouvertures de boxes ou vos collections personnelles (contactez-nous pour plus d'information). US Sports Fans Cards n'existe que grâce à ses contributeurs, on compte sur vous pour faire vivre notre passion!
You can share and comment this article for knowing your feelings. You can follow us on Facebook, Twitter and Youtube. You can also contribute in sharing articles, filming cards and open boxes (contact us for more informations). US Sports Fans Cards only exist with your contributions, we're relying on you to make our passion living!