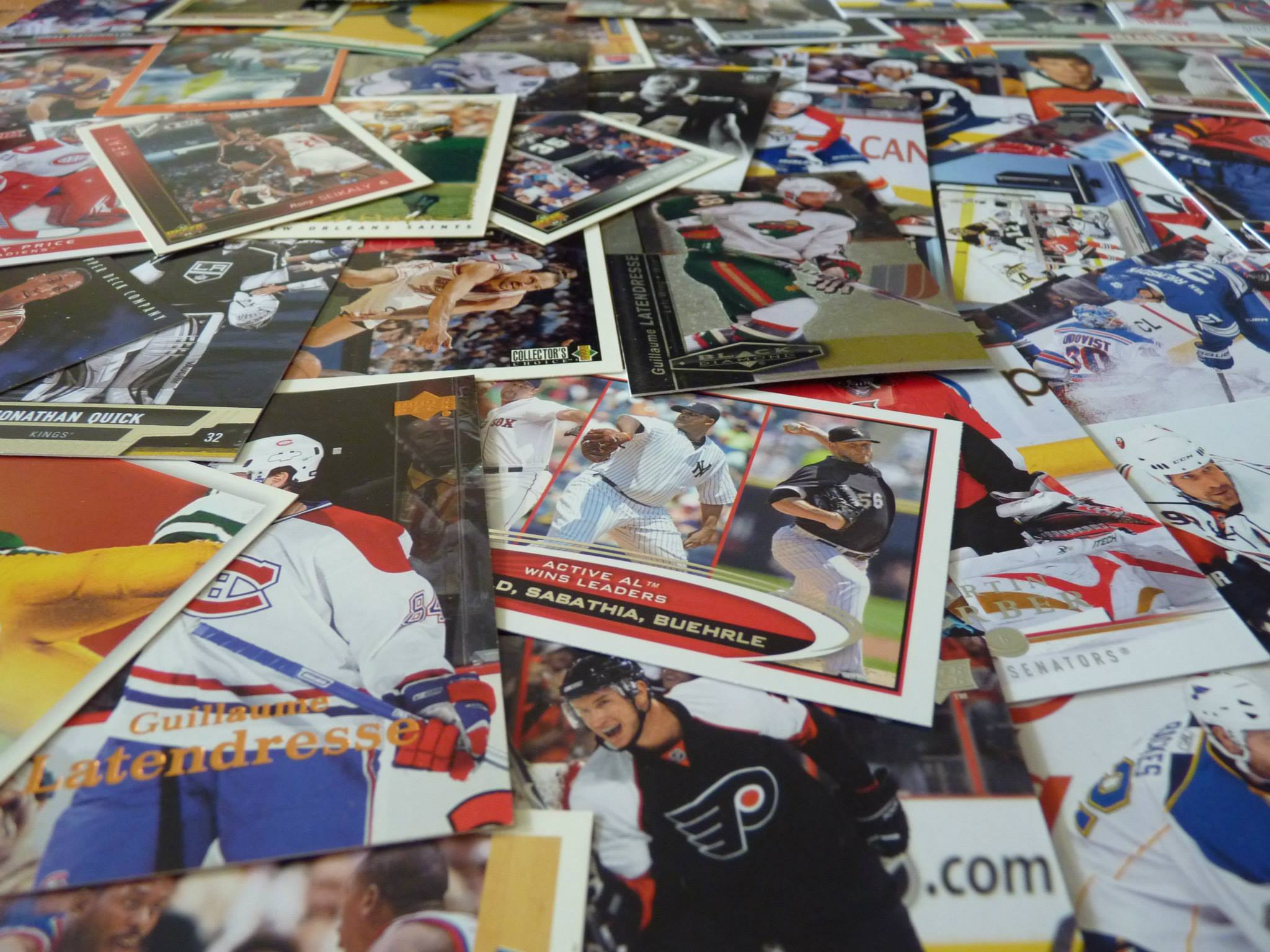 Bonjour chers lecteurs,
Nous allons vous présenter régulièrement l'un d'entre vous. Celui-ci aura la parole dans cette interview. Aujourd'hui, c'est au tour d'Adrien de nous parler des cartes!
Hi dear readers,
Frequently we'll present you a collector like you. He will speak about hobby in this interview. Today, it's Adrien speaking about cards!
-Bonjour, peux-tu te présenter aux lecteurs? Hello, could you introduce yourself?
Bonjour je m'appelle Adrien, j'ai 31 ans et toutes mes dents ! J'habite en région parisienne.
Hello, my name is Adrien, i'm 31 and a perfect shape! I'm living in Paris area.
-Depuis quand collectionnes-tu et comment es-tu tombé dans le hobby? How long are you collecting? How do you start collecting?
J'ai toujours collectionné des cartes (notamment des Magics durant mon adolescence) ou pas mal d'objets en tout genre.
Etant passionné par les sports US, je me suis dit pourquoi pas commencer à collectionner des cartes de sportifs. Je savais que ce genre de collection est très rependu aux états unis, certaines séries ou films y font référence.
Cependant en France je ne savais pas comment me procurer des cartes.
Un jour en recherchant sur le net j'ai trouvé une boutique, la Geek Factory, qui en vendait. J'ai commencé par en acheter dans cette boutique il y'a environ 2 ans. J'ai également entraîné ma copine dans cette addiction,
Elle s'est mise à collection les cartes de Hockey et de Football Américain.
I'd always collected cards (including Magis cards during my adolescence) or lots sorts of stuffs.
As i am a US sports fan, why not starting to collect sports cards? I knew this king of hobby is important in the US, some sitcoms or TV shows spoken about it.
However, in France, i didn't know how to find some cards.
One day, lookin on the Internet, i found a shop, The Geek Factory , that sell some. I started to buy cards to this store nearly two years ago. I aslo convince my girlfriend in this addiction.
She has started to collect hockey and american football's cards.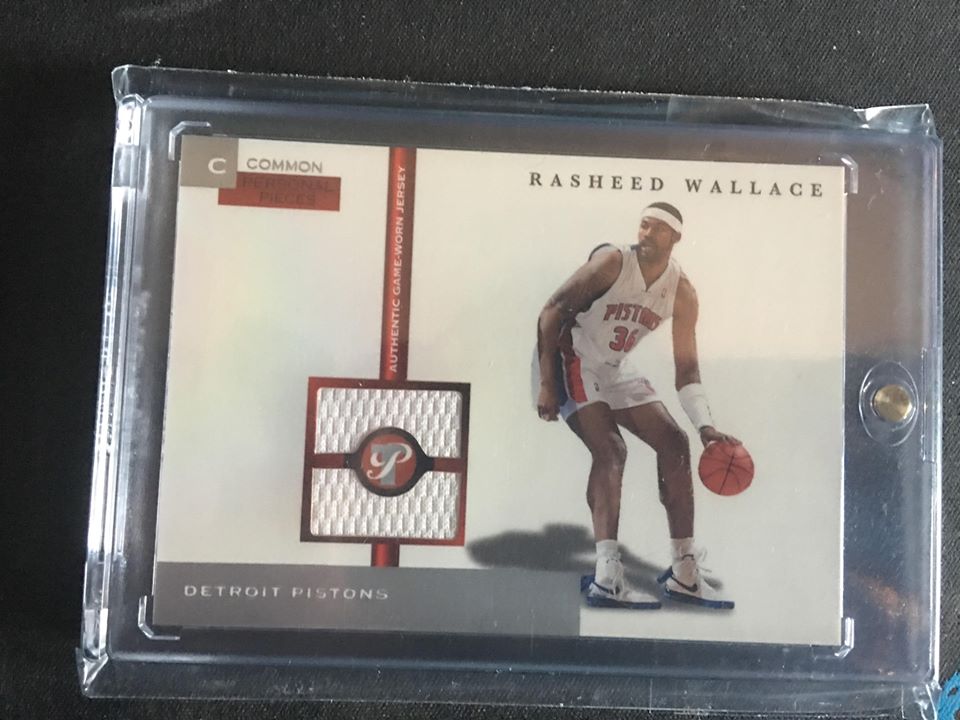 -Te souviens-tu de ta toute première carte? Laquelle était-ce? Do you remember your first card? Which one was it?
Je me souviens de la première boite que j'ai acheté il s'agissait d'une O-Pee-Chee 2015-16 Hockey. La première carte dont je me souviens le plus c'est une carte Jersey Ultimate de Colton Parayko sous maillot des Sabres de Buffalo offert par la Geek Factory lors de cette première visite.
I do remember the first box i bought, it was an hockey 2015-16 O-Pee-Chee. The first card i do remebered the most is an Ultimate Jersey card of Colton Parayko on the Buffalo Sabres jersey. It was offered by The Geek Factory for my first visit on the shop.
-Quels sports, quelles cartes et/ou collections recherches-tu? What kind of sports, what kind of cards or collections are you looking for?
C'est un drame total, je collection trop de choses, je vais essayer de ne rien oublier.
NHL : Red Wings , Alexander Ovechkin , Ryan Nugent-Hopkins , Brent Burns, Jimmy Vesey, Nolan Patrick, Jesse Puljujarvi , Mike Bossy, Juuse Saros , Jackub Vrana, Alexander Radulov , Evgeny Kuznestov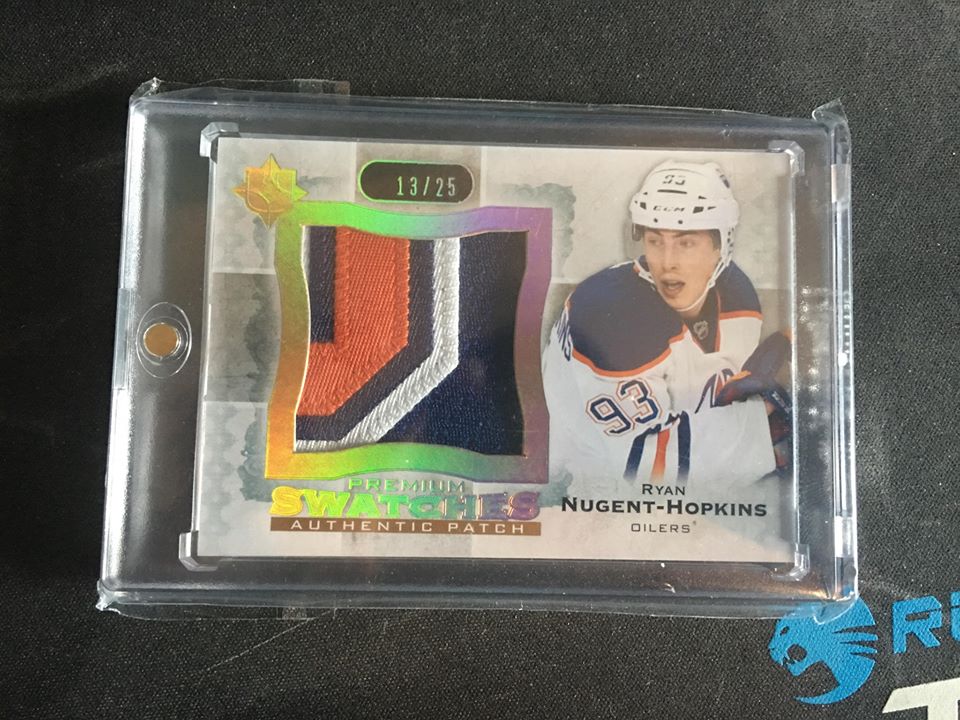 NBA : Rasheed Wallace , Denis Rodman , Patrick Ewing, Nicolas Batum , Greg Oden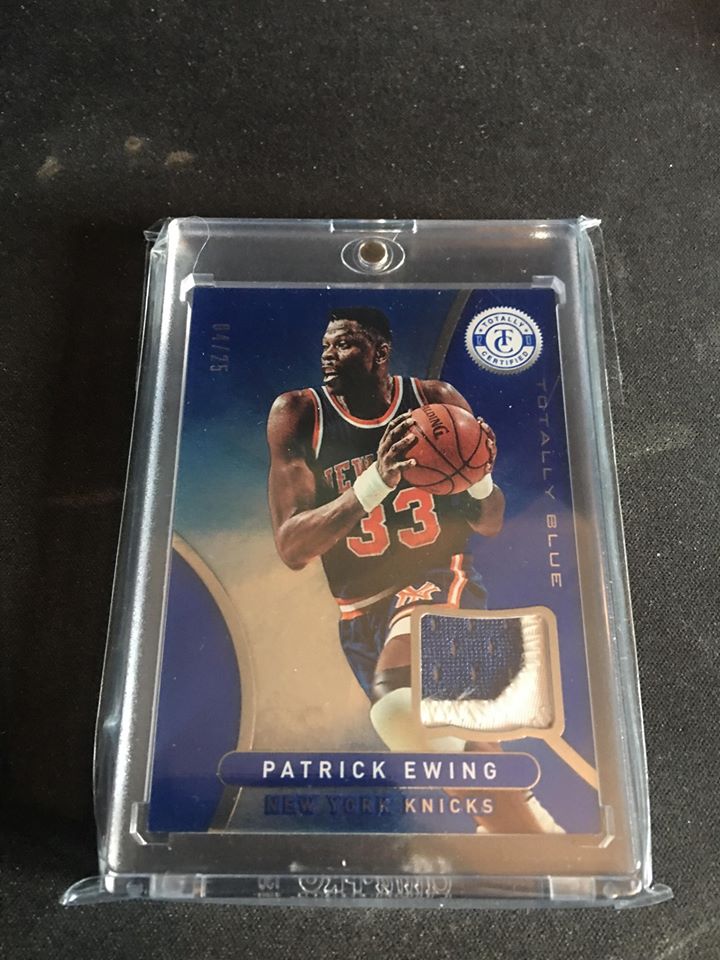 NFL : Troy Polamalu , Darren Sproles , et les Steelers de Pittsburgh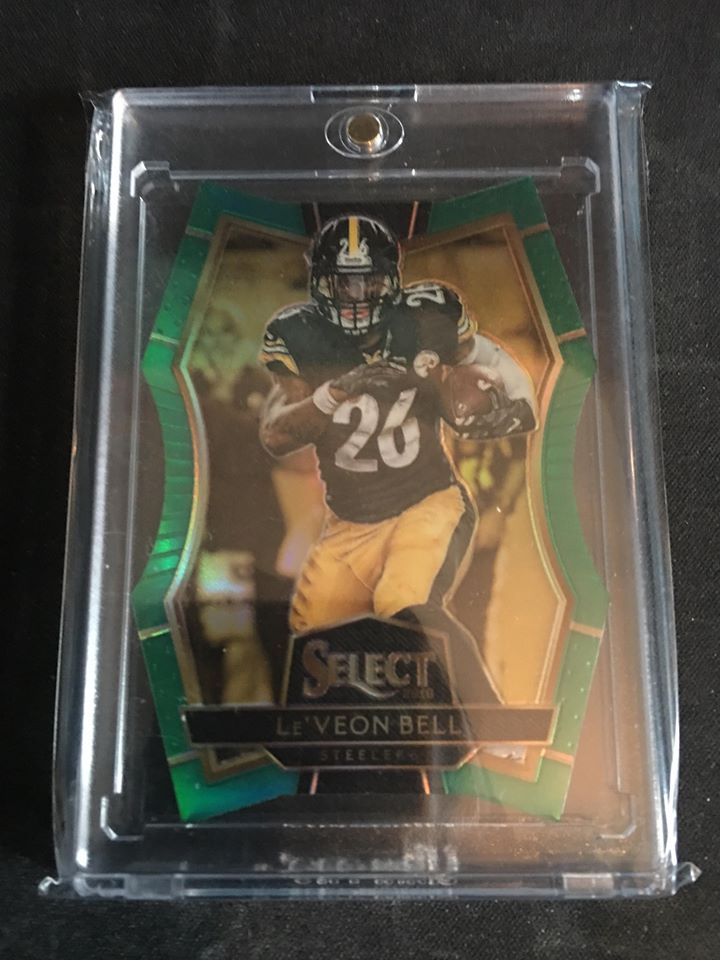 MLB : Pirates de Pittsburgh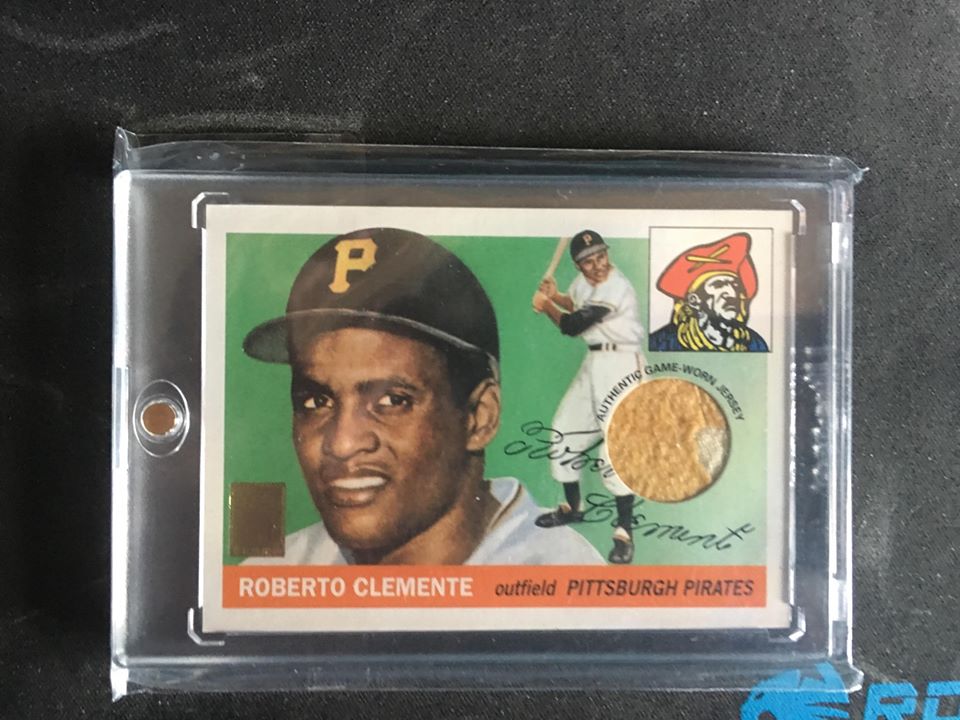 It's a real drama, i'm collecting too many stuffs, i'll try to do not miss someting:
NHL : Red Wings , Alexander Ovechkin , Ryan Nugent-Hopkins , Brent Burns, Jimmy Vesey, Nolan Patrick, Jesse Puljujarvi , Mike Bossy, Juuse Saros , Jackub Vrana, Alexander Radulov , Evgeny Kuznestov
NBA : Rasheed Wallace , Denis Rodman , Patrick Ewing, Nicolas Batum , Greg Oden
NFL : Troy Polamalu , Darren Sproles , et les Steelers de Pittsburgh
MLB : Pirates de Pittsburgh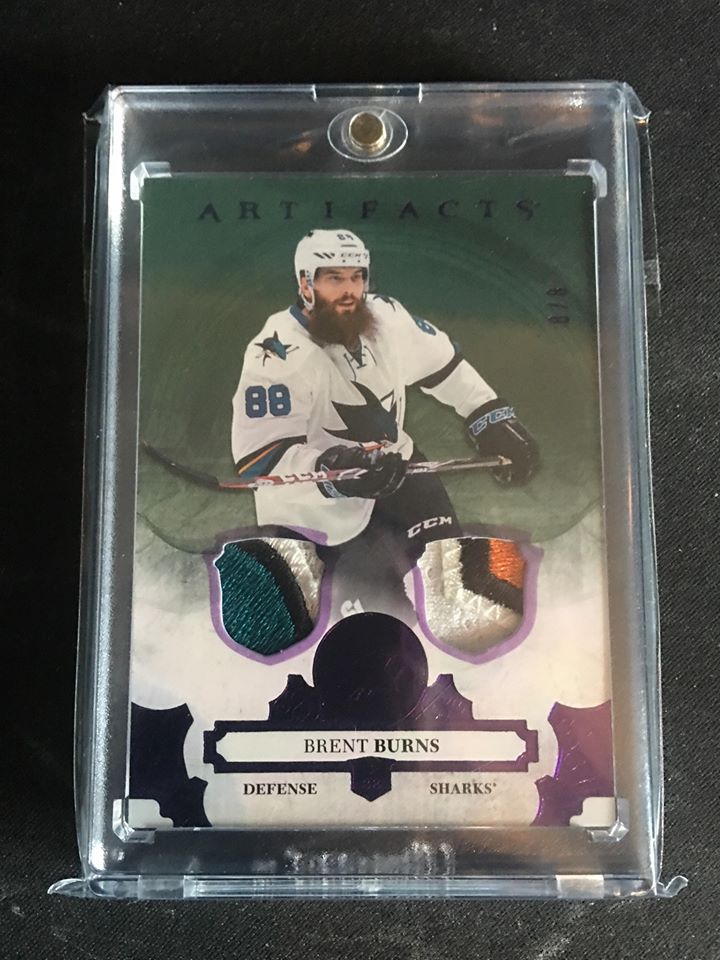 -Quelle est la plus belle carte de ta collection? What's your most beautiful card in your collection?
Une Patch autographe 1/10 Alexander Ovechkin obtenu sous forme de redemption lors de l'ouverture de ma première boite de Black Diamond. Le Patch est un morceau de cuir blanc avec un peu de tissu rouge en dessous. Je pense qu'il s'agit d'une partie du gant.
One Alexander Ovechkin Auto Patch 1/10 obtained with a redemption card when i opened my first Black Diamond box. Patch is a part of white leather with a little of red piece of clothe. I think it's a part of the glove.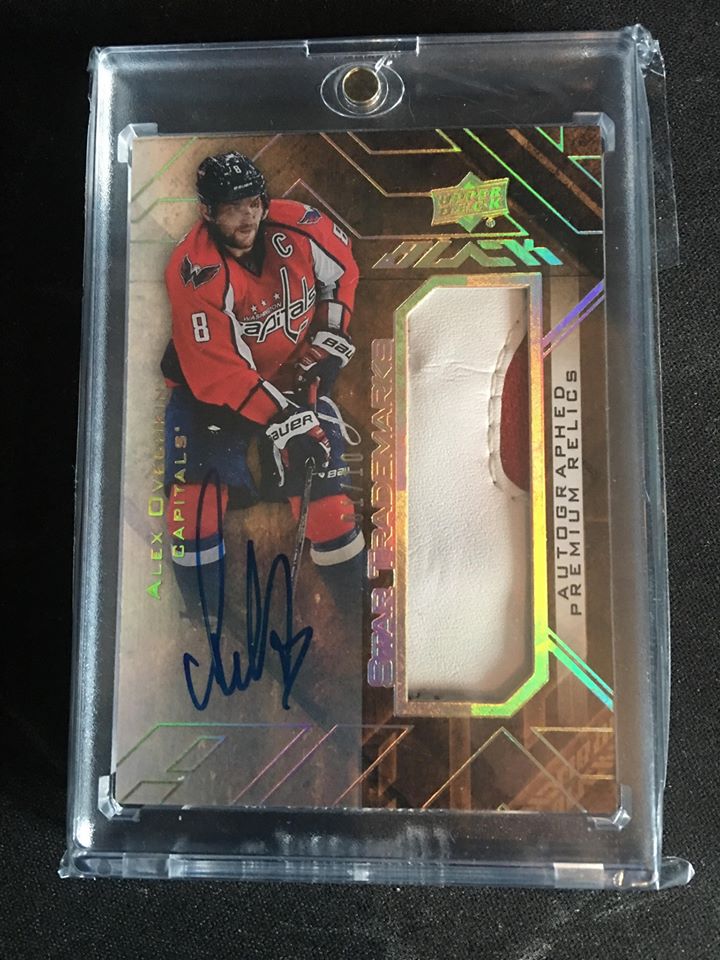 -Quel est ton prochain achat? What's your next purchase?
Je pense acheter encore des boites très prochainement, probablement une NHL Black Diamond , j'y vais un peu au feeling. Mon grand plaisir est d'ouvrir des boites avec ma copine et des amis.

I think i will buy some boxes really soon, certainly a NHL Black Diamond, I'm basing on my feelings. My best pleasure is to open boxes with my girlfriend and with friends.
-Quel est ton budget mensuel? What's your monthly budget?
Ca dépend des mois mais grosso modo je dois claquer environ 300 € par mois dans le hobby.
It depend but it's around 300 € per month in the hobby.
-Quelle est la carte de tes rêves? What's your dream's card?
Une belle The Cup d'Ovechkin auto Patch low number.
A beautiful Ovechkin Auto Patch The Cup with a low number.
-Quel(s) conseil(s) donnerais-tu à un débutant? Aurais-tu un bon plan à lui donner? Have you an advice to a beginner? Have you a good hobby plan?
Ne surtout pas faire comme moi et acheter trop. Se concentrer sur 1 ou deux joueurs max, sur une équipe, sur un sport.
Le meilleur conseil que je peux donner , c'est de regarder sur youtube des ouvertures de produits pour bien se faire une idée de la qualité et du design des cartes. Acheter moins de cartes en volume (de collections basiques) mais plutôt acheter des cartes ou des boites de collections plus haut de gammes.
Dernière chose importante, ne lésinez pas sur les protections de vos cartes, toploaders, sleeves, magnetic holder ,allez y à fond, ça transforme un morceau de carton en un véritable objet de collection.
Above all, do not do as i do and buy too much. You have to focus only on one or two palyers, on a team, on a sport.
The best advice i can give is to watch open boxes on Youtube to have an idea of the quality and of the design of cards. Buying less in volume (basic collections) and it's better to buy high end cards and collections .
Last important think, do not miss on the cards protections. Toploaders, sleeves, magnetic holders are making your cards a real hobby collector.
-Quelle est ta vision du hobby actuellement ? As-tu des anecdotes sympas ou non depuis que tu collectionnes ? Que souhaites-tu développer dans ce monde "fermé" en France et en Europe ? What's your actual hobby's vision? Have you got fun facts since you're collecting? What would you want to see growing up in this "closed" world in France and Europe?
Je vois le Hobby un peu comme une sorte de loto, quand on ouvre une boite on peut obtenir une carte qui peut valoir beaucoup d'argent, mais généralement ce n'est pas le cas le prix de la boite n'est souvent pas rentabilisé par son contenu. Malheureusement ce coté lié à la valeur des cartes gangrène un peu le hobby , beaucoup veulent rentabiliser un maximum leurs collections en misant sur les nouveaux joueurs.
Les moments que j'adore depuis que je collectionne ont été les rassemblements auxquels j'ai participé.
Se retrouver entre fous furieux de la carte c'était vraiment sympa. J'ai découvert pleins de manières différentes de collectionner.
J'essaye de faire régulièrement des live pour présenter mes arrivages et mes ouvertures de boites. J'avais aussi pour projet de faire un blog sur les cartes mais malheureusement je n'ai pas assez de temps / courage pour faire du contenu de qualité. J'aimerai bien aussi faire une sorte de podcast audio sur les collections pour pouvoir discuter avec des passionnés , mais là aussi il faut du temps et du talent et je ne suis pas sur de pouvoir le faire.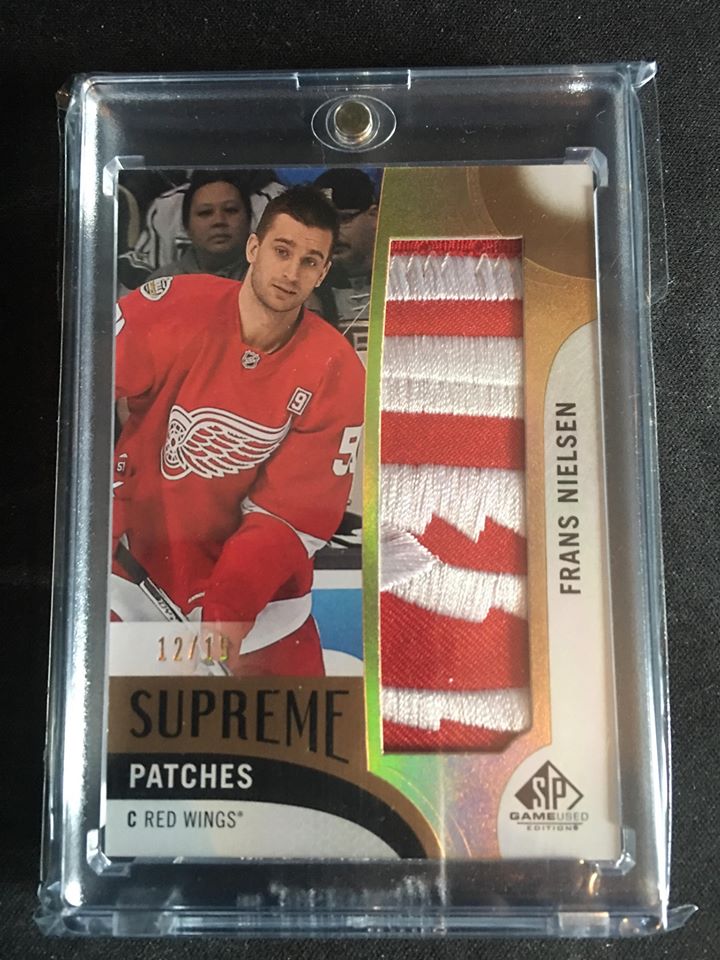 I can see hobby like a kind of lottery, when you open a box, you can found a card with a great money value. But generally, it's not the case, boxe's price is not porfitable with the cards you can find inside. Unfortunatly, this value side is corrupting a little bit the hobby. A lot of people want to make profitable there collections in betting on new palyers.
The moments i really love, since i'm collecting, are meetings i've been part of.
To be part of crazy guys collectors is really fun. I saw a lot of different way to collect during this events.
I try to do frequently some video lives to show my new arrivals and my open boxes. I've a complete bill in order to do a blog on cards. But unfortunatly, i don't have to many time and motivation to do some quality stuff. I'd rellay like to do some radio podcast on hobby and to talk with hobby fans, but it's the same, you need to have time ans to be talented, and i'm not sure to be able to do it.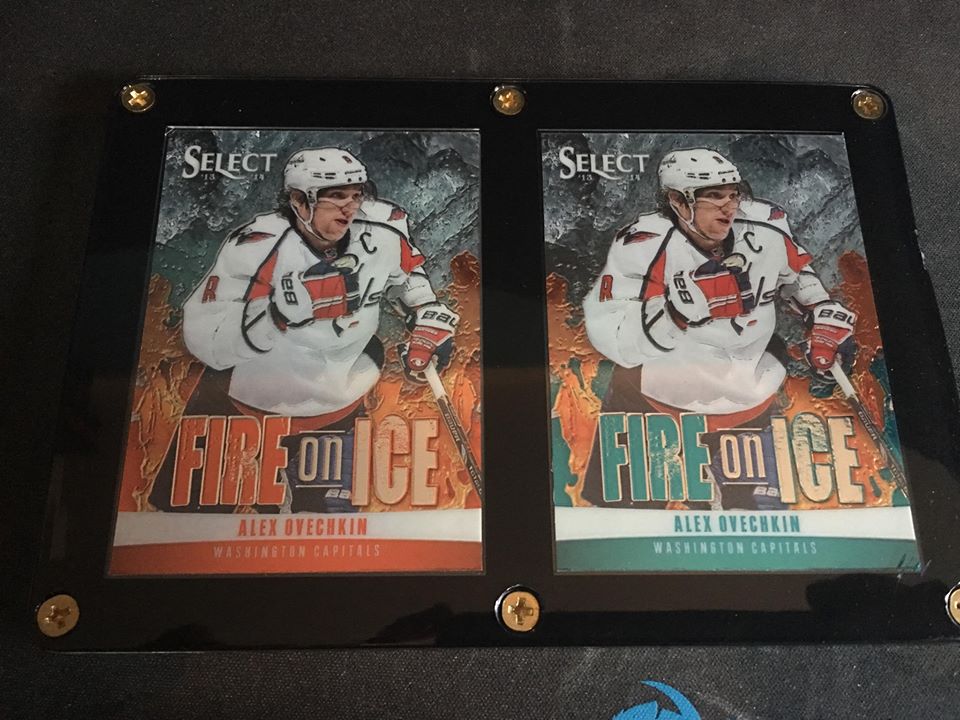 Un grand merci à Adrien Derveloy pour avoir répondu à nos questions le 28/04/2019.
A big thank you to Adrien Derveloy for answering to the interview on 2019/04/28.
Pour rappel, cette interview est faite pour vous, amis collectionneurs, vous pouvez donc prendre la parole si le coeur vous en dit…Vous n'avez qu'à contacter le collectif pour cela!
As a reminder, this interview is made for you, dear collector friends, so you can speak in the next article… you just have to contact the collective.
N'hésitez pas à partager cet article et à le commenter pour donner votre avis. Vous pouvez également vous abonner à nos pages Facebook et Twitter, à la chaîne Youtube de US Sports Fans Cards, mais aussi contribuer en partageant les articles et/ou en filmant vos ouvertures de boxes ou vos collections personnelles (contactez-nous pour plus d'information). US Sports Fans Cards n'existe que grâce à ses contributeurs, on compte sur vous pour faire vivre notre passion!
Do not hesitate to share and to comment this article to know your feelings. You can follow us on Facebook, Twitter and Youtube. You can also contribute in sharing articles, filming cards and open boxes (contact us for more informations). US Sports Fans Cards only exist with your contributions, we're relying on you to make our passion living!