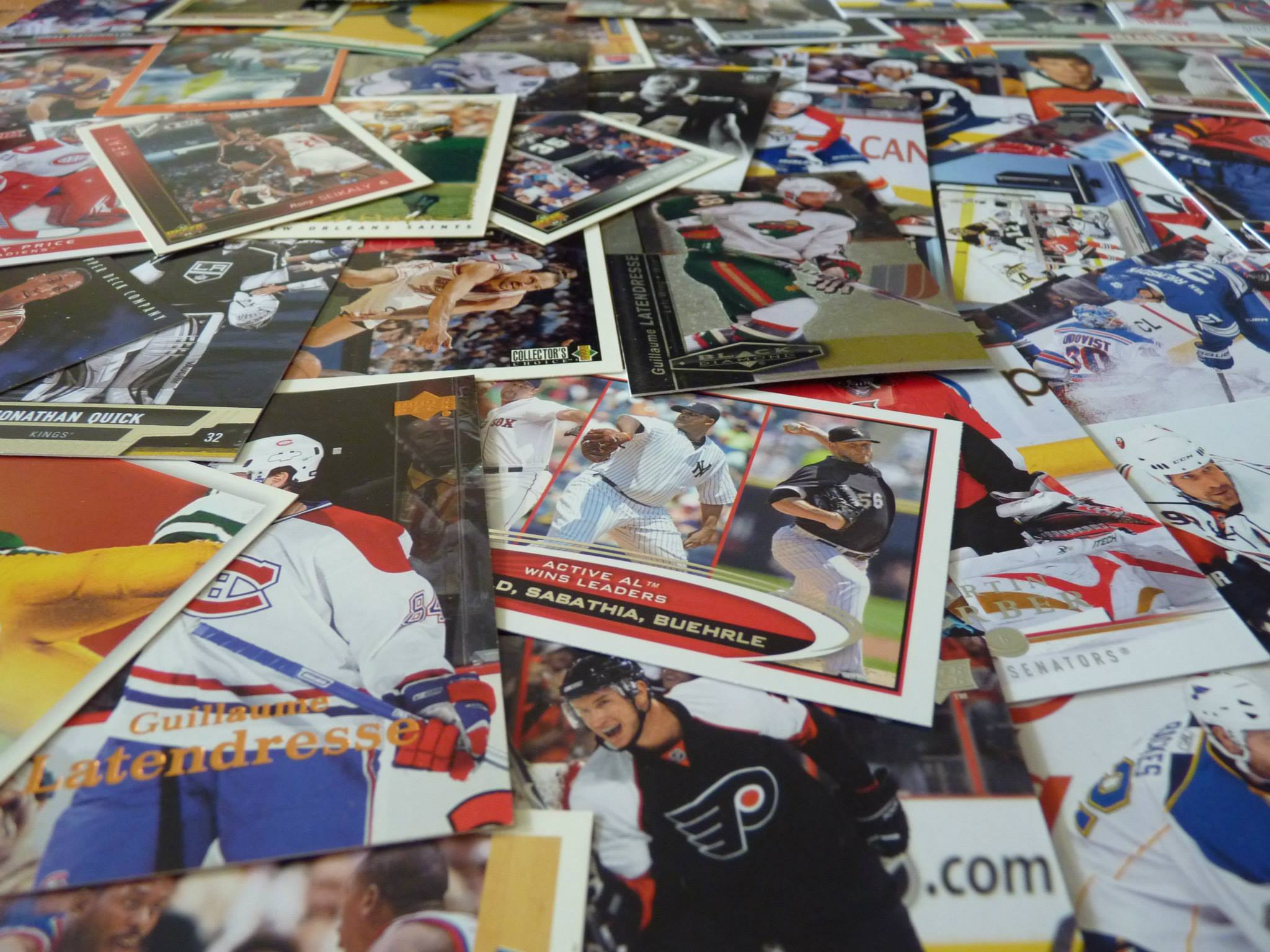 Bonjour chers lecteurs,
Nous allons vous présenter régulièrement l'un d'entre vous. Celui-ci aura la parole dans cette interview. Aujourd'hui, nous laissons la parole à Philippe!
Hello dear followers,
Frequently we'll present you a collector like you. He will speak about hobby in this interview. Today, it's Philippe speaking!
-Bonjour, peux-tu te présenter aux lecteurs? Hello, could you introduce yourself?
Hello, je m'appelle Philippe bien que j'écrive toujours mon prénom Filip. D'autres personnes me connaissent par le pseudo Scot ou Scot Cards. J'habite en France, à la frontière avec le Luxembourg. Bien que je collectionne les cartes de basket, mon sport favori est le tennis. Je suis un grand amateur de sport en général mais je ne suis pas du tout les autres sports US par exemple !
Hello, my name is Philippe even if i always write my name Filip. Some people know me as Scot or Scot Cards. I'm living in France, in border with Luxembourg. Although i'm collecting basketball cards, my favorite sport is tennis. In a big sports fan in general, but i'm not following anyway all the other US Sports for exemple!
-Depuis quand collectionnes-tu et comment est-tu tombé dans le hobby? How long are you collecting? How do you start collecting?
Je collectionne depuis 1993. Les JO de Barcelone ont été l'élément déclencheur mais les collections Upper Deck présentes chez les marchands de journaux ont permis de vraiment me lancer…puis un séjour au Canada l'année suivante m'a permis d'acheter mes premier(e)s packs/boites.
I'm collecting since 1993, Barcelona's Olympics was the trigger point but Upper Deck collections in paper shops made me starting…And a year after, a trip on Canada prodived me to buy my fist packs and boxes.
-Te souviens-tu de ta toute première carte? Laquelle était-ce? Do you remember your first card? Which one was it?
Je ne saurais dire le joueur apparaissant sur la première carte mais il s'agissait de 2 cartes gratuites offertes (1993-94 Upper Deck version française) par le magazine Mondial Basket ou MVP Basket, je ne me souviens plus.
I can't tell you who was the player on my first card but it was two free cards given (1993-94 Upper Deck french version) on Mondial Basket or MVP Basket (french monthly magazines), i can't exactly remember.
-Quels sports, quelles cartes et/ou collections recherches-tu? What kind of sports, what kind of cards or collections are you looking for?
Je collectionne exclusivement le basket.
Je recherche des cartes de Jordan, Udonis Haslem, Jeff McInnis, Rex Chapman, Dale Ellis, Tracy Murray et Mo Williams.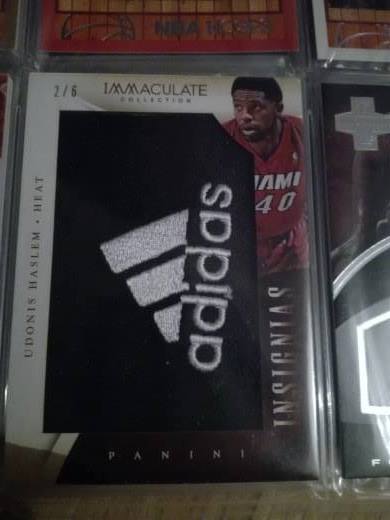 Aussi je cherche à finir le set de 1998-99 Skybox Molten Metal Fusion Titanium /40 (manque uniquement Damon Stoudamire et Mickael Olowokandi) ainsi que tous les sets « métal » des Fleer Retro. Et enfin, je cherche à compléter 300 sets d'inserts des années 90. Autant dire que ça en fait des recherches, mais ça permet de toujours garder le rythme.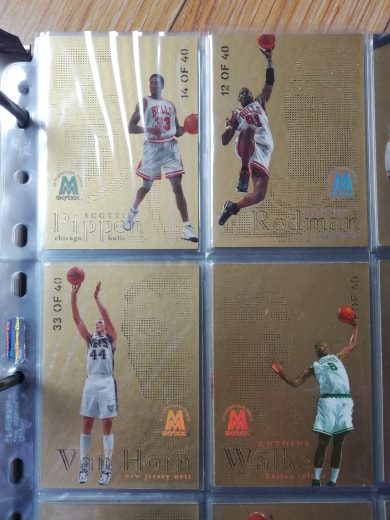 J'ai ajouté certaines recherches au fil du temps car je ne rentrais quasiment que des cartes pour les autres et parfois c'est frustrant de ne pouvoir garder des cartes pour sa PC.
I'm only collecting basketball.
I'm looking for Jordan, Udonis Haslem, Jeff McInnis, Rex Chapman, Dale Ellis, Tracy Murray and Mo Williams cards.
Also, i'd like to finish 1998-99 set of Skybox Molten Metal Fusion Titanium /40 (only missing Damon Stoudamire and Mickael Olowokandi) and all the "metal" sets of Fleer Retro . Last but not least, i'm looking to finish 300 insert sets of the 90's. I have to say it's a lot of search, but it help to keep the rythm.
Over time, i add some researches because i only found cards for other people ans sometime it's king of irriting to be not able to keep cards for your collection.
-Quelle est la plus belle carte de ta collection? What's your most beautiful card in your collection?
La plus belle et la plus chère également…
The most beautiful and the most expensive too…
La / The 1998-99 Skybox Molten Metal Fusion Titanium Michael Jordan /40 .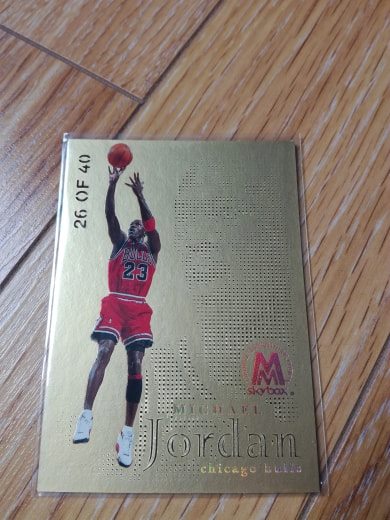 -Quel est ton prochain achat? What's your next purchase?
Aucune idée ça dépendra de ce que je trouve pour ma collection. Je n'ai acheté que 2 cartes depuis le 1er janvier 2019 car vu l'avancement de mes collections, il est assez rare que je trouve une carte qui me manque.
No idea, it will depend what i can find for my collection. I've only bought 2 cards since the beginning of the year, because as my collections growing up, it's not really easy to find a card i'm missing.
-Quel est ton budget mensuel? What's your monthly budget?
Il peut être (très) élevé mais désormais que j'ai quasiment tout, il est souvent de 0 €.
It could be (really) high, but as i've got nearly what i'm looking for, it's almost 0 €.
-Quelle est la carte de tes rêves? What's your dream's card?
Pas une en particulier mais les inserts de Jordan années 90 me font craquer…
Not specially one, but the 90's Jordan's inserts make me crazy…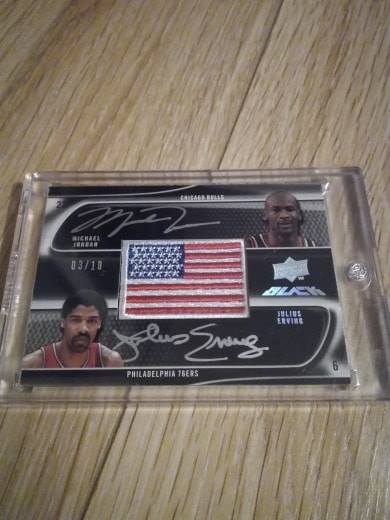 -Quel conseil donnerais-tu à un débutant? Aurais-tu un bon plan à lui donner? Have you an advice to a beginner? Have you a good hobby plan?
Au début, je donnerai le conseil d'ouvrir plusieurs boites de « niveaux » différents afin de voir si on est plutôt collectionneur de joueur ou de sets, voire les 2, car si on ouvre une Donruss, Luxe et Immaculate on touche à trois catégories différentes ce qui permet de pouvoir émettre un premier jugement.
Apres il faut éviter de collectionner 15 joueurs surtout si parmi ces 15 figurent Giannis, Kobe, Lebron, Jordan, etc…
In the beginning, my advice is to open many boxes of different "levels", to see if you're more a player collector or a set collector or both, because if you open a Donruss, Luxe, Immaculate, you're on 3 different products categories, that can help to make a first idea.
After, you have to avoid to collect 15 players mostly if they are Giannis, Kobe, Lebron, Jordan, etc…
-Quelle est ta vision du hobby actuellement? As-tu des anecdotes sympas ou non depuis que tu collectionnes? Que souhaites-tu développer dans ce monde "fermé" en France et en Europe? What's your actual hobby's vision? Have you got fun facts since you're collecting? What would you want to see growing up in this "closed" world in France and Europe?
Les sites version forum sont en nette perte de vitesse mais cela ne date pas d'hier. Désormais tout se passe via les réseaux sociaux, du moins, c'est là qu'on retrouve les « gros collectionneurs » qui veulent bien se faire connaitre.
Il y a une petite anecdote marrante et curieuse qui porte sur cette carte: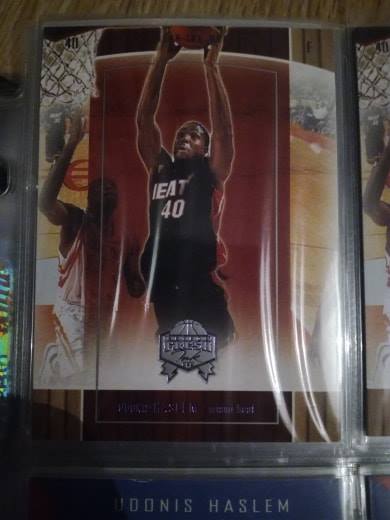 2004-05 Skybox Fresh Ink Udonis Haslem 1/1
A cette époque, j'étais en vacances en Egypte, je revenais de la plongée et je regarde les nouvelles enchères et là je vois que cette carte est partie en BIN (Buy It Now). J'étais archi dégouté car je regarde toujours le matin et non l'après-midi, du coup, je me suis dit que si j'avais regardé avant la plongée j'aurais peut-être eu cette carte!
Plusieurs années passent, et il y a 3 ans, j'étais à nouveau en Egypte et je prévoyais d'aller plonger en fin de matinée mais il y avait du vent, donc j'ai préféré retarder après le repas. J'en profite pour regarder les enchères et qu'est ce que je vois….Cette même carte en BIN. Je me suis retrouvé plusieurs années en arrière à vivre le même moment mais cette fois ci avec une fin heureuse.
Concernant le développement en France et en Europe, j'essaye à mon niveau d'aider un maximum de collectionneurs qui me confient leurs recherches et que j'essaye de fournir aussi bien que possible en fonction de leur budget respectif.
Je pense que si une convention européenne (l'équivalent de celle qui aura lieu à Chicago cette année) pouvait avoir lieu en Europe, que ça permettrait pas mal d'échanges et d'interactions.
Websites like forum are progressively lagging behind, but it's ben a while. Now everything is on social medias, at least, it's the place where you can find "big collectors" who want to be known.
There's a fun and curious fact on one card:
2004-05 Skybox Fresh Ink Udonis Haslem 1/1
At the time, i was on hollidays on Egypt, i came back from diving, and i'd looked new auctions and i saw this cards bought on "BIN" (Buy It Now). I was really disgusted because i used to always looking auctions in the morning and never in the afternoon, so i've told me if i'd looked before diving, this card would be mine!
Several years passed, and three years ago, i was in Egypt again, and i previewed to diving at the end of the morning but there was a lot od wind, so i prefered to delay it after midday. I'd gone for looking on the auctions, and what can i saw…The same card in BIN. I came back few years before to live the same stuff, but this time with a better end.
About hobby's developpement in France and in Europe, i try, in my capacity, to help the most collectors i can, whom give me there researchs, and i try to find cards as possible as it is, depending of everyone budget.
I think if an european convention (Similar as the one on Chicago this year) could be able to exist in Europe, it could help trading and interactions.
Un grand merci à Filip Larbaletrier pour avoir répondu à nos questions le 25/03/2019.
A big thank you to Filip Larbaletrier for answering to the interview on 2019/03/25.
N'hésitez pas à partager cet article et à le commenter pour donner votre avis. Vous pouvez également vous abonner à nos pages Facebook et Twitter, à la chaîne Youtube de US Sports Fans Cards, mais aussi contribuer en partageant les articles et/ou en filmant vos ouvertures de boxes ou vos collections personnelles (contactez-nous pour plus d'information). US Sports Fans Cards n'existe que grâce à ses contributeurs, on compte sur vous pour faire vivre notre passion!
Do not hesitate to share and to comment this article to know your feelings. You can follow us on Facebook, Twitter and Youtube. You can also contribute in sharing articles, filming cards and open boxes (contact us for more informations). US Sports Fans Cards only exist with your contributions, we're relying on you to make our passion living!