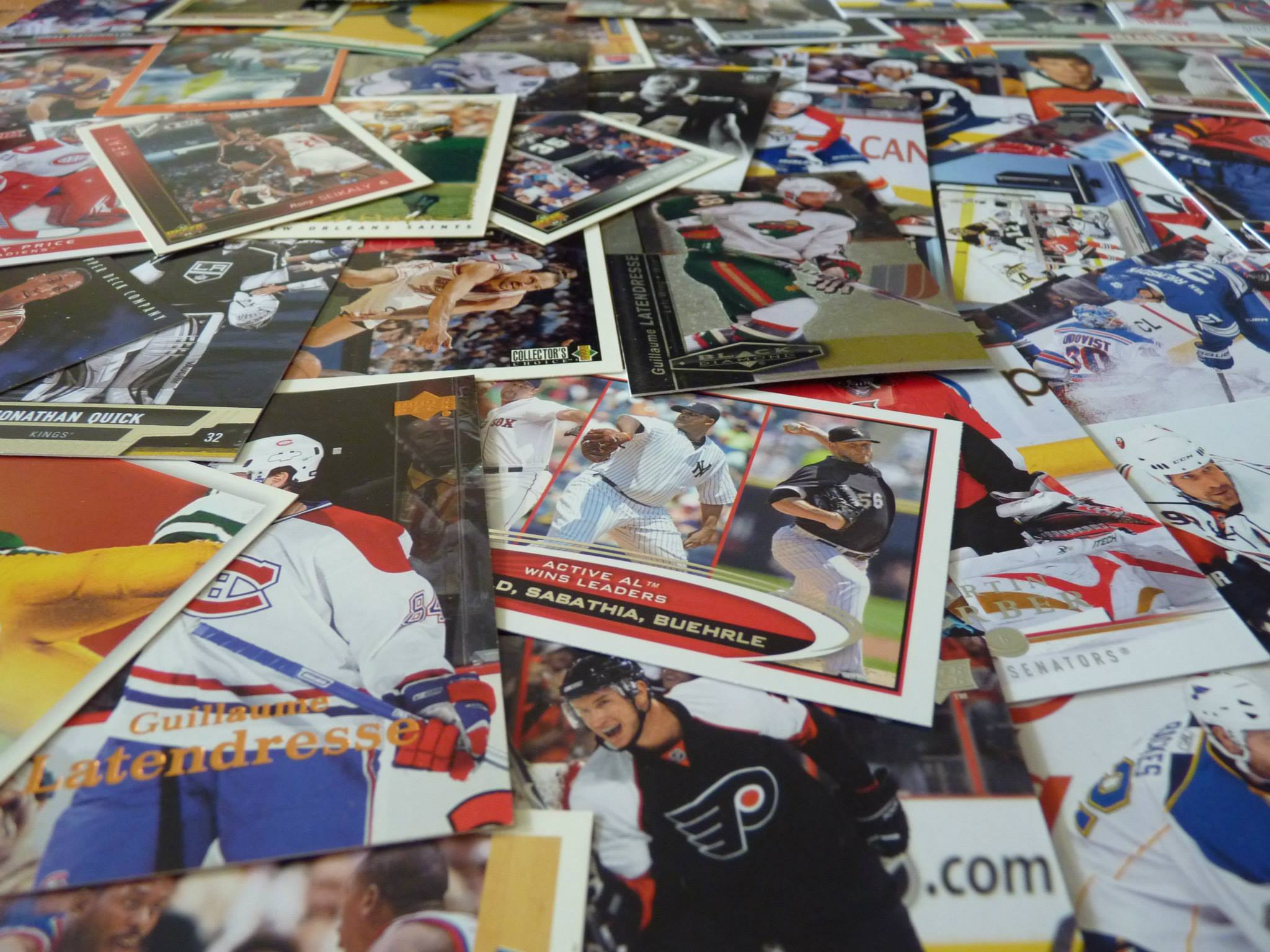 Bonjour chers collectionneurs,
Nous allons vous présenter régulièrement l'un d'entre vous. Celui-ci aura la parole dans cette interview. Aujourd'hui, c'est au tour de Michel de nous parler du hobby!
Hi dear collectors,
Frequently we'll present you a collector like you. He will speak about hobby in this interview. Today, it's Michel speaking about cards!
-Bonjour, peux-tu te présenter aux lecteurs? Hello, could you introduce yourself?
Bonjour je m'appelle Michel, j'ai 39 ans et je suis de Belgique (Le pays de la bière, de la frite et du chocolat).
Je suis en ménage et j'ai deux enfants de 6 et 8 ans.
Je suis enseignant en mécanique depuis 15 ans dans une école spécialisée de Bruxelles. Je suis sportif, VTT, volley, football et tennis mais curieusement je n'ai jamais joué en club au basket. Je joue au tennis depuis 23 ans et je suis le président de mon club.
Hello, my name is Michel, i'm 39, from Belgium (Beer, french fries an chocolate's country). I'm engaged with two childs. I'm teaching mecanics gor 15 years in a Bruxelles's special school. I play sports: mountain bike, volley ball, soccer and tennis, but curiously i never played basketball in a club. I play tennis for 23 years and i'm my club's chairman.
-Depuis quand collectionnes-tu et comment es-tu tombé dans le hobby? How long are you collecting? How do you start collecting?
J'ai commencé à suivre le basket avec les JO de Barcelone et la Dream Team mais j'ai réellement commencé en 1994 avec la fameuse finale entre les Bulls et les Suns. Un copain du quartier est venu avec des upper deck 93-94 série 1 et je trouvais sympa de collectionner des cartes.
I started in following basketball witg the Barcelona's Olympics with the Dream Team, but i really strated in 1994 with the famous finals between Bulls and Suns. A friend of mine came with some 1993-94 Upper Deck Serie one and it was cool to collect cards.
-Te souviens-tu de ta toute première carte? Laquelle était-ce? Do you remember your first card? Which one was it?
Mon père me ramenait des packs de Upper Deck 1993/94 de la libraire donc ça devait être une carte entre la numéro 1 et la 255 de cette collection (sans oublier les inserts).
My dad gave me back some packs of 1993/94 Upper Deck from the press, so it could be one card between the numbers 1 and 255 of this collection (without forgetting the inserts).
-Quels sports, quelles cartes et/ou collections recherches-tu? What kind of sports, what kind of cards or collections are you looking for?
Je me concentre uniquement sur le basket (Et les pokémon pour mes enfants) mais depuis 1994, je collectionne Jordan et les Bulls, après j'ai élargi mes recherches avec Bogues, Rider, Mashburn, Mbenga et Bazarevich. Je recherche aussi certaines cartes pour compléter des sets que j'aime bien comme la 1993/94 série 2 ou plus récemment les inserts en Studio 2016/17.
A coté de ça j'ai une collection de DVD sur Louis De Funes, de BD et je cherche aussi tous les magazines avec Jordan ou les Bulls en cover. Je suis redevenu fan des Lego et Playmobiles avec mes enfants. J'ai toujours aimé les jeux vidéo mais avec modération, je sais me passer de jouer pendant plusieurs semaines voir plusieurs mois.
I'm only focusing in basketball (and Pokemon for my kids), but since 1994, i'm collecting Jordan and the Bulls, after i'm expanding my search with Bogues, Rider, Mashburn, Mbenga and Bazarevich. I'm also looking for some cards to complete my favorite sets like 1993/94 serie 2 or recently Studio 2016/17 inserts.
In parallel of that, i'm collecting Louis de Funes DVD, comics and i'm looking for all magazines with Jordan or the Bulls in cover. I came back to be a fan of Lego and Playmobil toys with my kids. I alway liked video games but with moderation, i'm able to stop playing for several weeks or months.
-Quelle est la plus belle carte de ta collection? What's your most beautiful card in your collection?
Elles sont toutes belles J mais je dirais la mythique Fleer RC 57 de Michael Jordan.
They are all beautifull but i'll say the famous Fleer RC 57 of Michael Jordan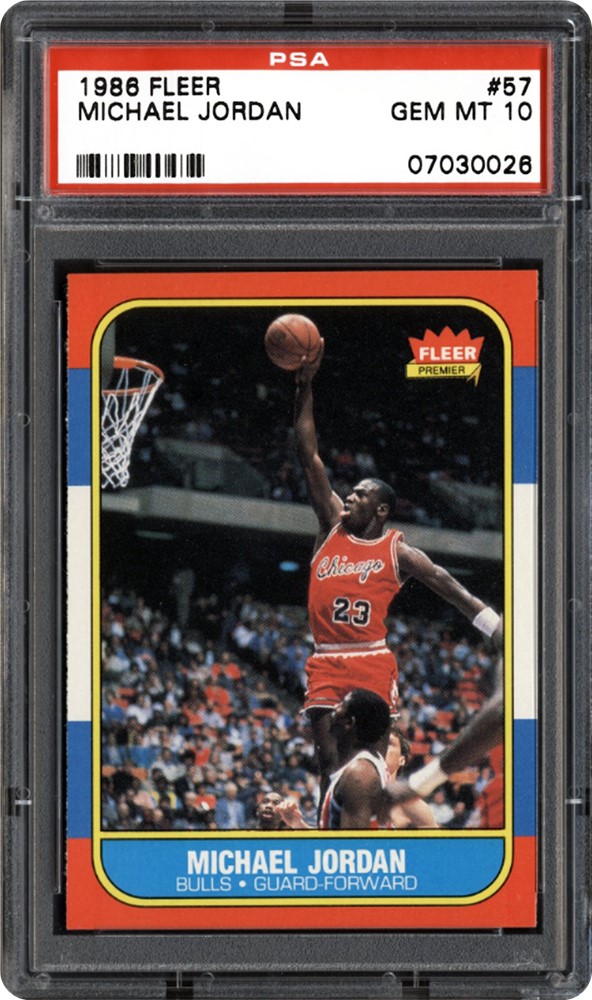 -Quel est ton prochain achat? What's your next purchase?
Je ne sais pas encore, on verra si je trouve quelque chose d'intéressant. Les deux cartes que j'ai dans le viseur sont :
I do not know yet, i'll see if i will find interesant stuff. The two cards i'll target are: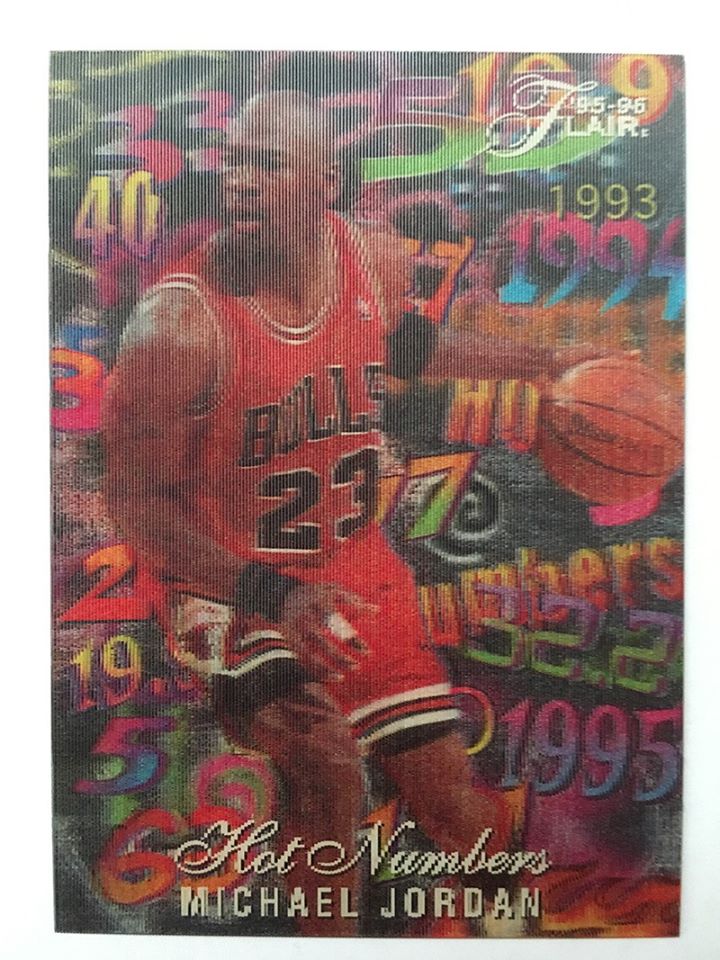 Flair 1995-96 Hot Numbers 3D Insert – Michael Jordan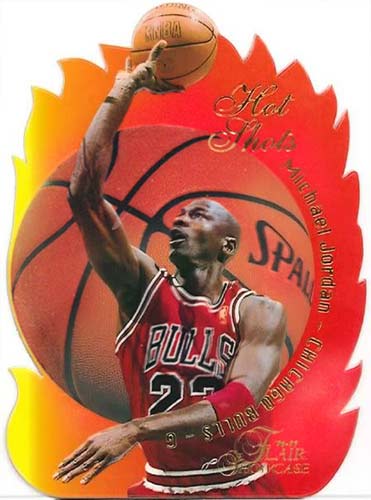 Flair Showcase 1996-97 Hot Shots 1 Of 20 – Michael Jordan
Je voudrais aussi avoir un auto de Vince Carter sous chacune de ses teams. Et pour finir je vais acheter au moins une fois toutes les boxes de 1990 jusqu'à la saison 1995-96, après trop cher et je vais tout ouvrir en une fois.
I'd also like to find a Vince Carte autograph in each teams jereys he played for. Then, i will buy at least one box of all the 1990 collections, 'til season 1995-196..After this season, it's too expensive…And i will open all in one and only time.
-Quel est ton budget mensuel? What's your monthly budget?
Il peut varier entre 1 et 500€ ça dépend de beaucoup de choses.
It may vary from 1 to 500€. It depend of lots of things.
-Quelle est la carte de tes rêves? What's your dream's card?
La Upper Deck 1997-98 Game Jersey GJ13S Auto, il porte le jersey du All Star Game.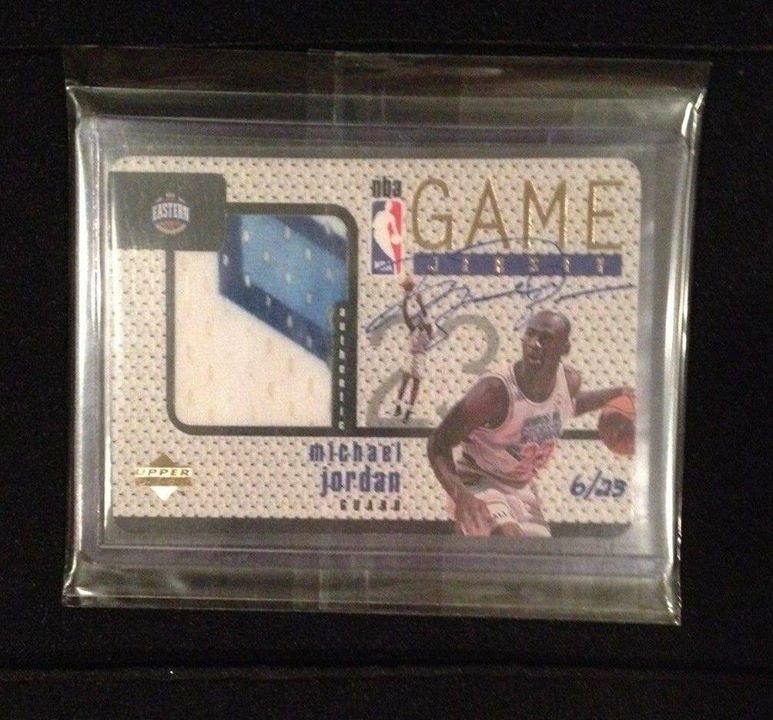 -Quel(s) conseil(s) donnerais-tu à un débutant? Aurais-tu un bon plan à lui donner? Have you an advice to a beginner? Have you a good hobby plan?
Ne pas aller dans tous les sens, cibler un joueur, une série, une équipe et surtout à son rythme. Il n'y a pas que les cartes dans la vie, ça doit rester une passion et pas un sujet de dispute (surtout avec madame J).
Do no be crazy in going on all the collections, focus on a player, a collection, a team and especially self-paced. Hobby's not the only thing in life, it have to stay a passion and not a point of dispute (specially with Madame J).
-Quelle est ta vision du hobby actuellement ? As-tu des anecdotes sympas ou non depuis que tu collectionnes ? Que souhaites-tu développer dans ce monde "fermé" en France et en Europe ? What's your actual hobby's vision? Have you got fun facts since you're collecting? What would you want to see growing up in this "closed" world in France and Europe?
Dans les années 90 on sortait 4 ou 5 collections puis au fur et à mesure le nombre à augmenter. Mes parents n'étaient pas millionnaires et je pouvais avoir que les collections les moins chères. Tu te dis quand je serai adulte je pourrai acheter des Finest 93/94 ou des Topps Chrome 96/97 mais avec les conneries de Panini le prix des anciennes boxes a augmenté très vite. Maintenant on trouve 1-2-3 auto par boxe alors qu'avant c'était tous les 280 packs pour certaines séries. En sortant 36000 parallèles ça devient de plus en plus difficile de récupérer toutes les cartes d'un joueur sauf bien sur en déboursant parfois une fortune. Je pense qu'on va ( et on y est déjà) vers un hobby à deux vitesses, ceux qui ne pourront prendre que les séries comme Hoops, Donruss, sympa à ouvrir mais pour un budget limité et avec peu de chance de tomber sur la super carte et ceux qui pourront se payer des boxes ou cases de Flawless ou du même style avec un pack de 5 cartes pour 500$.
Quelques anecdotes :
En 1995 l'achat de ma première boxe qui était une 1994-95 Collector's Choice série 1
En 1997 je n'avais que 40 FB ( +/- 1 €) en poche, je savais acheter que 1 pack de 1996/97 Hoops. J'ai pu choisir le pack dans la boxe et je sors une autographics de Mugssy Bogues. 1 auto tous les 72 packs.
En 1998 j'ai acheté 7 boxes de 1997-98 Zforce et 3 1997-98 Skybox pour…… 10€ par boxe. J'ai ouvert toutes les boxes mais quand je vois le prix de vente maintenant, j'aurais dû les garder.
J'ai sorti mes deux premiers autos de Jordan (North Carolina) dans des SMP à 35€ et le troisième je l'ai sorti d'une boxe de SP Authentic 2013/14.
En 2011 j'ai eu dans ma classe un élève, son oncle était le Belgo-Congolais DJ Mbenga qui a joué à Dallas et champion avec les Lakers.
In the 90's, compagnies produced 4 or 5 collections and progressively, it increased. My parents were not millionaire and i coud have only the cheaper collections. You think that when you'll be older you can buy 1993/94 Finest or 1996/9 Topps Chrome, but with Panini's bullshits, older box prices grew up rapidly. Now, you can find 1, 2 or 3 autos on box as before it was every 280th pack for some collections. In releasing 36 000 parallel cards, it becomeharder to get every cards of a player…Instead of paying worse a lot. I think (actually we're in) we're going to a two-tier hobby. Some people can only buy Hiops and Donruss, cool to open but with a small budget and a few chance to get a big hit that some people could have with boxes or cases like Flawless you can buy 500$ for a 5 cards pack.
Few stories:
In 1995, my first box bought was a 1994-95 Collector's Choice Serie 1.
In 1997, i'd only got 40 FB (+/- 1 €), i could only buy one pack of 1996/97 Hoops. I choosed a pack in the box and i pulled a Mugsy Bogues Autographics (one autograph for every 72 packs in this collection).
In 1998, i bought seven 1997-98 ZForce and three 1997-98 Skybox for 10€ per box. I opened all the boxes and when i see the price of the marker right now, i woud have to keep them closed.
I pulled my first two autographs of Jordan (North Carolina) in 35€ SMP and the third, i've got it in a 2013-14 SP Authentic.
In 2011, in my class room, a student was DJ Benga's neview. DJ played for Dallas and was NBA champs with the Lakers.
-Que souhaites-tu développer dans ce monde "fermé" en France et en Europe ? What coud you want to develop in this "closed" world in France and Europe?
Moi j'habite en Belgique. Ce qui est dommage c'est de ne pas avoir une grosse boutique de sports US et de cartes, en Belgique il y en avait mais des petites mais elles ont toutes disparues. Chaque année je vais à Berlin et pour une grande ville il y a un petit magasin de cartes. Heureusement j'ai un voisin qui est devenu un copain (coucou le Doc J) qui a ouvert son shop en ligne, je pensais que j'allais craquer tous les jours mais finalement je sais me contenir.
As i live in Belgium, there is no big stores for US sports cards. There was some small in the past but they closed. Every year, i'm going to Berlin, where you can find a little cards store.
Hopefully, i've got a neighbour who became a friend (Hi Doc J) who opened an online shop. I believed i'll give in avery days, but finally, i can control myself.
-Combien de cartes possèdes-tu et penses-tu un jour t'arrêter ? How many cards have you? Do you think you can stop hobby one day?
Je possède actuellement plus de 6000 cartes sur les bulls et 4000 Jordan, plus encore quelques sets et aussi mes Bogues, Rider, Mashburn que je n'ai pas encore compté.
Je ne pense pas m'arrêter sauf si je dois revendre pour une raison ou une autre. Quand mes enfants seront plus grands, je leur expliquerai la valeur de mes cartes et les astuces du hobby s'ils veulent continuer.
Merci pour cette interview et vive le hobby.
I've got actually 6000 Bulls cards and 4000 Jordan's, also few sets a,d my Bogues, Rider, Mashburn i didn't already count.
I think i will never stop, except if i have to sell for any reason. When my kids will be older, i will explain them my cards value and the good plans for hobby if they want to try.
Thanks for the interview and long live to the Hobby.
Un grand merci à @Michel Taurin pour avoir répondu à nos questions le 11/06/2019.
A big thank you to @Michel Taurin for answering to the interview on 2019/06/11.
Pour rappel, cette interview est faite pour vous, amis collectionneurs, vous pouvez donc prendre la parole si le cœur vous en dit…Vous n'avez qu'à contacter le collectif pour cela!
As a reminder, this interview is made for you, dear collector friends, so you can speak in the next article… you just have to contact the collective!
N'hésitez pas à partager cet article et à le commenter pour donner votre avis. Vous pouvez également vous abonner à nos pages Facebook et Twitter, à la chaîne Youtube de US Sports Fans Cards, mais aussi contribuer en partageant les articles et/ou en filmant vos ouvertures de boxes ou vos collections personnelles (contactez-nous pour plus d'information). US Sports Fans Cards n'existe que grâce à ses contributeurs, on compte sur vous pour faire vivre notre passion!
You can share and comment this article to let knowing your feelings. You can follow us on Facebook, Twitter and Youtube. You can also contribute in sharing articles, filming cards and open boxes (contact us for more informations). US Sports Fans Cards only exist with your contributions, we're relying on you to make our passion living!