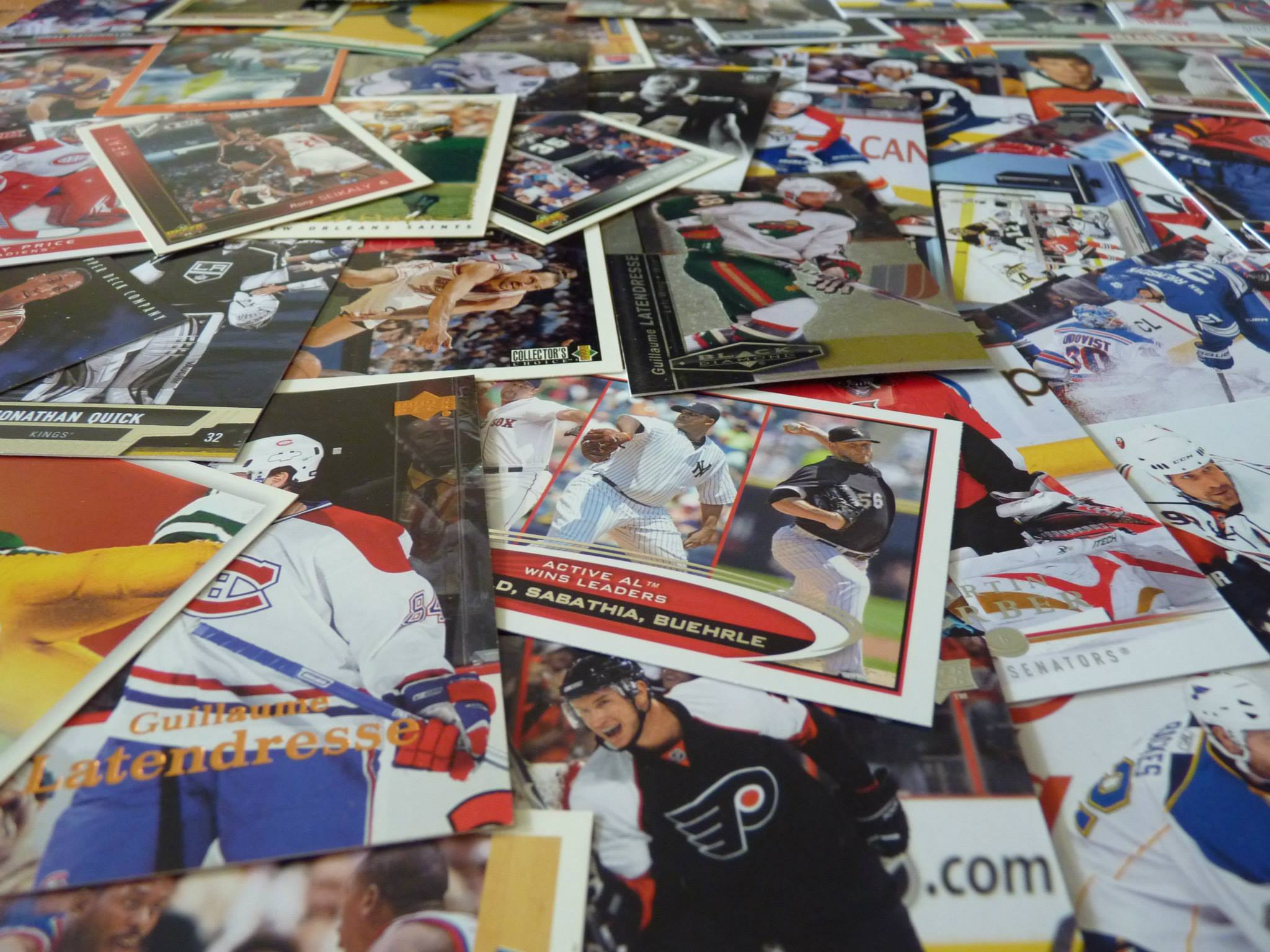 Bonjour chers lecteurs,
Nous allons vous présenter régulièrement l'un d'entre vous. Celui-ci aura la parole dans cette interview. Aujourd'hui, Gregory qui nous parle des cartes!
Dear readers,
Frequently we'll present you a collector like you. He will speak about hobby in this interview. Today, it's Gregory speaking about cards!
-Bonjour, peux-tu te présenter aux lecteurs? Hello, could you introduce yourself?
Bonjour je m'appelle Grégory, j'ai 35 ans, je collectionne depuis 19 ans maintenant les cartes de baseball essentiellement des New York Yankees. Je suis jeune papa d'un petit garçon de trois ans marié je vis en Bretagne et je travaille sur Paris. Mon emploi du temps est donc bien fourni en plus d'une passion pour le sport de longues distances, mais tout cela me convient parfaitement même si parfois un peu de repos ne fait pas de mal.
Hi, my name is Greg, I'm 35, i'm collecting for 19 years baseball cards, specially New York Yankees cards. I'm a young fatherof the three years old boy, married, living in Bretagne and working on Paris. So my schedule is busy in addition of a long distance sport's passion. But sounds good even if sometimes rest do good.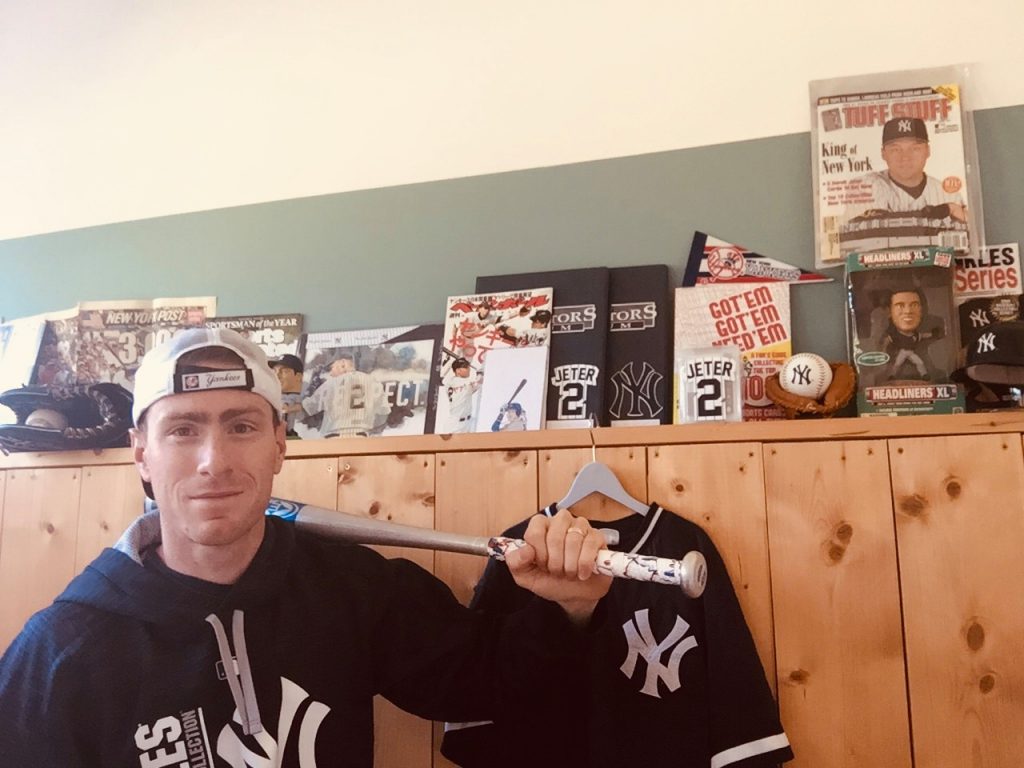 -Depuis quand collectionnes-tu et comment es-tu tombé dans le hobby? How long are you collecting? How do you start collecting?  
Je collectionne depuis 2001 après un voyage au Canada avec ma grand-mère qui comportait 12 jours 11 nuits avec un road trip bien spécifique même si c'est un voyage organisé donc c'est pas toujours le meilleur choix pour découvrir un pays mais c'est une belle expérience surtout rare encore pour l'époque. On voyageait dans un bus à l'américaine et on a faisait une halte après les chutes du Niagara dans la ville de l'Ontario : Toronto ! Mais la surprise fut énorme quand j'ai appris sur la route que nous nous arrêterions pas à la CN Tower (qui est quand même le point culminant de la ville est un des monuments les plus connus)… J'ai insisté auprès du guide, malgré mon jeune âge, et on a pu y aller et là, on est monté à plus de 300 m de haut avec ma grand-mère. Ce fut une expérience extraordinaire …. Et en descendant en bas sur le passage, il y avait le SkyDome le stade des Blue Jays de Toronto, l'équipe championne des World Series des années 90… Un passage express dans la boutique xxl de l'équipe avec les yeux émerveillés. J'ai trouvé un set de cartes UD Victory de l'équipe et je l'ai toujours et c'est parti de là. C'est le début d'une aventure que j'adore…
I'm collecting since after a Canada trip with my grany during 12 days and 11 nights with a particular road trip, even if it's an organized trip, it's not always the best way to discover a country, but it's a great experience, not common at this time. We traveled by bus , American way, an we did stop, after Niagara Falls, on the Ontario city of Toronto ! It was really amazing that a knew we wouldn't stop to the CN Tower (Town's highest point and one of the famous monuments)… So I asked to the guide and we could visit it, even if i was young. We went at 300 meters high with my grand-mother. What an amaing experience… Going down te stairs, there was the SkyDome, Toronto Blue Jays stadium, World Serie champs in the 90's. A quickly stop to the team's xxl shop, with wondering eyes. I bought a UD Victory set of the Jays. I still get it and it started with it. It was the begining of a story i love…
-Te souviens-tu de ta toute première carte? Laquelle était-ce? Do you remember your first card? Which one was it?  
Et bien ma première carte c'est une carte de hockey, ce qui peut sembler étonnant pour quelqu'un qui collectionne le baseball. J'ai toujours une petite collection de Cristobal Huet quand même. Après mon retour du Canada, j'ai acheté un magazine en vacances à la montagne avec mes parents qui s'appelle Slapshot, qui existe toujours d'ailleurs, et il y avait une rubrique de collectionneur en fin de magazine. Un passionné a écrit un article sur une ouverture de boîte : Topps Gold Label 2002 et j'ai trouvé l'une d'elle magnifique. Je l'ai contacté et j'ai acheté via correspondance cette carte un jersey de Patrick Marleau des San Jose Sharks.
Well, my really first card was a hockey card, It could be strange for a baseball collector.
I still have a little PC of Cristobal Huet anyway After coming back from Canada, during hollidays with my parents in moutains, i bough a magazine named Slapshot, still aliveby the way.There was a heading of collector at its end. A passionate wrote an article about an open box : Topps Gold Label 2002 and i trought one of then wondefull. I've contacted him and i bought by mail thus jersey card of Partick Marleau former player of San José Sharks.
-Quels sports, quelles cartes et/ou collections recherches-tu? What kind of sports, what kind of cards or collections are you looking for?  
Je collectionne uniquement Derek Jeter en baseball des New York Yankees ce qui me laisse largement le choix puisque sa check-list comporte plus de 18 000 cartes et vu les prix depuis son introduction au Hall of Fame (même s'il restait déjà bien élevé par rapport au reste du marché) a fait explosé les prix… Et j'ai récemment commencé une petite collection parallèle sur les Michael Jordan lors de son passage en ligue mineur mais vraiment ça en mode plaisir de temps en temps si l'occasion se présente. J'ai également une collection de Cristobal Huet que j'entretiens surtout l'hiver, normal pour un sport de glace !
I'm only collecting New York Yankees Derek Jeter in baseball. That gives me a lot of choice as his checklist has more than 18 000 cards and as the prices gowing up since he's an Hall Of Famer (even if he was already high compared to the rest of the market)… I recently started a different collection on Michael Jordan's baseball cards when he played for Minor League, but really time to time and in fun mode, should the opportunity arise. I also have a Cristobal Huet collection i'm growing up essentially during winter, natural for a ice sport !

-Quelle est la plus belle carte de ta collection? What's your most beautiful card in your collection?
C'est difficile à dire parce qu'entre un très bel auto avec un jersey pinstripe de Derek jeter assez rare des années 90 c'est le graal mais je l'ai acheté alors que j'ai une insert Finest 1999 de Derek Jeter Sterling que j'ai tiré d'un pack que ma sœur m'avait offert après une braderie à Rennes …. Ca n'a pas de prix et c'est ce que je préfère dans ma passion. C'est tout ce qui l'entoure, c'est un côté si apaisant et plein de beaux souvenirs. C'est donc cet événement qui a lancé ma collection de Jeter car je la trouvais si belle. Elle ne vaut pas grand-chose en cotation, mais elle vaut bien plus à mes yeux, c'est le début de ma collection qui ne me quitte plus depuis. C'est ça le hobby c'est tellement gratifiant ce genre de petit détails ou moment du destin …Mais cela vaut tout l'or du monde.
Hard to tell because, between a beautiful pinstripe autographed jersey of Derek Jeter really rare for the 90's wich is the graal (but i bought it) and an 1999 Insert Sterling Finest of Derek Jeter i found in a pack my sister offered me during a Rennes jumble sale…It have no price and that's what i love in hobby. It's all the stuffs around it, it's a so calming side ith lots of memories. So this is because of this event I started a Derek Jeter collection, because i find it really beautifull. It's not a big market value, beut for me, it's higher. It's the beginning of my collection that never leaves me. This is the hobby, it's so gratifying this kind of little detail or moment of destiny … But it's worth all the gold in the world.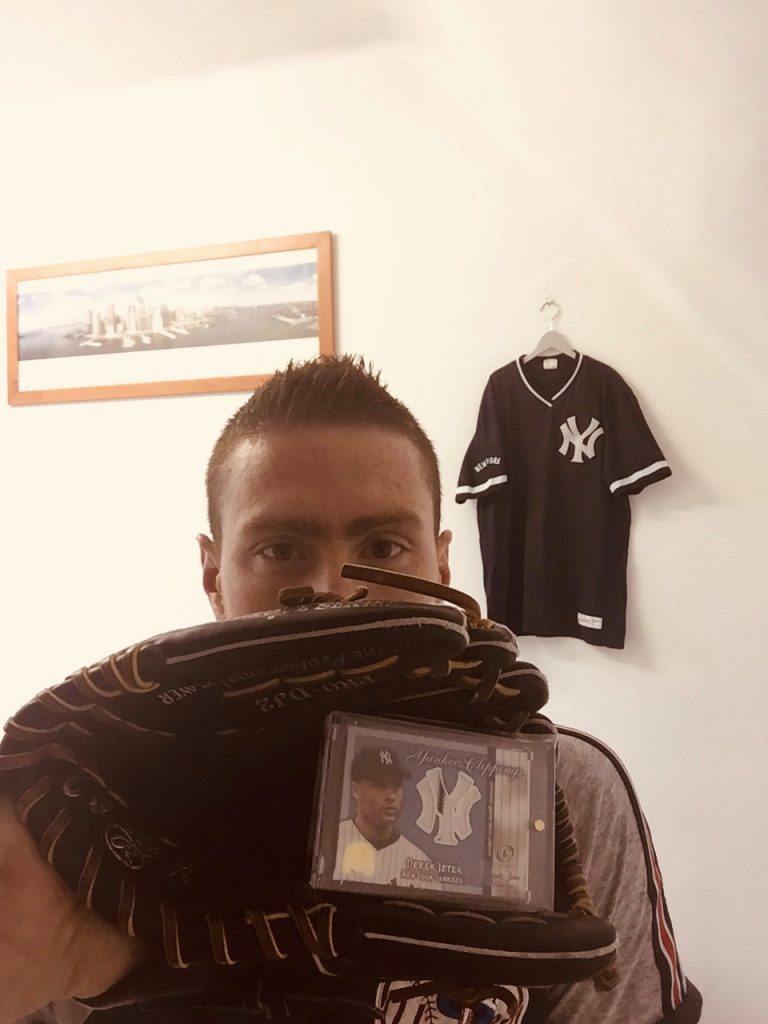 -Quel est ton prochain achat? What's your next purchase?  
Mon prochain achat, je vais attendre un petit peu ce que j'ai un gros colis de ma mailbox aux USA avec pas mal de très belles Derek Jeter dedans dont la milkcaps et une insert Pinnacle Home jersey 1997 que j'ai fait en deal avec un américain (il avait un classeur entier de double pour plus de 2000$ uniquement d'insert de Derek Jeter) j'ai pu choisir sur une vidéo qu'il avait faite. En discutant avec lui un moment,  il a compris la difficulté des français pour trouver de telles pièces et il m'a vraiment fait un prix très intéressant et m'a même propose un paiement étalé au besoin. De plus, il savait que j'étais collectionneur de Derek Jeter et lui également, il était content qu'elle reste chez un passionné. J'ai également deux old boxes qui m'attendent chez mon amis Tobas avec qui j'ouvre quelques fois par an du old school et que je dois ouvrir prochainement (Flair, Fleer, Select, Lazer… De 1996 à 2000).
My next purchase, i will wait a little bit what i've got  ina big parcel of my mailbox in the USA with quite a lot of beautiful Derek Jeter in which milkcaps and an 1997 Pinnacle Home Jersey insert that I made in deal with an American (He had a whole double binder for over $2,000 of Derek Jeter's insert only) I was able to choose from a video he had made. In talking with him for a moment, he understood the difficulty of the French to find such pieces and he really made me a very interesting price and even offered me a payment spread out if necessary. In addition, he knew that I was a Derek Jeter's collector and he was also happy that she stayed with a passionate person. I also have two old boxes waiting for me at my friend Tobas with whom I open a few times a year from the old school and which I have to open soon (Flair, Fleer, Select, Lazer… From 1996 to 2000).
-Quel est ton budget mensuel? What's your monthly budget?  
Cela peut être zéro pendant quelques mois et des fois oulala, je ne préfère pas dire le chiffre qui est facilement de trois chiffres avec un nombre pas très raisonnable …
It could be zero euros for several months and sometimes, Oulala, i prefer not telling some numbers, that could be not resonnable with 3 numbers…
-Quelle est la carte de tes rêves? What's your dream's card?  
Vu ma chance légendaire lorsque j'ouvre une boîte ou des packs je resterai juste basique, ce serait une autographe ou très beau patch de mon joueur …J'ai déjà tiré un jersey mais pas extraordinaire mais vraiment d'ouvrir une boîte et d'avoir ce plaisir de tirer une carte énorme et sauter au plafond hihi hi
Knowing my legendary luck when I open a box or packs I will just stay basic, it would be an autograph or very nice patch of my player … I already pulled a jersey but not extraordinary but really open a box and have this pleasure to shoot a huge card and jump to the ceiling hihi hi
-Quel(s) conseil(s) donnerais-tu à un débutant? Aurais-tu un bon plan à lui donner? Have you an advice to a beginner? Have you a good hobby plan?  
Il faut utilise au maximum les outils que propose internet et le savoir de certaines bonnes personnes. Il faut profiter des forums, des sites spécialisés ou blogs, des vidéos ou articles que l'on trouve facilement. Il ne faut pas tout de suite sans s'enflammer et tout acheter car souvent les valeurs de certaines cartes sont assez folles sur les sites d'enchères. Il faut bien cadrer sa collection mais bon c'est surtout se faire plaisir, il n'y a rien original dans ce que je dis mais c'est surtout de s'entourer de bonnes personnes.
You can  maximum  use of all the tools offered by the Internet and the knowledge of some good people. You should take advantage of forums, specialized sites or blogs, videos or articles that are easily found. It is not necessary immediately without burning and buying everything because often the values of some cards are quite crazy on the auction sites. You have to frame your collection well but well it is above all to make fun, there is nothing original in what I say but it is above all to surround yourself with good people.
-Quelle est ta vision du hobby actuellement ? As-tu des anecdotes sympas ou non depuis que tu collectionnes ? Que souhaites-tu développer dans ce monde "fermé" en France et en Europe ? What's your actual hobby's vision? Have you got fun facts since you're collecting? What would you want to see growing up in this "closed" world in France and Europe?  
Aujourd'hui j'ai lancé un projet qui me tient à cœur et me prends du temps (plusieurs heures par jour selon mes dispos) mais j'en suis très heureux. Je me sens soutenu par la communauté qui semble adhérer à ma démarche mais je ne crie pas victoire pour autant. Cette petite contribution et ce défi personnel est d'écrire un livre sur le monde des trading cards de sport US et cela entièrement en français. Il y a eu pas mal d'ouvrage en anglais sur plusieurs thème autour du hobby (sur lesquels je me suis bien appuyer) mais en français c'est plus rare je pense… Fin 2019 en écrivant au départ sur ma passion de la collection j'étais loin de penser que j'allais approfondir le sujet et me prendre autant au jeu. Du coup, j'ai pu en tirer plusieurs parties traitées plus ou moins sérieusement : mais une chose est sûre : c'est que j'ai essayé de toujours y mettre une touche nouvelle et quand cela était possible y apporter ma vision des choses ou un rapport avec ma collection. Cela permettra à certain de se reconnaître ou de leur donner des envies, voir des questionnements. J'ai appris énormément de choses et il y en a tellement à découvrir que c'est un pallier chaque jour. J'ai essayé aussi de brosser un maximum les sujets à traiter pour être assez complet et j'ai adoré faire des interviews dans le monde du hobby français. Vous y retrouverez également des reportages, des analyses des compagnies majeures de trading card, leur histoire, des articles de presse ou médias, mêlés de textes ou documents traduits pour essayer d'être assez complet sans être un journaliste pro pour autant, vous m'en excuserez je l'espère. J'ai essayé de garder mon œil de passionné avant tout et de le transcrire à ma manière. Il y aura des critiques indéniablement mais l'idée est de faire vivre et découvrir ce passe temps si simple et si complexe à la fois… c'est tout le paradoxe de la mine d'or qu'est internet car parfois vérifier certaine chose sont plus difficile que l'on croit. Il n'est donc en aucun cas une bible du hobby ni de prétendre d'être la référence de quoique ce soit, mais si je peux apporter des informations rares, des anecdotes, des sourires ou plaire le lecteur avec mon récit j'en serai déjà ravi. Et puis il donnera l'envie peut-être aussi à certain de se lancer, cela serait une réussite. On ne peut pas être sur du succès mais on aura essayé l'idée et la solidarité semble fonctionner comme quoi le hobby est loin d'être mort ou à l'agonie …
Today I started a project that is close to my heart and takes me some time (several hours a day depending on my disposition) but I am very happy about it. I feel supported by the community which seems to adhere to my approach but I do not claim victory. This small contribution and personal challenge is to write a book about the world of US sports trading cards and that entirely in French. There have been a lot of books in English on several themes around the hobby (on which I have relied well) but in French it is more rare I think… At the end of 2019, when I started writing about my passion for the collection, I was far from thinking that I would deepen the subject and play as much. As a result, I was able to draw several parts treated more or less seriously: but one thing is certain: I tried to always put a new touch to it and when it was possible to bring my vision of things or a relationship with my collection. This will allow some to recognize themselves or give them desires, see questions. I have learned so much and there is so much to discover that it is a solution every day. I also tried to brush as much as possible the subjects to be treated to be quite complete and I loved doing interviews in the world of the French hobby. You will also find reports, analyses of major trading card companies, their history, press articles or media, mixed texts or translated documents to try to be complete without being a professional journalist, I hope you'll excuse me.
I tried to keep my passionate eye first and transcribe it in my own way. There will be criticism undeniably but the idea is to make live and discover this hobby so simple and so complex at the same time… it is the whole paradox of the gold mine that is the internet because sometimes check certain things are more difficult than we believe. It is therefore in no way a hobby bible nor to pretend to be the reference of anything, but if I can bring rare information, anecdotes, smiles or please the reader with my story I will already be delighted. And then it will give the desire perhaps also to certain to launch, it would be a success.
One cannot be sure of success but one will have tried the idea and the solidarity seems to work as what the hobby is far from being dead or dying …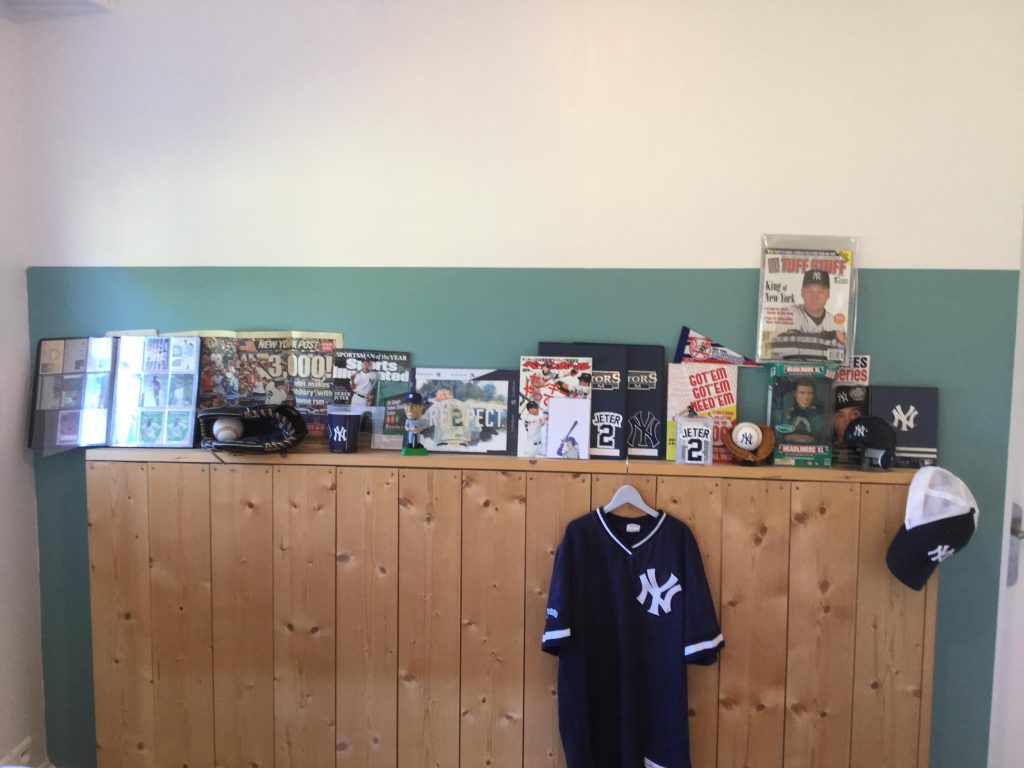 Un grand Merci à Gregory pour avoir répondu à nos questions le 15/05/2020.
A great thank you to Christian for answering in 2020/04/28.
N'hésitez pas à partager cet article et à le commenter pour donner votre avis. Vous pouvez également vous abonner à nos pages Facebook et Twitter, à la chaîne Youtube de US Sports Fans Cards, mais aussi contribuer en partageant les articles et/ou en filmant vos ouvertures de boxes ou vos collections personnelles (contactez-nous pour plus d'information). US Sports Fans Cards n'existe que grâce à ses contributeurs, on compte sur vous pour faire vivre notre passion!
You can share and comment this article for knowing your feelings. You can follow us on Facebook, Twitter and Youtube. You can also contribute in sharing articles, filming cards and open boxes (contact us for more informations). US Sports Fans Cards only exist with your contributions, we're relying on you to make our passion living!