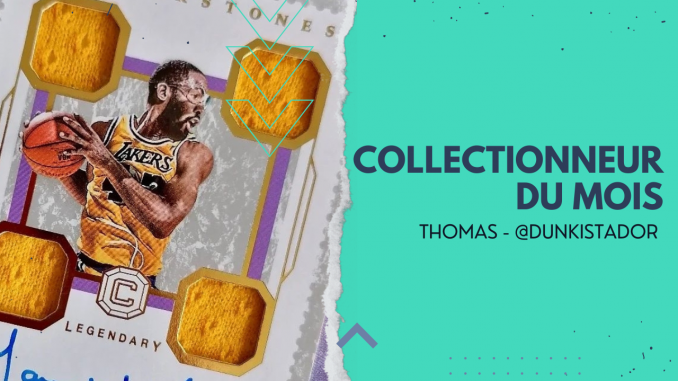 Bonjour chers lecteurs,
Nous allons vous présenter régulièrement l'un d'entre vous. Celui-ci aura la parole dans cette interview. Aujourd'hui, Thomas nous parle des cartes !
Dear readers,
Frequently we'll present you a collector like you. He will speak about hobby in this interview. Today, it's Thomas speaking about cards !
-Bonjour, peux-tu te présenter aux lecteurs ? Hello, could you introduce yourself ?
Bonjour, je suis Thomas, 30 ans et professeur des écoles. Certains me connaissent peut-être sous le nom de Dunkistador via Twitter ou Instagram. Passionné de NBA, c'est cet amour pour le panier-ballon qui m'a amené à m'intéresser à ce micro-cosmos fascinant qu'est le hobby. Je suis depuis quelques temps maintenant tombé amoureux du baseball, me mettant ainsi à collectionner les cartes MLB et allant même jusqu'à devenir joueur pour les Jaguars de Nancy.
Hello, I am Thomas, 30 years old and a school teacher. Some may know me as Dunkistador via Twitter or Instagram. Passionate about the NBA, it is this love for the basket ball that led me to take an interest in this fascinating micro-cosmos that is the hobby. I have been in love with baseball for some time now, starting to collect MLB cards and even playing for the Nancy Jaguars.
-Depuis quand collectionnes-tu et comment es-tu tombé dans le hobby ? How long are you collecting ? How do you start collecting ?
Je fais partie de cette vague de nouveaux collectionneurs issue du confinement. C'est au fil des rencontres sur Twitter que j'ai commencé à m'intéresser de plus près à ces petits morceaux cartonnés. Le sens de ce hobby découle du partage avec les autres collectionneurs. C'est ce qui m'a le plus séduit au delà de l'objet en lui même.
I am part of this wave of new collectors from confinement. It was during meetings on Twitter that I started to take a closer interest in these little pieces of cardboard. The meaning of this hobby stems from sharing with other collectors. This is what seduced me the most beyond the object itself.
-Te souviens-tu de ta toute première carte ? Laquelle était-ce ? Do you remember your first card ? Which one was it ?
Difficile de l'oublier ! Ma première réception fut une carte de Kareem Abdul-Jabbar (2019-20 Panini Prizm Red Wave). Je me souviens parfaitement de l'instant, de la découverte de l'enveloppe dans la boîte aux lettres, aux sensations ressenties lors de l'ouverture. Je revivais intensément ce plaisir d'enfance qui m'avait tant manqué !
Hard to forget! My first receipt was a card from Kareem Abdul-Jabbar (2019-20 Panini Prizm Red Wave). I remember the moment perfectly, from the discovery of the envelope in the mailbox, to the sensations felt during the opening. I relived intensely this childhood pleasure that I had missed so much!
-Quels sports, quelles cartes et/ou collections recherches-tu ? What kind of sports, what kind of cards or collections are you looking for ?
Mon truc à moi, ce sont les masques et les lunettes. Je m'explique : je collectionne ce qu'on appelle les "Goggles et Masked Players". Ma PC consiste à répertorier au moins une carte par joueur/joueuse ayant porté des lunettes ou masque de protection (une carte autographiée lorsque c'est possible). Vous en connaissez tous : Abdul-Jabbar, James Worthy, Rip Hamilton, LeBron James, Kurt Rambis, pour ne citer qu'eux.
L'idée, c'était de trouver un thème original, ayant un début et une fin, couvrant toutes les décennies de la NBA, en allant du Hall of Famer au "no name" en passant par les "role players". Une collection qui rendrait hommage à ces super-héros masqués du basketball qui me font tant rêver. Esthétiquement, sur une carte, ça en jette !
Je pensais pouvoir ainsi rassembler une trentaine de joueurs après avoir fait mes premières recherches. Quasiment trois ans après, je viens de réceptionner mon 103ème goggles/masked player identifié sur carte ! Quelle aventure d'aller fouiller jusque dans les collections les moins connues à la recherche de ces trésors. C'est un travail d'archéologue qui me fait encore plus savourer cette collection.
En parallèle, en side PC baseball (car oui, nous en avons tous), je collectionne certains team sets des New-York Mets.
My own thing is masks and glasses. Let me explain: I collect what are called "Goggles and Masked Players". My CP consists of listing at least one card per player who has worn goggles or a protective mask (an autographed card when possible). You all know them: Abdul-Jabbar, James Worthy Rip Hamilton, LeBron James, Kurt Rambis, to name a few.
The idea was to find an original theme, with a beginning and an end, covering all the decades of the NBA, from the Hall of Famer to the "no name" through the "role players". A collection that would pay homage to these masked basketball superheroes that make me dream so much. Aesthetically, on a card, it's impressive!
I thought I could bring together around thirty players after doing my initial research. Almost three years later, I have just received my 103rd goggles/masked player identified on the card! What an adventure to dig into the lesser-known collections in search of these treasures. It is the work of an archaeologist which makes me savor this collection even more.
At the same time, as a PC baseball side (because yes, we all have them), I collect some New York Mets team sets.
-Quelle est la plus belle carte de ta collection ? What's your most beautiful card in your collection ?
Sans aucune hésitation, il s'agit d'une carte signée "on card", numérotée /10, du grand Kareem Abdul-Jabbar !
Une figure incontournable de ma collection, un porte drapeau des Goggles Players, qui a longtemps paru inatteignable. Et pourtant, cette carte a rejoint ma collection de la plus belle des manières ! Ce sont mes potes de notre groupe Twitter qui se sont cotisés et m'ont fait la folle surprise de m'offrir ce graal. Un moment qui restera gravé à jamais qui explique la valeur sentimentale qu'à cette carte à mes yeux.
Without hesitation, this is an "on card" signed card, numbered /10, of the great Kareem Abdul-Jabbar!
An essential figure in my collection, a flag bearer of the Goggles Players, which has long seemed unattainable. And yet, this card joined my collection in the most beautiful way! It was my friends from our Twitter group who contributed and gave me the crazy surprise of offering me this holy grail. A moment that will remain etched forever which explains the sentimental value of this card in my eyes.
-Quel est ton prochain achat ? What's your next purchase ?
Mon prochain achat illustre bien le travail de recherche autour de ma collection. Il s'agit d'une carte universitaire de Maurice Taylor (Michigan), un joueur drafté en 14ème position par les Los Angeles Clippers en 1997 et qui parlera sûrement à peu de monde.
Sur une carte repérée par mon ami Mehdi (@BShakalacards), on le voit porter un masque de protection transparent : 1997 Wheels Rookie Thunder #YG5 Maurice Taylor Young Guns. C'est une carte dont la valeur est inexistante, inférieure à 1$, et qui pourtant aura une place de choix dans mon classeur.
My next purchase is a good illustration of the research work around my collection. This is a college card of Maurice Taylor (Michigan), a player drafted in 14th position by the Los Angeles Clippers in 1997 and who will surely speak to few people.
On a card spotted by my friend Mehdi (@BShakalacards), we see him wearing a transparent protective mask: 1997 Wheels Rookie Thunder #YG5 Maurice Taylor Young Guns. It is a card whose value is non-existent, less than $1, and which will nevertheless have a place of choice in my binder.
-Quel est ton budget mensuel ? What's your monthly budget ?
Mon budget mensuel reste très variable. Je me considère aujourd'hui comme un "sniper" de la carte. J'observe, je repère et je dégaine uniquement sur des cartes à l'unité. Il peut s'étendre d'une dizaine à une cinquantaine d'euros selon les cartes repérées.
My monthly budget remains very variable. I consider myself today as a "sniper" of the map. I observe, I spot and I draw only on single cards. It can range from ten to fifty euros depending on the cards identified.
-Quelle est la carte de tes rêves ? What's your dream's card ?
Comme je l'ai précisé plus tôt, mon but est de répertorier une carte signée lorsque c'est possible. Forcément, certains noms paraissent difficilement atteignables. En tête de liste, la carte de mes rêves est un auto de George Mikan. Le premier joueur à lunettes, et un des plus grands de tous !
As I specified earlier, my goal is to list a signed card when possible. Inevitably, some names seem difficult to reach. At the top of my list, my dream card is a George Mikan car. The first bespectacled player, and one of the greatest of them all!
-Quel(s) conseil(s) donnerais-tu à un débutant ? Aurais-tu un bon plan à lui donner ? Have you an advice to a beginner ? Have you a good hobby plan ?
Mon meilleur conseil serait de bien cibler sa thématique de collection afin de ne pas s'éparpiller comme nous l'avons tous fait. Être patient, bien cibler ses cartes, maîtriser son budget et prendre son temps. Les cartes sont là, elles sont nombreuses, et une carte ratée un jour finira toujours par réapparaître.
My best advice would be to target your theme of collection well so as not to scatter like we have all done. Be patient, target your cards well, control your budget and take your time. The cards are there, they are numerous, and a missed card one day will always end up reappearing.
-Participe tu à des salons ou évènements sur les cartes ? Do you participate in shows or events on the cards? 
J'ai eu le plaisir de participer à ma première convention en 2022 lors du Paris Card Show, organisé d'une main de maître par Titi Rennais.
I had the pleasure of participating in my first convention in 2022 during the Paris Card Show, masterfully organized by Titi Rennais.
-Quelle est ta vision du hobby actuellement ? What's your actual hobby's vision ?
Ma vision du hobby est paradoxale. L'explosion des prix a freiné une bonne partie d'entre nous. Le plus dommageable, c'est que depuis 6 mois, les échanges entre collectionneurs ont de plus en plus de mal à se concrétiser et s'effacent au profit des achats en ligne. Si les collectionneurs n'ouvrent plus de boxs du fait des prix, forcément cela impacte la quantité de cartes disponibles à l'échange.
D'un autre côté, je me retrouve bien en acheteur solitaire. Cela permet de viser juste, de limiter voir effacer les acquisitions hors PC mais surtout n'empêche en rien de continuer de partager ses trouvailles. Le partage est le cœur du hobby et il doit le rester.
My vision of the hobby is paradoxical. The explosion in prices has slowed down a good part of us. The most damaging thing is that for the past 6 months, exchanges between collectors have had more and more difficulty in materializing and are giving way to online purchases. If collectors no longer open boxes because of prices, this inevitably impacts the quantity of cards available for exchange.
On the other hand, I find myself as a solitary buyer. This allows you to aim straight, to limit or even erase acquisitions outside the PC but above all in no way prevents you from continuing to share your findings. Sharing is the heart of the hobby and it must remain so.
Un grand Merci à Thomas pour avoir répondu à nos questions en février 2023.
A great thank you to Thomas for answering in 2023 february..
N'hésitez pas à partager cet article et à le commenter pour donner votre avis. Vous pouvez également vous abonner à nos pages Facebook et Twitter, à la chaîne YouTube de US Sports Fans Cards, mais aussi contribuer en partageant les articles et/ou en filmant vos ouvertures de boxes ou vos collections personnelles (contactez-nous pour plus d'information). US Sports Fans Cards n'existe que grâce à ses contributeurs, on compte sur vous pour faire vivre notre passion!
You can share and comment this article for knowing your feelings. You can follow us on Facebook, Twitter and YouTube. You can also contribute in sharing articles, filming cards and open boxes (contact us for more informations). US Sports Fans Cards only exist with your contributions, we're relying on you to make our passion living!