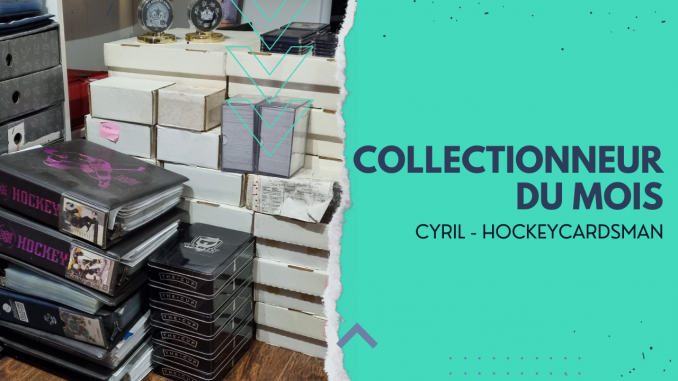 Bonjour chers lecteurs,
Nous allons vous présenter régulièrement l'un d'entre vous. Celui-ci aura la parole dans cette interview. Aujourd'hui, Cyril qui nous parle des cartes !
Dear readers,
Frequently we'll present you a collector like you. He will speak about hobby in this interview. Today, it's Cyril speaking about cards !
-Bonjour, peux-tu te présenter aux lecteurs ? Hello, could you introduce yourself ?
Bonjour, je m'appelle Cyril, j'ai 46 ans, je suis de région parisienne. Je collectionne les cartes de hockey quasi exclusivement. Mon pseudo est HockeyCardsman sur les différents réseaux sociaux, et j'ai créé il y a 2 mois un groupe Facebook : HockeyCardsFrenchCollectors ainsi qu'une chaîne YouTube dédiée.
Hello, my name is Cyril, I am 46 years old, I am from the Paris region. I collect hockey cards almost exclusively. My username is HockeyCardsman on the various social networks, and I created a Facebook group 2 months ago: HockeyCardsFrenchCollectors as well as a dedicated YouTube channel.
-Depuis quand collectionnes-tu et comment es-tu tombé dans le hobby ? How long are you collecting ? How do you start collecting ?
Je suis tombé dans le Hobby en 1995. A cette époque j'étais en FAC de médecine sur Paris, et c'est là que j'ai découvert les deux magasins de cartes de l'époque : Comète vers République et Planete Basket dans le quartier des Halles.
J'ai ensuite arrêté de collectionner en 2010 avant de revenir dernièrement après être tombé par hasard sur un excellent podcast sur le Hobby : Potes Cartes d'Adrien et Greg. C'est eux qui m'ont donné envie de me remettre aux cartes.
Et comme la vie est étrange, il s'avère que c'est donc Greg qui me fait reprendre les cartes alors que c'est moi entre autres il y a une vingtaine d'années qui lui avait donné l'envie de se lancer dans les cartes, qui lui avait dealé ses premières cartes : la boucle est bouclée comme on dit.
I fell into the Hobby in 1995. At that time I was in FAC of medicine in Paris, and it is there that I discovered the two card shops of the time: Comète in République and Planete Basket in the Halles district.
I then stopped collecting in 2010 before returning recently after coming across an excellent podcast on the Hobby: Potes Cartes by Adrien and Greg. They are the ones who made me want to get back to playing cards.
And as life is strange, it turns out that it is therefore Greg who makes me take up the cards when it was me among others twenty years ago who had given him the desire to embark on the cards, who had dealt him his first cards: the circle is complete as they say.
-Te souviens-tu de ta toute première carte ? Laquelle était-ce ? Do you remember your first card ? Which one was it ?
Mon premier achat fut un set complet de Fleer Ultra en basket. J'aimais avoir un set avec de nombreux joueurs et pouvoir découvrir au dos leurs stats, leurs anciennes équipes etc… Mais rapidement, je suis tombé amoureux des cartes de hockey.
My first purchase was a complete set of Fleer Ultra in basketball. I liked having a set with many players and being able to discover their stats, their former teams, etc., on the back. But quickly, I fell in love with hockey cards.
-Quels sports, quelles cartes et/ou collections recherches-tu ? What kind of sports, what kind of cards or collections are you looking for ?
Je collectionne quasi exclusivement en hockey. J'ai bien récupéré à l'époque des cartes en basket, en foot US, en baseball et même en Nascar, mais pour moi ca a toujours été le hockey comme sport ainsi que les cartes de hockey.
Je collectionnais principalement les joueurs des Los Angeles Kings (Palffy, Stumpel, Kopitar entre autres).
Aujourd'hui, je reviens après 12 ans d'arrêt donc je ne suis pas encore fixé sur mes collections à venir mais j'y travaille 😉
I collect almost exclusively hockey. At the time, I recovered cards in basketball, US football, baseball and even Nascar, but for me it has always been hockey as a sport as well as hockey cards.
I mainly collected Los Angeles Kings players (Palffy, Stumpel, Kopitar among others).
Today, I'm back after 12 years off so I'm not yet set on my upcoming collections but I'm working on it 😉
-Quelle est la plus belle carte de ta collection ? What's your most beautiful card in your collection ?
C'est sans doute celle qui a le moins de valeur niveau Beckett mais la plus grande valeur sentimentale. Une carte de mon joueur préféré Jozef Stumpel qui me l'a dédicacé en personne sur le parking du Forum d'Inglewood lors de mon 1er voyage aux Etats-Unis, à Los Angeles en 1998.
It is undoubtedly the one with the least Beckett value but the greatest sentimental value. A card from my favorite player Jozef Stumpel who autographed it to me in person in the parking lot of the Inglewood Forum during my first trip to the United States, to Los Angeles in 1998.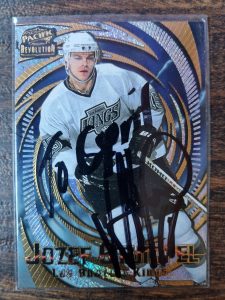 -Quel est ton prochain achat ? What's your next purchase ?
Des boites de hockey ! J'adore ouvrir des boxes, cette adrénaline ! Le plaisir d' espérer tirer une grosse carte ou tout simplement son joueur, j'adore. Mais c'est vrai que vu les prix d'aujourd'hui, c'était plus facile d'ouvrir des boxes fin des années 90, début 2000 par rapport à maintenant…
Hockey boxes! I love opening boxes, this adrenaline! The pleasure of hoping to draw a big card or simply its player, I love it. But it's true that given today's prices, it was easier to open boxes at the end of the 90s, beginning of 2000 compared to now…
-Quel est ton budget mensuel ? What's your monthly budget ?
Je n'ai pas de budget mensuel à proprement dit, cela dépend aussi des cartes que je peux tirer et arriver à revendre, puis à réinvestir…
I don't have a monthly budget as such, it also depends on the cards I can draw and manage to resell, then reinvest…
-Quelle est la carte de tes rêves ? What's your dream's card ?
Il y a longtemps, c'était de récupérer les 1 of 1 de mes joueurs. Etre le seul à détenir cette carte, la rareté. Mais depuis j'ai réalisé plusieurs fois ce rêve. Je suis un grand fan des cartes memorabilia, j'aime notamment beaucoup les patches auto.
A long time ago it was to get my players 1 of 1 back. To be the only one to hold this card, the rarity. But since then I have realized this dream several times. I'm a big fan of memorabilia cards, I especially like auto patches.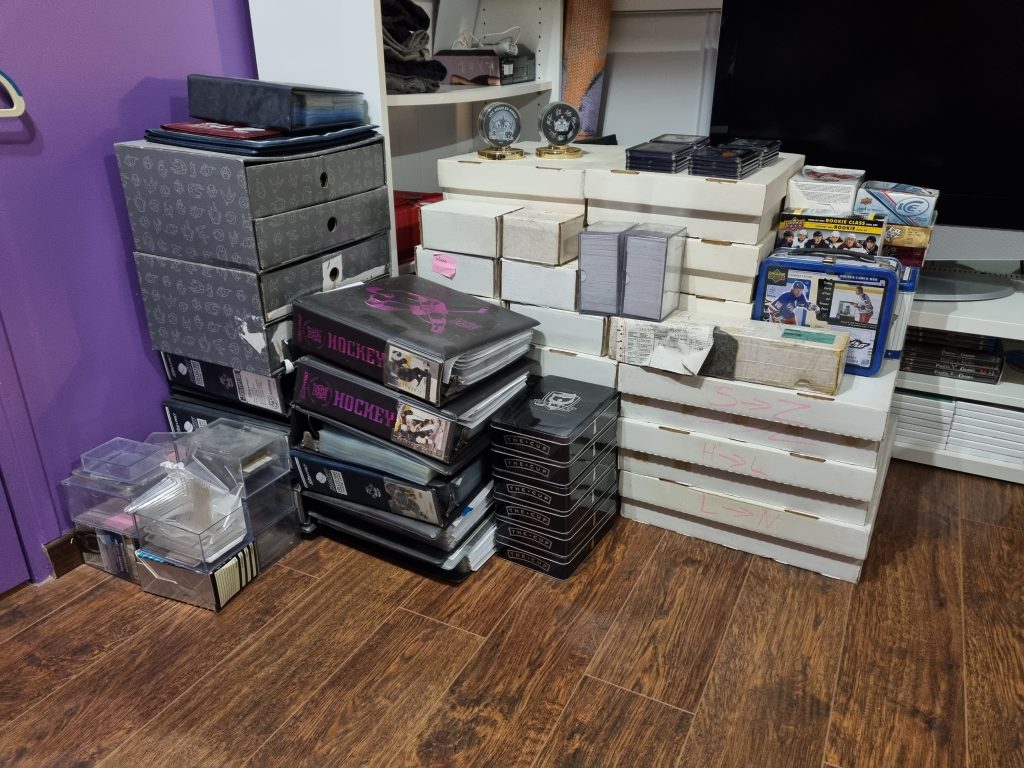 -Quel(s) conseil(s) donnerais-tu à un débutant ? Aurais-tu un bon plan à lui donner ? Have you an advice to a beginner ? Have you a good hobby plan ?
Mon conseil serait de bien réfléchir à ce qui lui plairait de collectionner (sets, grosses cartes, équipes ou joueurs) puis d'essayer de ne pas s'éparpiller afin d'avoir une belle collection dans ce qui lui plait le plus. Car à moins d'avoir un budget illimité, cela peut vite grimper niveau prix et il ne faut pas se brûler les ailes, ce n'est pas le but, collectionner par définition c'est sur la durée.
My advice would be to think carefully about what he would like to collect (sets, big cards, teams or players) then to try not to spread himself too thin in order to have a nice collection in what he likes the most. Because unless you have an unlimited budget, it can quickly increase in price and you shouldn't burn your wings, that's not the goal, collecting by definition is over time.
-Quelle est ta vision du hobby actuellement ? What's your actual hobby's vision ?
Depuis mon retour j'ai découvert un hobby bien différent de ce que j'ai connu. C'est devenu davantage un business, avec beaucoup de spéculation. Encore le hockey n'est pas touché tant que ça, mais quand je vois les prix des boxes en basket c'est juste de la folie : 400€ pour une boite de Hoops qui reste normalement une collection "bas de gamme" et non du premium.
Par contre le gros côté positif ce sont les réseaux sociaux qui rendent plus faciles les échanges et les discussions entre collectionneurs.
J'ai envie de développer mon groupe HockeyCardsFrenchCollectors afin d'organiser un peu plus les collectionneurs français de hockey à l'instar du formidable travail effectué par Gylbret et le groupe des #NBAcardsaddicts. Ils breaks régulièrement ensemble, font des actions pour des œuvres caritatives et ont organisé une superbe bourse d'échanges à Toulouse dernièrement, alors oui cela me donne des idées et des envies aussi.
Since my return I discovered a hobby very different from what I knew. It has become more of a business, with a lot of speculation. Still hockey is not affected that much, but when I see the prices of boxes in basketball it's just madness: 400€ for a box of Hoops which normally remains a "low-end" collection and not premium.
On the other hand, the big positive side is social networks that make exchanges and discussions between collectors easier.
I want to develop my HockeyCardsFrenchCollectors group in order to organize French hockey collectors a little more, like the great work done by Gylbret and the #NBAcardsaddicts group. They regularly break together, do actions for charities and recently organized a superb stock exchange in Toulouse, so yes that gives me ideas and desires too.
-Parle nous un peu de tes projets en cours et à venir ? Tell us a bit about yours projects ?
Mes projets sont nombreux car mon cerveau travaille beaucoup, parfois trop lol
J'ai envie de développer la chaîne YouTube du groupe avec des vidéos traitant de différents sujets autour du hobby comme donner des conseils aux nouveaux collectionneurs, parler de sujets intéressants les membres comme les mailboxs aux USA par exemple et d'autres encore.
J'ai aussi envie de développer pour mon groupe des breaks de boxes communautaires mais un peu différent de ce que j'observe ça et là. Le principe est simple, faire ouvrir des boites aux collectionneurs de mon groupe en achetant les boites à plusieurs mais sans récupérer le moindre centime en tant que breaker. Mon seul but est d'ouvrir des boites avec mes potes, rien de plus, pas de me faire de l'argent. Ainsi c est simple, je serai transparent sur le prix de la boite, des sleeves, top loads, enveloppes et frais de port. Tous ces frais seront divisés équitablement selon le nombre de participants. Ces breaks seront retransmis en live YouTube pour plus de fun, d'adrénaline et de partage…
I have a lot of projects because my brain works a lot, sometimes too much lol
I want to develop the group's YouTube channel with videos dealing with different topics around the hobby such as giving advice to new collectors, talking about topics of interest to members such as mailboxes in the USA for example and more.
I also want to develop community box breaks for my group but a little different from what I observe here and there. The principle is simple, open boxes for collectors in my group by buying the boxes together but without recovering the slightest cents as a breaker. My only goal is to open clubs with my friends, nothing more, not to make money. So it's simple, I will be transparent about the price of the box, sleeves, top loads, envelopes and shipping costs. All these costs will be divided equally according to the number of participants. These breaks will be broadcast live on YouTube for more fun, adrenaline and sharing…
Un grand Merci à Cyril pour avoir répondu à nos questions en avril 2022.
A great thank you to Cyril for answering in 2022 april.
Liens :
https://www.facebook.com/groups/485506809749983
https://www.youtube.com/channel/UCvbBwcWkXqhK4oMVcfbTEbQ
N'hésitez pas à partager cet article et à le commenter pour donner votre avis. Vous pouvez également vous abonner à nos pages Facebook et Twitter, à la chaîne Youtube de US Sports Fans Cards, mais aussi contribuer en partageant les articles et/ou en filmant vos ouvertures de boxes ou vos collections personnelles (contactez-nous pour plus d'information). US Sports Fans Cards n'existe que grâce à ses contributeurs, on compte sur vous pour faire vivre notre passion!
You can share and comment this article for knowing your feelings. You can follow us on Facebook, Twitter and Youtube. You can also contribute in sharing articles, filming cards and open boxes (contact us for more informations). US Sports Fans Cards only exist with your contributions, we're relying on you to make our passion living!