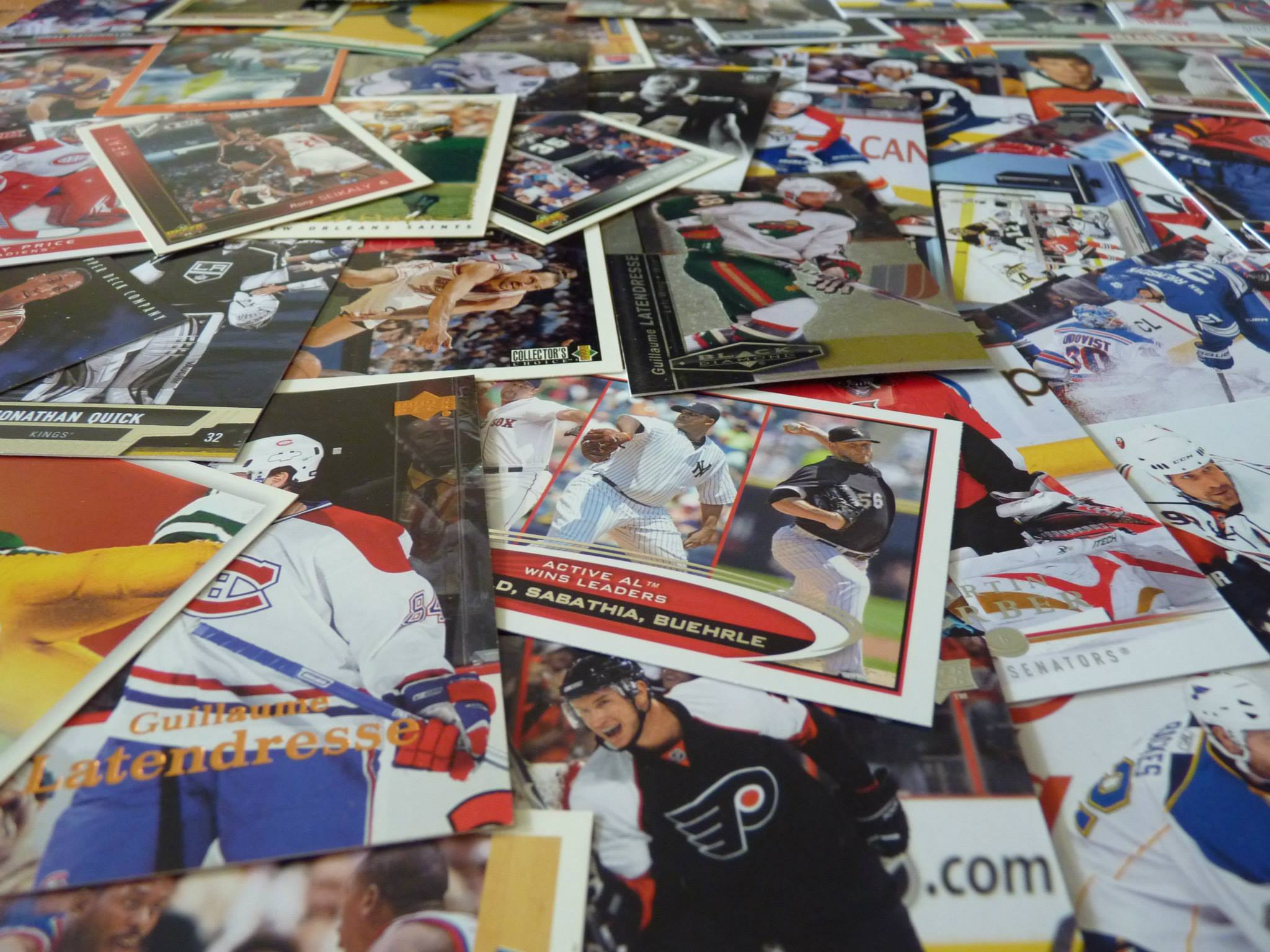 Bonjour chers lecteurs,
Nous allons vous présenter régulièrement l'un d'entre vous. Celui-ci aura la parole dans cette interview. Aujourd'hui, Christophe qui nous parle des cartes!
Dear readers,
Frequently we'll present you a collector like you. He will speak about hobby in this interview. Today, it's Christophe speaking about cards!
-Bonjour, peux-tu te présenter aux lecteurs ? Hello, could you introduce yourself ?
Je suis un Parisien de 47 ans originaire du sud de la France et passionné de baseball depuis mon enfance.
Mon plus vieux souvenir concernant ma passion pour le baseball est d'avoir assisté à un match amateur à Salon de Provence avec un ami lorsque j'étais adolescent (c'est à dire fin des années 1980). Je ne me souviens plus trop du match mais je me rappelle que suite à ce match, nous nous étions promis de créer un club dans notre village. Nous ne l'avons jamais fait finalement. Dommage !
Ensuite, ma passion a été en suspens durant des années et elle est revenue il y a quelques années au détour d'un match visualisé par hasard sur ESPN.
De plus, je prends autant de plaisir à regarder un match (merci Bein Sport) qu'à lire des livres sur l'histoire du baseball (je lis actuellement MoneyBall), écouter un podcast ou bien évidemment collectionner des cartes de baseball.
Je me suis aussi essayé cette année au softball dans un club parisien très sympathique (le BAT Paris), tentative qui a été arrêtée net par les problèmes sanitaires mais ce n'est que partie remise.
I am a 47 year old Parisian from the south of France and passionate about baseball since my childhood.
My earliest memory of my passion for baseball is watching an amateur game at Salon de Provence with a friend when I was a teenager (1980's). I don't really remember the match anymore, but I remember that following this match, we promised to create a club in our village. We never did eventually. Pity !
Then my passion hung on for years and came back a few years ago during a game that happened to be viewed on ESPN.
Plus, I enjoy watching a game (thanks Bein Sport) as much as reading baseball history books (currently reading MoneyBall), listening to a podcast, or of course collecting baseball cards.
I also tried my hand at softball this year in a very nice Parisian club (BAT Paris), an attempt which was stopped dead by health problems but it is only partly postponed.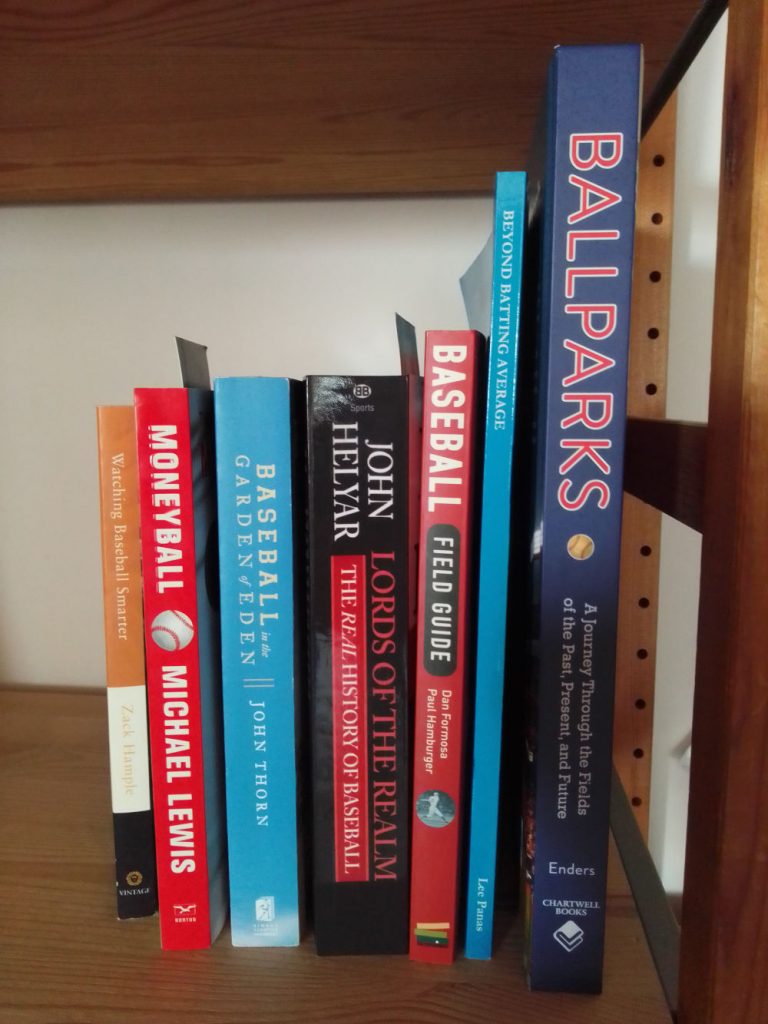 -Depuis quand collectionnes-tu et comment es-tu tombé dans le hobby ? How long are you collecting ? How do you start collecting ?  
Je collectionne les cartes de baseball depuis l'été 2019.
En tant que passionné de baseball, l'envie de collectionner a tout simplement commencé par la curiosité d'acheter d'un hobby box de la marque Topps pour découvrir "en vrai" ce qu'est une carte de baseball.
Petit à petit, la passion a pris et j'ai commencé à m'intéresser plus en détails au marché des cartes de baseball au travers de sites, forum spécialisés pour maintenant rechercher des cartes précises.
I have been collecting baseball cards since summer 2019.
As an avid baseball enthusiast, the urge to collect began with the curiosity of buying a Topps brand hobby box to experience "for real" what a baseball card is.
Little by little, the passion took hold and I started to take a more detailed interest in the baseball card market through specialized sites, forums where I now search for specific cards.
-Te souviens-tu de ta toute première carte ? Laquelle était-ce ? Do you remember your first card ? Which one was it ?  
Je ne me souviens pas vraiment de ma première carte. J'ai commencé par acheter un hobby box donc il n'y a pas vraiment eu de première carte. Par contre celle qui m'a vraiment marquée est une carte du lanceur des Altanta Braves, Mike Soroka, achetée sur Ebay fin 2019.
C'était une rookie, carte de la collection Topps Chrome signée et numérotée sur 150. Je l'ai revendue depuis, mais elle est à l'origine de ma passion pour les cartes rookie signées.
I don't really remember my first card. I started out by buying a hobby box so there wasn't really a first card. On the other hand, the one that really stood out to me was a card from Altanta Braves pitcher Mike Soroka, bought on Ebay at the end of 2019.
It was a signed rookie card from the Topps Chrome collection and numbered over 150. I have since sold it, but it is the source of my passion for signed rookie cards.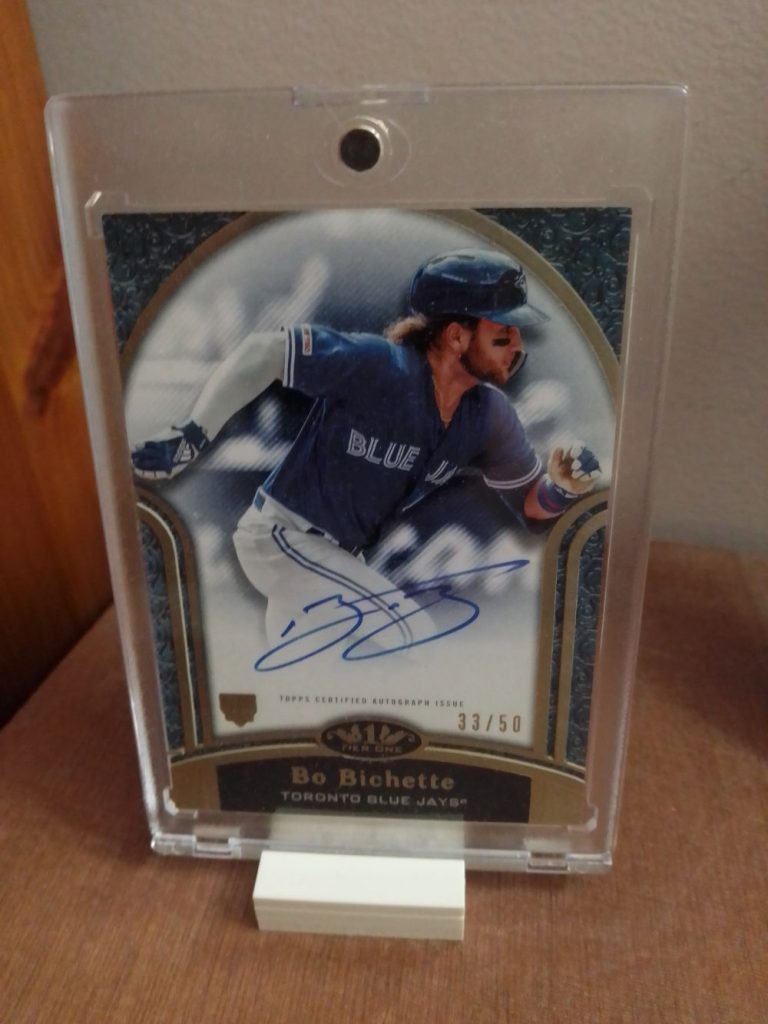 -Quels sports, quelles cartes et/ou collections recherches-tu ? What kind of sports, what kind of cards or collections are you looking for ?  
Je collectionne uniquement les cartes de baseball, et en particulier les Rookies cartes signées avec tirage limité.
J'essaie de suivre de très près l'actualité de la MLB tout au long de l'année, et collectionner des Rookies cartes est pour moi un moyen complémentaire de vivre cette actualité. Inconsciemment ou pas, je vais me sentir un peu plus concerné par les performances de ces joueurs et vibrer avec au rythme de leur actualité sportive.
Je fais parfois quelques infidélités pour des cartes de joueurs Hall Of Fame que je découvre au travers de livres, articles, podcasts. Par exemple, j'ai acheté récemment une carte de l'ancien joueur de Detroit, Al Kaline.
Depuis que j'ai commencé à collectionner les cartes de baseball, j'ai possédé des cartes de différentes collections : Topps chrome, Panini immaculate, Panini National Treasures… mais ces derniers temps, j'ai une préférence pour la collection Tier One de la marque Topps que j'ai découvert récemment et dont j'apprécie beaucoup le design sobre.
I only collect baseball cards, and in particular signed Rookie cards with limited edition.
I try to follow MLB news very closely throughout the year, and collecting Card Rookies is a complementary way for me to experience this news. Unconsciously or not, I will feel a little more concerned by the performances of these players and vibrate with the rhythm of their sporting news.
I sometimes do some infidelity for Hall Of Fame player cards that I discover through books, articles, podcasts. For example, I recently bought a card from former Detroit player Al Kaline.
Since I started collecting baseball cards, I have owned cards from different collections: Topps chrome, Panini immaculate, Panini National Treasures… but lately I have a preference for the Tier One collection of the Topps brand that I recently discovered and whose sober design I really appreciate.
-Quelle est la plus belle carte de ta collection ? What's your most beautiful card in your collection ?
Actuellement, ma carte préférée est une carte Topps Tier de 2020 de Luis Robert, outfielder des Whites Sox, numérotée sur 10.
Pourquoi cette carte ? D'une part, j'apprécie beaucoup le design des Topps Tier avec les signatures dorées ou argentées mais en plus l'idée qu'il n'y a que 10 cartes identiques me plaît en tant que collectionneur.
Currently, my favorite card is a 2020 Topps Tier card from Luis Robert, Whites Sox outfielder, numbered out of 10.
Why this card? On the one hand, I really like the design of the Topps Tier with the gold or silver signatures, but on top of that the idea that there are only 10 identical cards appeals to me as a collector.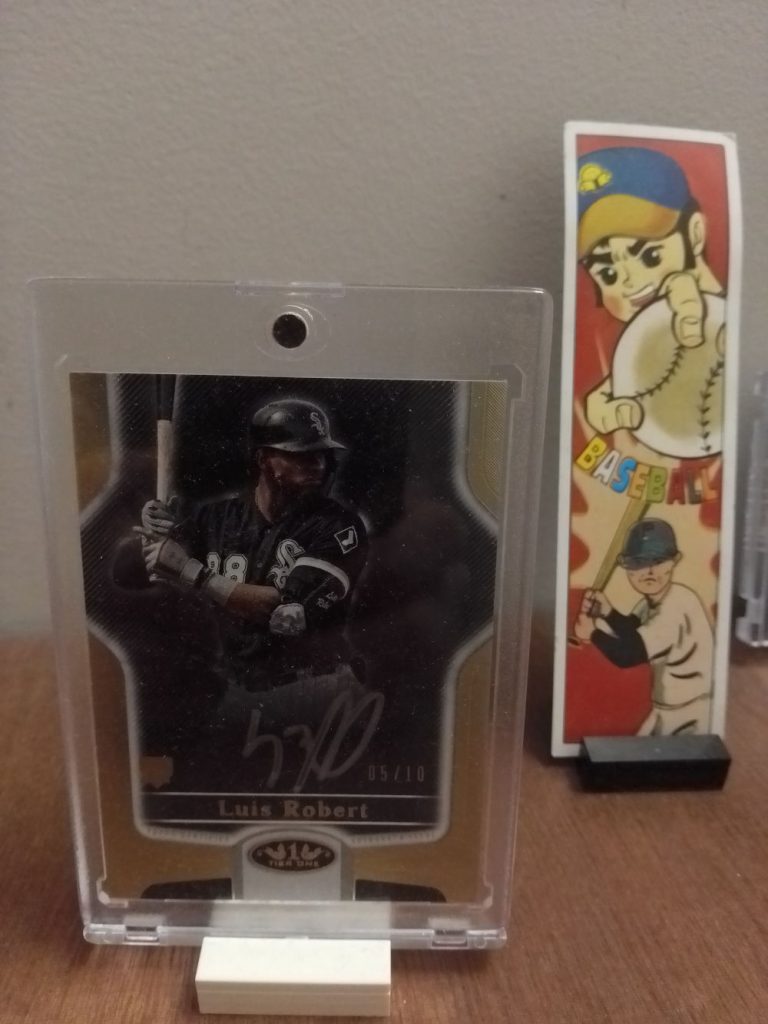 -Quel est ton prochain achat ? What's your next purchase ?  
Je continue à rechercher des Rookie cartes de la collection Topps Tier.
J'ai une liste précise de cartes pour les années 2019 et 2020 que je souhaite acquérir, ensuite ce n'est qu'une question de budget et de disponibilités sur le marché.
Un exemple parmi d'autres de carte que je recherche, la Rookie carte de Yordan Alvarez numérotée sur 25 de la collection Topps Tier.
Sinon, j'attends avec impatience la sortie des cartes Topps Tier 2021 avec possiblement des cartes Rookies de Wander Franco ou Alex Bohm. Deux cartes qui feront parties de mes priorités.
I keep looking for Rookie cards from the Topps Tier collection.
I have a specific list of cards for the years 2019 and 2020 that I want to acquire, then it's just a matter of budget and availability in the market.
One example of a card I'm looking for is Yordan Alvarez's number 25 Rookie card from the Topps Tier collection.
Otherwise, I look forward to the release of Topps Tier 2021 cards with possibly Rookies cards from Wander Franco or Alex Bohm. Two cards that will be part of my priorities.
-Quel est ton budget mensuel ? What's your monthly budget ?  
Je me fixe un budget de 75 € par mois (900 € annuel) auquel je me tiens strictement.
De plus au sein de ce bugdet, je me donne un budget maximal que j'accepte de dépenser pour chaque carte
Et je préfère ne pas acquérir une carte si elle dépasse le prix que je me suis fixé plutôt que d'avoir à regretter mon achat.
En effet, collectionner des cartes de baseball est un plaisir avant tout et doit le rester.
I set a budget of € 75 per month (€ 900 annually) to which I stick strictly.
In addition, within this bugdet, I give myself a maximum budget that I agree to spend for each card
And I would rather not buy a card if it exceeds the price I set for myself than have to regret my purchase.
Indeed, collecting baseball cards is a pleasure above all and must remain so.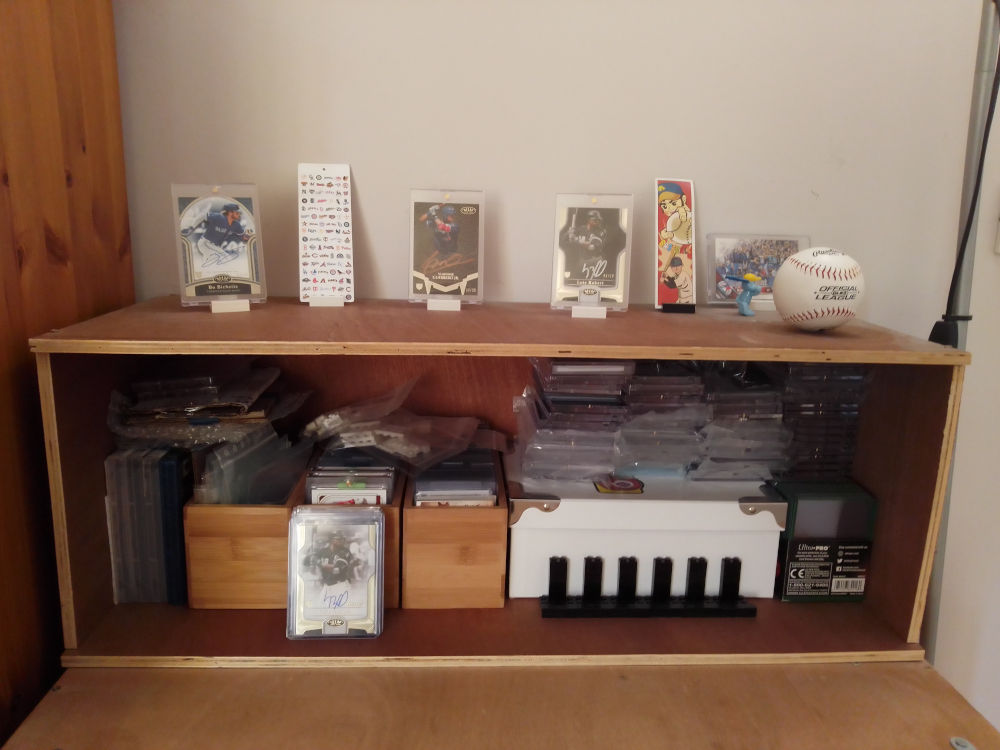 -Quelle est la carte de tes rêves ? What's your dream's card ?  
La Rookie carte de Tatis Junior dans la collection Topps Tier signée et numérotée 1/1.
Cette carte est bien évidemment inaccessible pour mon budget mais si on doit rêver !
The Rookie card of Tatis Junior in the Topps Tier collection signed and numbered 1/1.
This card is obviously inaccessible for my budget but if you have to dream!
-Quel(s) conseil(s) donnerais-tu à un débutant ? Aurais-tu un bon plan à lui donner ? Have you an advice to a beginner ? Have you a good hobby plan ?  
Je dirais qu'il faut se faire plaisir avant tout et ne pas se donner de limite dans ses envies (hors budget bien sûr).
Et oui c'est une passion qui peut devenir très onéreuse alors je conseille de définir un budget au début et s'y tenir. Il est très facile de se laisser prendre au jeu et de dépenser beaucoup d'argent.
Il faut, aussi, savoir si on souhaite collectionner de nombreuses cartes au travers d'achat de Hobby Box et autres pour expérimenter le "frisson" de découvrir les cartes au hasard ou acheter à l'unité des cartes précises, ce qui est mon cas maintenant (par exemple au travers de sites spécialisés ou Ebay).
Bien sûr, tout cela évolue au cours du temps. Pour ma part, j'ai commencé par collectionner des cartes en quantité et petit à petit, j'ai commencé à cibler mes recherches.
Enfin mon dernier conseil, il faut prendre le temps de découvrir le marché lorsqu'on commence à acquérir des cartes à l'unité. Il est très facile au début de payer une carte plus chère qu'on ne le devrait.
I would say that you have to have fun above all else and not give yourself a limit in what you want (out of budget of course).
And yes it is a passion that can get very expensive so I recommend setting a budget at the beginning and sticking to it. It's very easy to get caught up in the game and spend a lot of money.
You also have to know if you want to collect many cards through the purchase of Hobby Box and others to experience the "thrill" of discovering cards at random or buying specific cards individually, which is my case. now (for example through specialized sites or Ebay).
Of course, all of this changes over time. For my part, I started by collecting cards in quantity and little by little I started to target my research.
Finally, my last tip, take the time to explore the market when you start purchasing single cards. It is very easy at first to pay for a more expensive card than you should.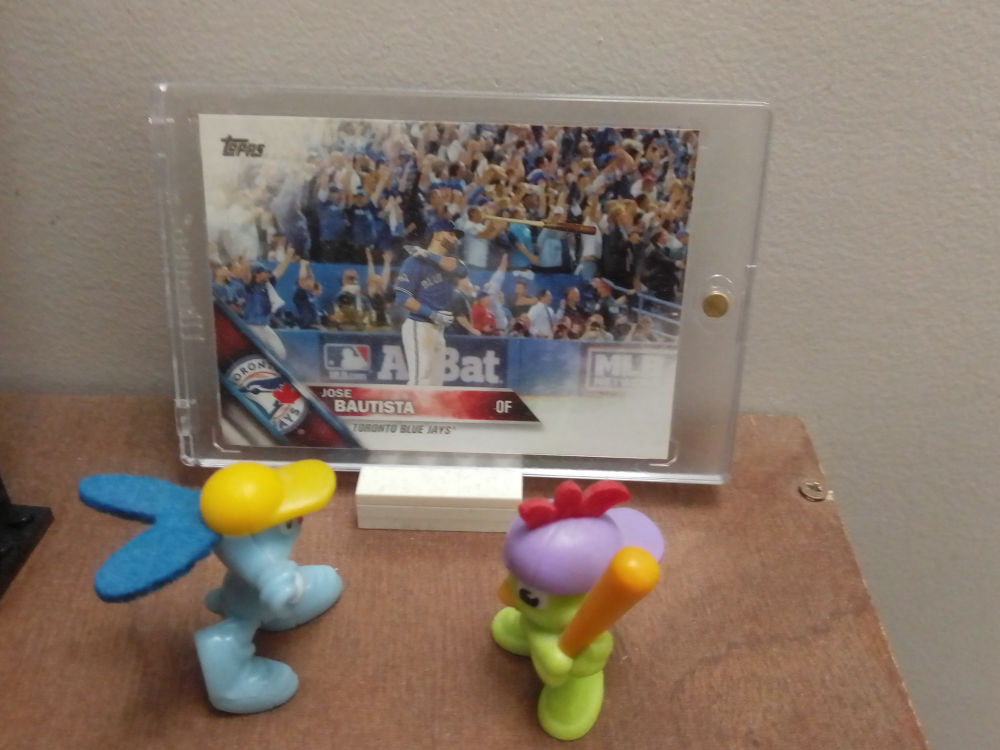 -Quelle est ta vision du hobby actuellement ?  What's your actual hobby's vision ?  
Je ne suis collectionneur que depuis environ 1 an 1/2. J'ai donc très peu de recul, mais je me rends compte petit à petit, qu'il y a plus de collectionneurs de cartes de baseball (ou plus généralement de sports US) en France que ce que j'imaginais au début.
Si j'avais un souhait à faire, ce serait de pouvoir partager de plus en plus cette passion avec des collectionneurs français (un peu comme cela se fait sur le site BlowOut Cards Forum aux USA)
I have only been a collector for about a year and a half. So I have very little perspective, but I am realizing little by little that there are more baseball (or more generally US sports) card collectors in France than I imagined at the beginning.
If I had one wish, it would be to be able to share this passion more and more with French collectors (a bit like it is done on the BlowOut Cards Forum site in the USA)
Un grand Merci à Christophe pour avoir répondu à nos questions le 09/01/2021.
A great thank you to Christophe for answering in 2021/01/09.
N'hésitez pas à partager cet article et à le commenter pour donner votre avis. Vous pouvez également vous abonner à nos pages Facebook et Twitter, à la chaîne Youtube de US Sports Fans Cards, mais aussi contribuer en partageant les articles et/ou en filmant vos ouvertures de boxes ou vos collections personnelles (contactez-nous pour plus d'information). US Sports Fans Cards n'existe que grâce à ses contributeurs, on compte sur vous pour faire vivre notre passion!
You can share and comment this article for knowing your feelings. You can follow us on Facebook, Twitter and Youtube. You can also contribute in sharing articles, filming cards and open boxes (contact us for more informations). US Sports Fans Cards only exist with your contributions, we're relying on you to make our passion living!