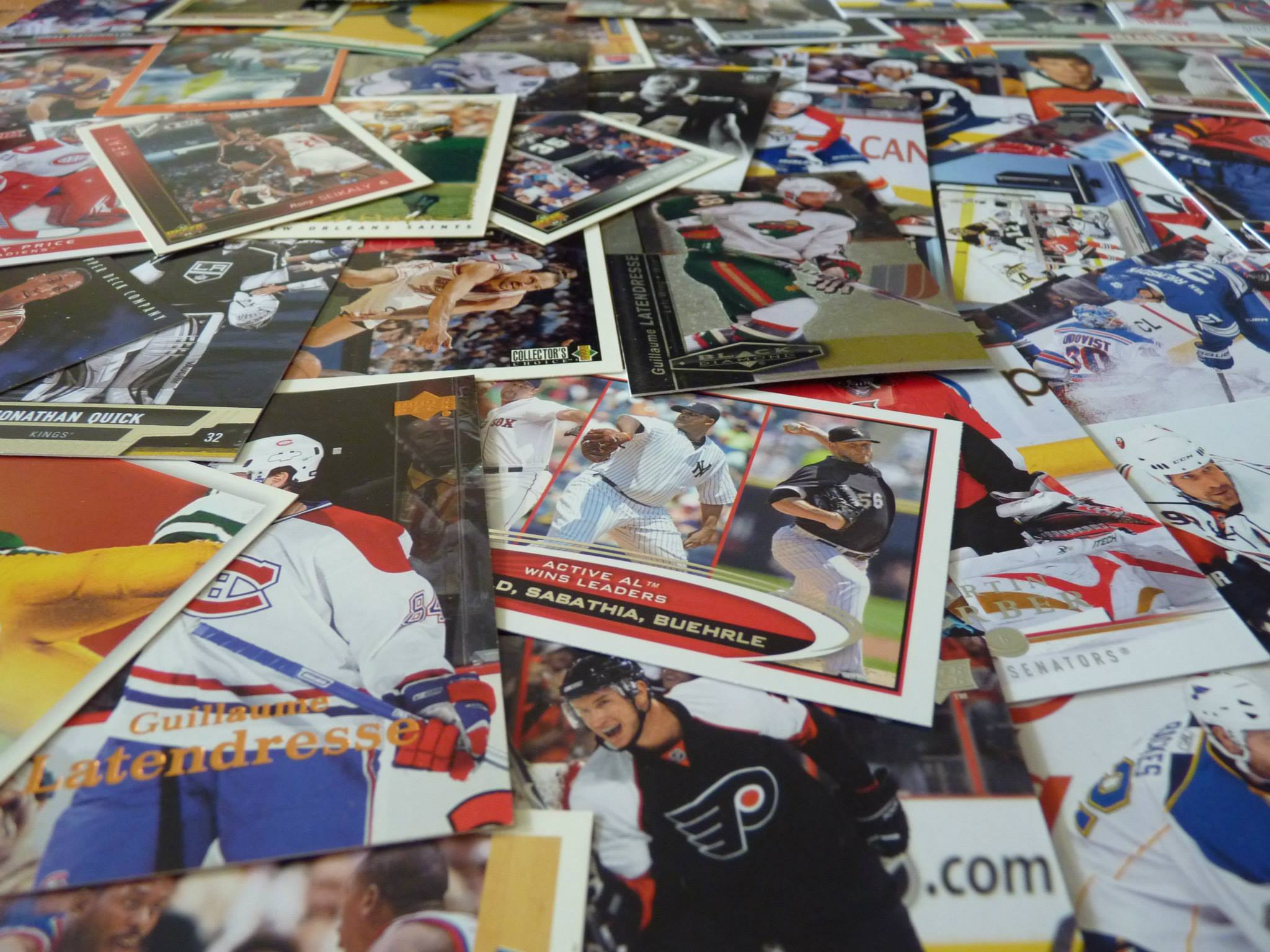 Bonjour chers lecteurs,
Nous allons vous présenter régulièrement l'un d'entre vous. Celui-ci aura la parole dans cette interview. Aujourd'hui, Christian qui nous parle des cartes!
Dear readers,
Frequently we'll present you a collector like you. He will speak about hobby in this interview. Today, it's Christian speaking about cards!
-Bonjour, peux-tu te présenter aux lecteurs? Hello, could you introduce yourself?
Bonjour, mon nom est Christian Joosten.  J'ai 48 ans et je travaille dans un service d'archives pour la ville de Charleroi (Belgique).  Accessoirement, je photographie les matchs de foot US de l'équipe locale – les Coal miners – (lien : https://www.facebook.com/CharleroiCoalMiners/) ; c'est ma manière de soutenir leurs efforts de promotion du football américain en Belgique et puis tout simplement parce que c'est une des bonnes équipes du championnat.  J'ai également eu la chance de photographier les matchs de Coupe du Monde de foot à Vienne en 2011.  Un super souvenir…  Sinon, supporter des Niners depuis le début. Mon premier match vu à la télé, c'était avec Joe Montana, fin des années 80.  Et depuis, malgré les années difficiles et la déception de la saison dernière, je reste fidèle à l'équipe.
Hello, my name is Christian Joosten. I am 48 years old and I work in an archive service for the city of Charleroi (Belgium). Incidentally, I photograph the US football matches of the local team – the Coal miners – (link: https://www.facebook.com/CharleroiCoalMiners/); it's my way of supporting their efforts to promote American football in Belgium and just because it's one of the good teams in the championship. I also had the chance to photograph the World Cup football matches in Vienna in 2011. A great memory … Otherwise, supporting the Niners from the start. My first game on TV was with Joe Montana in the late 80s. Since then, despite the difficult years and disappointment of last season, I have remained faithful to the team.
-Depuis quand collectionnes-tu et comment es-tu tombé dans le hobby? How long are you collecting? How do you start collecting?
Mon premier achat a été des paquets de Topps 1995 série 2, l'année de sa sortie.  C'était dans un petit magasin qui faisait dans les jeux de rôle, les cartes diverses…  J'ai fini par acheter la boîte complète.  D'année en année, j'ai acheté aux States des boîtes et quelquefois en Europe quand Ebay et d'autres plateformes Web sont arrivées.  Depuis mon premier achat, je garde un exemplaire de chaque boîte achetée et quelques exemplaires de paquets.
Actuellement, je dois avoir autour de 50.000 cartes rangées dans des classeurs pour la plupart, mais aussi en boite d'origine ou non.
My first purchase was packets of Topps 1995 Series 2, the year of its release. It was in a small store that did role-playing, various cards … I ended up buying the complete box. Year after year, I bought boxes in the States and sometimes in Europe when Ebay and other web platforms arrived. Since my first purchase, I keep a copy of each box purchased and a few copies of packages.
Currently, I must have around 50,000 cards stored in binders for the most part, but also in the original box or not.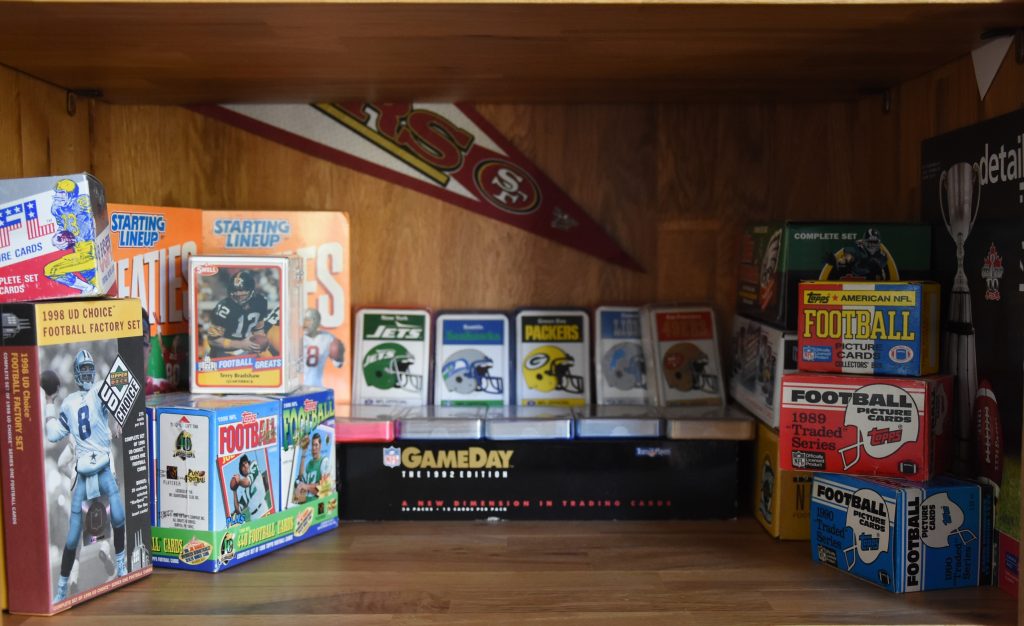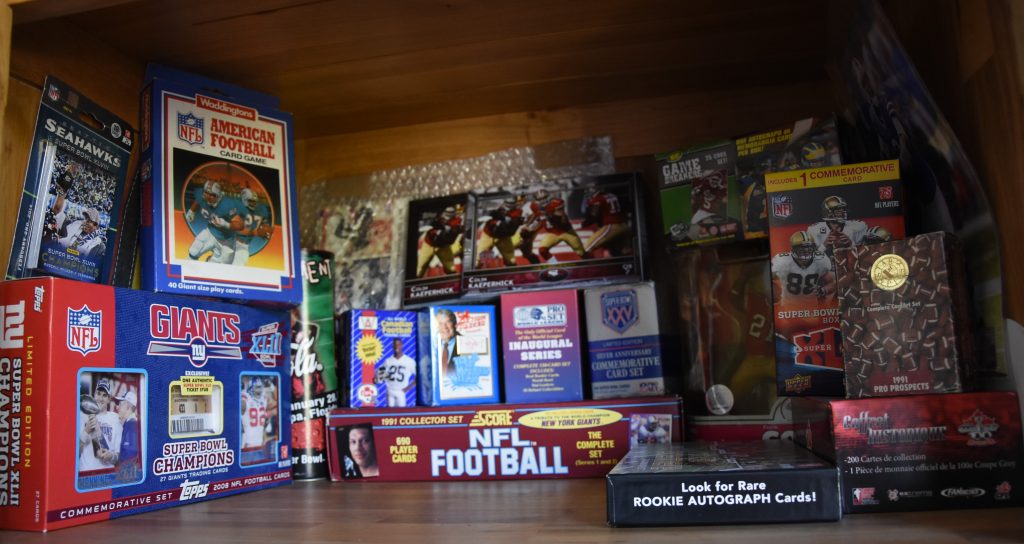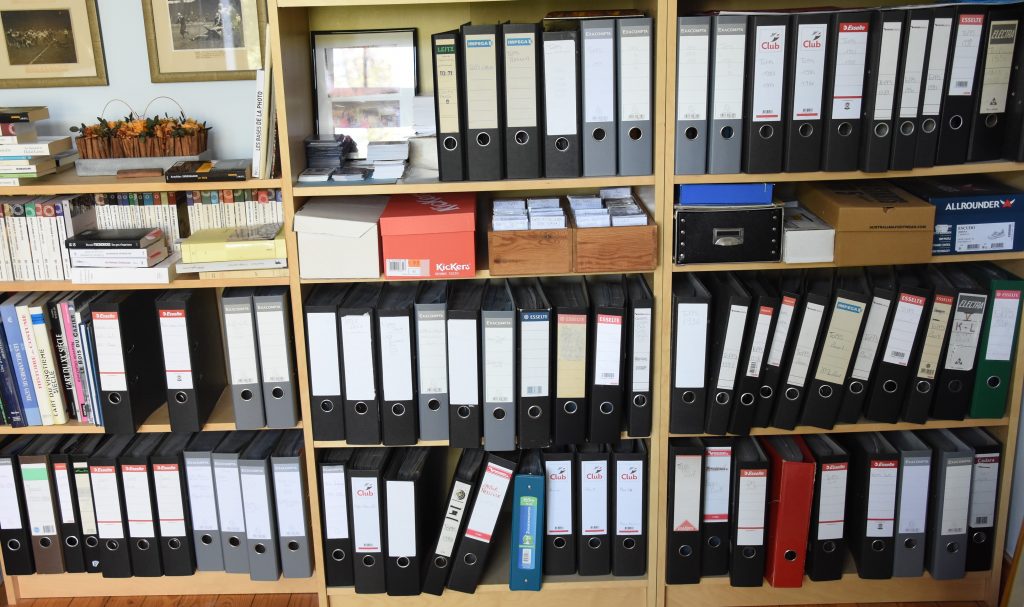 Une partie de la collection
-Te souviens-tu de ta toute première carte? Laquelle était-ce? Do you remember your first card? Which one was it?
Ma première vraie belle carte, c'est la carte autographée rookie de Randy Moss (1998 Topps A1).
My first real nice card is Randy Moss' autographed rookie card (1998 Topps A1).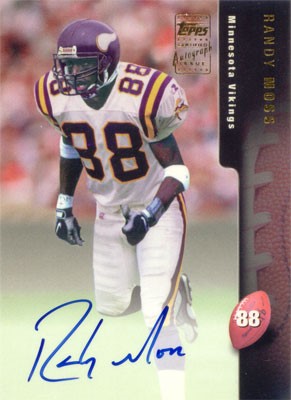 -Quels sports, quelles cartes et/ou collections recherches-tu? What kind of sports, what kind of cards or collections are you looking for?
Je collectionne du football, quasi uniquement la marque Topps sauf pour certains produits (anciens ou nouveaux) pour lesquels j'aime le graphisme ou ce qu'elles représentent.  Ainsi, j'ai acheté des cartes Bowman des années 50; marque rachetée par Topps, ou encore de l'Alliance of American Football (AAF), de l'XFL (de 2001 et 2020) ou encore les USA Football d'Upper Deck (2011-2015), ou les cartes "Extreme" de la CFL entre 2007 et 2012.
I collect football, almost only the Topps brand except for certain products (old or new) for which I like graphics or what they represent. So, I bought Bowman cards from the 50s; brand bought by Topps, or from the Alliance of American Football (AAF), XFL (from 2001 and 2020) or the USA Football from Upper Deck (2011-2015), or the "Extreme" cards from the CFL between 2007 and 2012.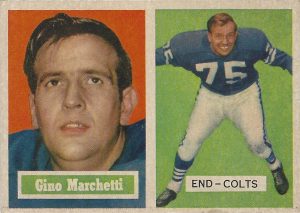 J'avoue aussi apprécier les anciennes cartes Pacific qui, souvent, sont de très bonne facture et dont les boîtes sont encore à un prix abordable maintenant.  Graphiquement, les Atomic sont très chouettes car toutes "die-cuts"… et pour la petite histoire, le même principe a été appliqué tant en NFL (Atomic Prism 2001) qu'en CFL (Atomic CFL 2003).
I also admit appreciating the old Pacific cards which, often, are very well made and whose boxes are still affordable now. Graphically, the Atomic are very neat because all of them "die-cuts" … and for the record, the same principle has been applied both in NFL (Atomic Prism 2001) and in CFL (Atomic CFL 2003).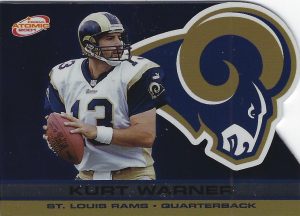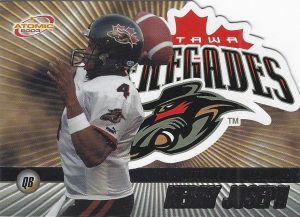 En plus de la NFL, je collectionne la Ligue canadienne (la CFL) tant par amour du jeu, car souvent plus spectaculaire que dans la NFL, que pour les joueurs.  On a souvent tendance à oublier que de très grands noms de la NFL ont fait un passage en CFL (Doug Flutie, Warren Moon, Jeff Garica…).  Mais la ligue comporte une histoire tout aussi riche que sa consoeur américaine.
Les Montréal Alouettes reste mon équipe de coeur dans la CFL et surtout l'ancien QB Anthony Calvillo.  Un excellent joueur que j'ai eu l'occasion de voir "en vrai" lors d'un match de championnat.
In addition to the NFL, I collect the Canadian League (CFL) as much for the love of the game, because it is often more spectacular than in the NFL, as for players. We often tend to forget that very big names in the NFL have made a transition to CFL (Doug Flutie, Warren Moon, Jeff Garica…). But the league has a history just as rich as its American counterpart.
The Montreal Alouettes remain my core team in the CFL and especially the former QB Anthony Calvillo. An excellent player that I had the opportunity to see "in real life" during a championship match.
-Quelle est la plus belle carte de ta collection? What kind of sports, what kind of cards or collections are you looking for?
J'ai eu la chance d'acheter à un très bon prix, il y a de nombreuses années, deux "cartes" Topps Magic de 1948 en bon état.  Ces cartes sont assez petites (3.5 cm de haut sur 2 cm de large) et étaient faites de papier photo.  On trouvait la carte "blanche" et il fallait mouiller le côté photo et la placer au soleil pour que l'image se révèle; d'où de très grandes différences entre des cartes similaires.
Ce n'est pas un set uniquement composé de football mais il y a aussi des stars du cinéma, du baseball, de la boxe… mais je laisse ça aux autres collectionneurs.
Ce ne sont pas les cartes qui valent le plus mais, historiquement pour Topps, c'est un moment important.
I was fortunate to buy two 1948 Topps Magic "cards" in good condition many years ago at a very good price. These cards are quite small (3.5 cm high by 2 cm wide) and were made from photo paper. We found the "white" card and we had to wet the photo side and place it in the sun so that the image was revealed; hence very large differences between similar cards.
It's not just a set made up of football, but there are also movie stars, baseball players, boxers… but I leave that to other collectors.
It's not the cards that are worth the most, but historically for Topps, this is an important moment.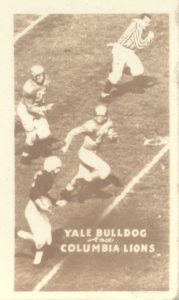 -Quel est ton prochain achat? What's your next purchase?
Probablement le mois prochain.  Je cherche surtout maintenant à compléter des sets anciens ou des subsets de Topps ; soit des cartes pas forcément chères mais, comme je suis ce qu'on appelle un "set builder", mon objectif est de tenter d'avoir des années complètes.  Je navigue donc entre 1960 et 2015.
Probably next month. I am now mainly looking to complete old sets or Topps subsets; either cards not necessarily expensive but, as I am what is called a "set builder", my goal is to try to have complete years. I therefore sail between 1960 and 2015.
-Quel est ton budget mensuel? What's your monthly budget?
Je n'ai pas de budget mais je ne suis pas prêt à mettre des centaines d'euros pour n'importe quoi.  Je suis très attentif sur l'état des cartes et très méfiant pour des cartes "jersey" à un super-bon prix car il y a trop d'arnaques et de fakes.  Maintenant, pour prendre un exemple, il me reste 2 cartes Topps 1966 à trouver : la #15 (checklist des funny rings) et la #96, celle de Joe Namath.  Je sais que j'en aurai pour au moins 100 euros par carte, au minimum…
I have no budget but I am not ready to put hundreds of euros for anything. I am very attentive to the condition of the cards and very suspicious of "jersey" cards at a super good price because there are too many scams and fakes. Now, to take an example, I have 2 1966 Topps cards left to find: #15 (funny rings checklist) and #96, that of Joe Namath. I know I will get at least 100 euros per card, at least …
-Quelle est la carte de tes rêves? What's your dream card?
Il n'y a pas une carte "de mes rêves", mais je trouverais assez cool d'avoir un gros paquet d'argent à dépenser lors d'un "National" (la convention annuelle américaine).  J'irais chercher là-bas des memorabilias divers… et pourquoi pas un bon vieux maillot ou casque?
Mon rêve serait de trouver, dans une brocante ou chez un vide-grenier, une boîte à chaussures pleine de cartes anciennes…  Un jour peut-être…
There isn't a "dream" card, but I'd find it pretty cool to have a big bunch of money to spend at a "National". I would go and look for various memorabilia there… and why not a good old jersey or helmet?
My dream would be to find, in a flea market or in a garage sale, a shoebox full of old maps … One day maybe …
-Quel(s) conseil(s) donnerais-tu à un débutant? Aurais-tu un bon plan à lui donner? Have you an advice to a beginner? Have you a good hobby plan?
Si son choix est d'avoir des sets complets, il faut qu'il regarde bien les produits disponibles car il y a maintenant de très nombreux sets parallèles (dans toutes les couleurs de l'arc-en-ciel et bien plus encore), ce qui rend parfois impossible de finir une série.
Je pense qu'il doit aller en fonction de ses goûts après avoir quand même regardé pas mal ce qui a été produit et ce qui se produit encore.  Par exemple, je ne suis pas du tout admiratif de ce que fait Panini, et surtout au prix actuel des boîtes.  2000 ou 3000 euros pour des Flawless, c'est simplement exagéré !  Voir aussi dans les sets anciens permet d'avoir de la nostalgie et bien souvent de trouver de chouettes cartes bon marché.
Je pense qu'il faut se fixer un cap : collectionner une marque, un joueur, une équipe… et s'y lancer sans forcément aller chercher « la » carte très chère.  Je préfère mille fois une carte rookie d'Emmitt Smith de l'époque (et on en trouve pour pas cher) plutôt qu'une carte de 2020 avec le même joueur.  Au moins, là, on a du vrai.
Et puis, il y a aussi l'achat plaisir à se faire de temps en temps.  J'ai eu l'occasion d'acquérir des albums « stickers » complet et à un prix raisonnable.  Même si ce n'est pas ma priorité, je trouvais ça cool d'en posséder en bon état.
If his choice is to have complete sets, he must look carefully at the products available because there are now very many parallel sets (in all the colors of the rainbow and much more), which sometimes makes it impossible to finish a series.
I think it should go according to his tastes after having looked a lot at what has been produced and what is still happening. For example, I am not at all in awe of what Panini does, and especially at the current price of boxes. 2000 or 3000 euros for Flawless, it's just an exaggeration! Seeing also in old sets allows you to have nostalgia and very often to find nifty inexpensive cards.
I think we need to set a course: collect a brand, a player, a team … and get started without necessarily going to get "the" very expensive card. I prefer a rookie card from Emmitt Smith of the time a thousand times (and we can find it for a low price) rather than a 2020 card with the same player. At least there we have some truth.
And then there is also the pleasure of shopping from time to time. I had the opportunity to acquire complete sticker albums at a reasonable price. Even if it is not my priority, I thought it was cool to have it in good condition.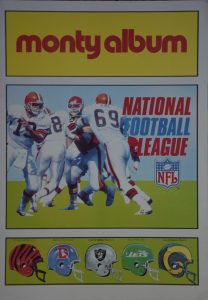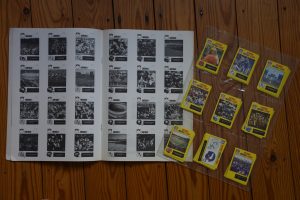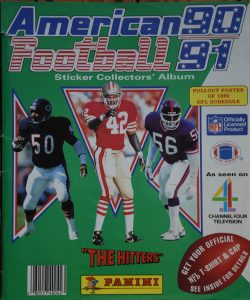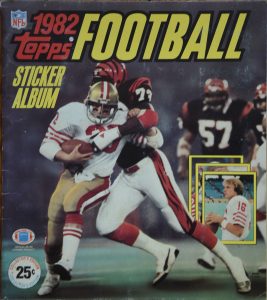 -Quelle est ta vision du hobby actuellement ? As-tu des anecdotes sympas ou non depuis que tu collectionnes ? Que souhaites-tu développer dans ce monde "fermé" en France et en Europe ? What's your actual hobby's vision? Have you got fun facts since you're collecting? What would you want to see growing up in this "closed" world in France and Europe?
Je suis sans doute très critique mais je pense que le hobby ne va pas bien du tout.  Depuis l'arrivée de Panini et des licences uniques pour des sports ou pour des joueurs, le marché est sur la tête.
Les sets d'avant étaient riches en joueurs.  On y retrouvait les QBs, bien entendu, mais aussi des hommes de ligne, des kickers… pour chaque équipe ou Presque, et parfois aussi les coachs (comme dans les Pro Set de 1989-1991).  Les cartes autographées ou avec un jersey étaient rares et il y avait un réel plus à en dénicher une.  Maintenant, les sets sont réduits, on replace des joueurs du HOF ou à la retraite pour le plaisir du nom et c'est la course à l'armement en termes d'autographes ou de jerseys qui font monter le prix des boîtes…  On est, pour moi, comme dans une bulle financière, et elle se dégonflera et fera dégringoler les prix des cartes très récentes.  Il n'y a qu'à voir la "folie" Johnny Manziel (pour le citer lui, mais il y en a d'autres) dont la valeur des cartes autographées ou même de base est bien trop surestimée quand on voit sa carrière professionnelle.
De plus, il y a maintenant tellement de sets "parallels" que c'est devenu n'importe quoi, sans compter les cartes "électroniques" ou virtuelles dont la valeur est là aussi très relative.  Un truc qui m'énerve particulièrement, c'est l'accumulation de "redemption cards" qui ne sont parfois même pas honorées.
Je trouve ça dommage et ce qui était le hobby des enfants est devenu un business uniquement entre adultes.  On a perdu un peu d'âme en cours de route.
Côté anecdotes sympas, j'ai réussi un jour à avoir l'adresse de Joe Montana, Steve Young et de Art Donovan.  J'ai écris et ai reçu les cartes envoyées signées avec un petit mot sympa.  La photo de Art Donovan est une des images mythiques de la NFL.  Ce fut un réel plaisir de le savoir signant la carte.
The front sets were rich in players. There were QBs, of course, but also line men, kickers … for each team or almost, and sometimes also coaches (as in the Pro Set from 1989-1991). Autographed or jersey cards were rare and there was a real bonus to finding one. Now, the sets are reduced, we replace HOF or retired players for the pleasure of the name and it is the arms race in terms of autographs or jerseys that push up the price of boxes… We are , for me, like in a financial bubble, and it will deflate and cause the prices of very recent cards to plummet. You only have to see the "madness" Johnny Manziel (to quote him, but there are others) whose value of autographed or even basic cards is far too overestimated when you see his professional career .
In addition, there are now so many "parallel" sets that it has become anything, not counting "electronic" or virtual cards, the value of which is also very relative. One thing that annoys me particularly is the accumulation of "redemption cards" which are sometimes not even honored.
I find it a shame and what was the hobby of children has become a business only between adults. We lost a little soul along the way.
On the fun side, one day I managed to get the address of Joe Montana, Steve Young and Art Donovan. I wrote and received the cards sent signed with a nice note. Art Donovan's photo is one of the legendary images of the NFL. It was a real pleasure to know him signing the card.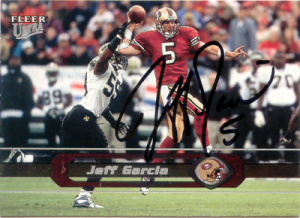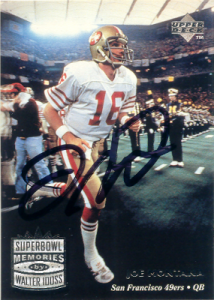 Je collectionne depuis plus de 15 ans les cartes Jogo de la CFL.  Bien que n'ayant plus la licence (Upper Deck est le seul à pouvoir faire des cartes de la CFL), Jogo produit cependant les cartes de la CFLPA, la ligue des joueurs, et propose donc encore maintenant des sets à chaque fois édités en 150 exemplaires plus ou moins.  À force de collectionner, on finit par sympathizer, si bien qu'un jour, il m'a envoyé d'anciennes cartes qu'il possédait encore de sa marque et que je recherchais.
I have been collecting CFL Jogo cards for over 15 years. Although no longer having the license (Upper Deck is the only one able to make CFL cards), Jogo nevertheless produces the cards of the CFLPA, the players' league, and therefore therefore still offers sets each time published in 150 copies more or less. By dint of collecting, we end up sympathizing, so that one day, he sent me old cards that he still had his mark and that I was looking for.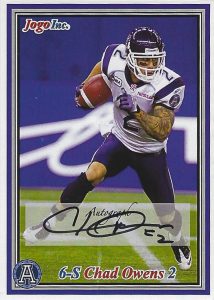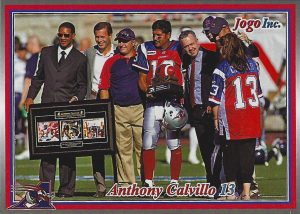 Je pense que, ce qui manque en Europe, c'est un vrai réseau de collectionneurs de sports US.  Cela existe en France, en Allemagne, au Royaume-Uni… mais rien de transfrontalier.  On n'a pas de convention réelle non plus, un agenda européen des conventions qui permettraient de réunir plus que les "habitués".  L'année dernière, j'ai participé à une convention en Belgique, près d'Anvers.  J'étais le seul à proposer du football, c'était triste même si, en fin de compte, l'ambiance était chouette.  J'en profite pour dire que si quelqu'un cherche des cartes de base entre 1980 et 2015, j'ai peut-être de quoi le satisfaire.  En général, je pratique l'échange mais ça m'arrive de vendre aussi à bon prix.  Si ça peut faire plaisir, c'est ce qu'on appelle une opération "win-win".
I think what is missing in Europe is a real network of US sports collectors. This exists in France, Germany, the United Kingdom … but nothing cross-border. We don't have a real convention either, a European agenda of conventions that would bring together more than the "regulars". Last year, I participated in a convention in Belgium, near Antwerp. I was the only one to offer football, it was sad even if, in the end, the atmosphere was great. I take this opportunity to say that if someone is looking for basic cards between 1980 and 2015, I may have something to satisfy him. In general, I trade, but sometimes I also sell at a good price. If it makes you happy, this is called a "win-win" operation.
Un grand Merci à Christian pour avoir répondu à nos questions le 28/04/2020.
A great thank you to Christian for answering in 2020/04/28.
N'hésitez pas à partager cet article et à le commenter pour donner votre avis. Vous pouvez également vous abonner à nos pages Facebook et Twitter, à la chaîne Youtube de US Sports Fans Cards, mais aussi contribuer en partageant les articles et/ou en filmant vos ouvertures de boxes ou vos collections personnelles (contactez-nous pour plus d'information). US Sports Fans Cards n'existe que grâce à ses contributeurs, on compte sur vous pour faire vivre notre passion!
You can share and comment this article for knowing your feelings. You can follow us on Facebook, Twitter and Youtube. You can also contribute in sharing articles, filming cards and open boxes (contact us for more informations). US Sports Fans Cards only exist with your contributions, we're relying on you to make our passion living!