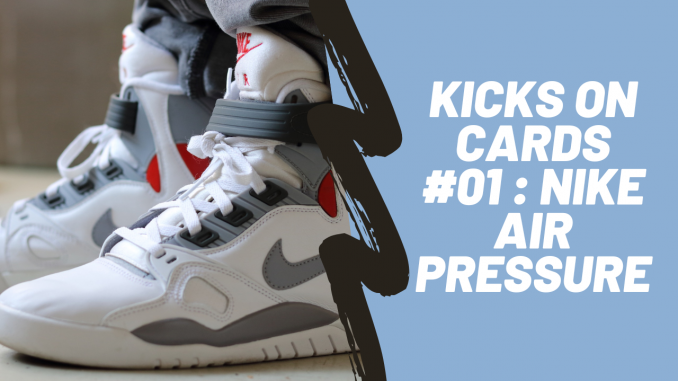 On commence ce premier « Kicks on card » avec la Nike Air Pressure prise en photo sur Mark Jackson, ancien pensionnaire de St John's et futur Rookie of the Year de l'année 1988 avec les Knickerbockers de New-York.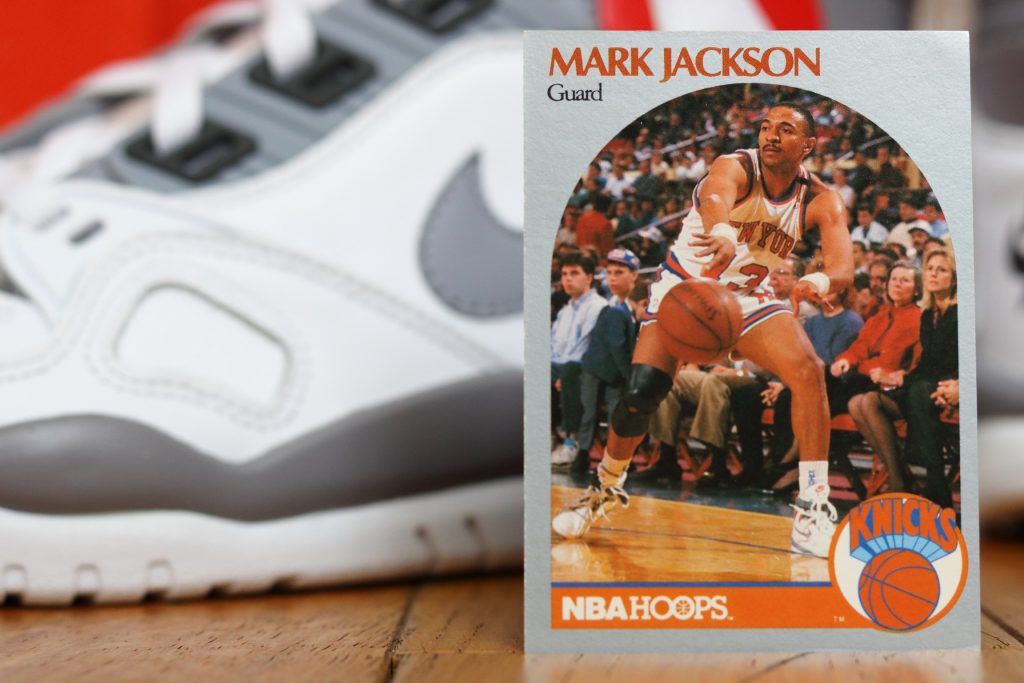 Cette carte de la collection NBA Hoops (1990) est la numéro 205.
Elle présente la particularité d'avoir dans le public 2 futurs condamnés pour meurtre.
Il s'agit des frères Menendez au premier rang à gauche de Mark. 
Alors ce n'est pas la carte qui les a confondu mais plutôt le grand train de vie qu'il menait à la suite de la disparition de leurs parents.
Pour ce qui est de la paire sur la photo, elle fut conçue pour essayer de contrer Reebok avec leur système PUMP.
Malheureusement elle ne fut produite qu'une année.
Elle était livrée avec une grande box de transport rigide avec une lanière et un livret explicatif sur la façon de « gonfler les chevilles »….
A l'aide d'une pompe il fallait presser/relâcher pour y injecter de l'air dans la partie arrière de la basket. Effet garantie.
On retrouvera cette paire sur certains membres du groupe de Metal Megadeth, dont Dave Mustaine alors leader de celui-ci.
On la retrouve aussi sur la jaquette de l'album du groupe de Hip-hop Audio-Two « i don't care » .
Au cinéma Dana Carvey portera la paire sur l'affiche « Opportunity de Knock's » 
Je n'ai, jusqu'à présent, vu aucun autre joueur NBA porter la Nike Air Pressure.
C'est avec plaisir que l'on a pu revoir le modèle puisqu'il fut réédité en 2015 dans son emballage d'origine. Et reprenant le même système de pompe d'origine. 
Article écrit par Chris Sneak
N'hésitez pas à partager cet article et à le commenter pour donner votre avis. Vous pouvez également vous abonner aux pages Facebook et Twitter et Instagram, mais également à la chaîne YouTube de US Sports Fans Cards. Vous pouvez aussi contribuer en partageant les articles. US Sports Fans Cards n'existe que grâce à ses contributeurs, on compte sur vous pour faire vivre notre passion!